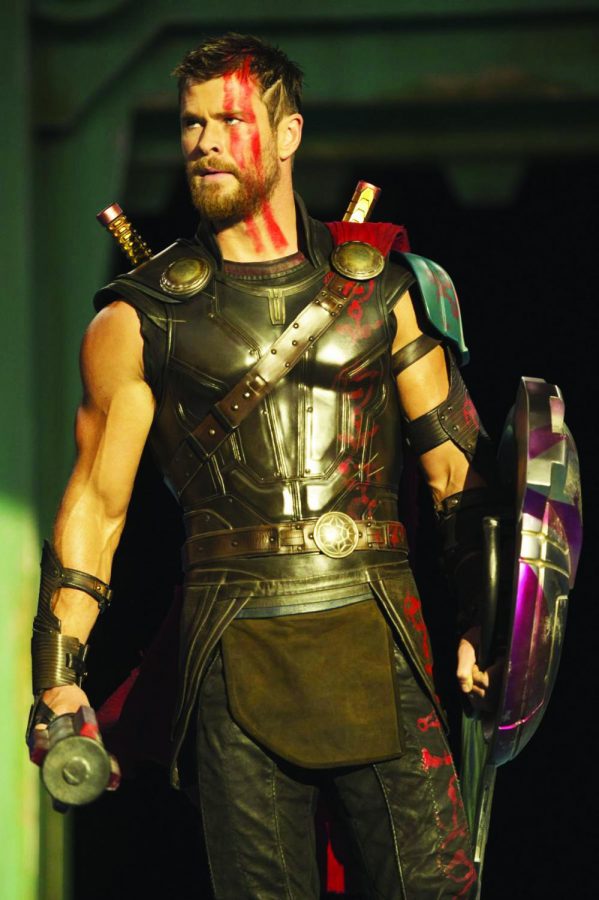 Thor: Ragnarok was expected to be one of the biggest and best Marvel movies yet when it opened Nov. 3, and not only did it meet that mark, it exceeded it.
    When it comes to the box office, the Norse God of Thunder usually falls short compared to the bigger or funnier Marvel movies such as The Avengers or Guardians of the Galaxy. But in the third installment of the Thor series, director Taika Waititi called everyone's attention to Thor III with the '80s neon arcade feel, and seemingly nonstop combination of pure comedy and thrilling action.
    For those who have seen Thor, Thor: The Dark World  and The Avengers movie, most will know the mischievous and agitating Loki, played by Tom Hiddleston. In Ragnarok, Loki is no longer the villain, and instead he is more of an anti-hero. Of course, Hiddleston continues to play Loki as the best to trouble and annoy his big brother, but he redeems himself as a character that is good at heart in the end.
      A new hero, Valkyrie, played by Tessa Thompson, is introduced in Thor III, but after watching the movie it is assumed that is not her real name. This is implied since the Valkyries are a group of female, Asgardian warriors in Norse mythology. She is probably the most kick butt, gender-role-breaking girl seen in the Marvel movies so far. Her tomboy attitude and rough around the edges personality give her an aura different from the sensuality of Black Widow or Gamora.
     As for Thor himself, with Chris Hemsworth reprising his role, after each Thor movie, we see him get more mature and responsible. While Ragnarok is fun and silly, it also opens up a new side to Thor. He stops thinking of himself and instead, he begins to learn that it is time he took his place as leader of Asgard.
    The best part of the movie is when "The Revengers" fully come together as a team towards the end of the movie. The Revengers are Thor's Avengers imitation team during his battle against the goddess of death, Hela, played by Cate Blanchett. Blanchett creates a villain that captivates audiences with her raw evil and sass.
    The Revengers team consists of Thor, Bruce Banner (a.k.a. The Hulk), played by Mark Ruffalo, Valkyrie, Loki and Korg, played by Waititi, with his band of "revolutionaries". Their battle sequences are the perfect combination of hilarity, action, suspense and fun.
    The use of Led Zepplin's "Immigrant Song" as the theme song of the movie was a great choice to set the mood of the calamity.
    The movie that was created with 80 percent improvisation, according to Waititi. The director and cast produced a masterpiece which is definitely worthy of being ranked as one of the top Marvel movies yet. The comical dialogue and intense action will have audiences begging for more, and families wanting to watch it over and over again.