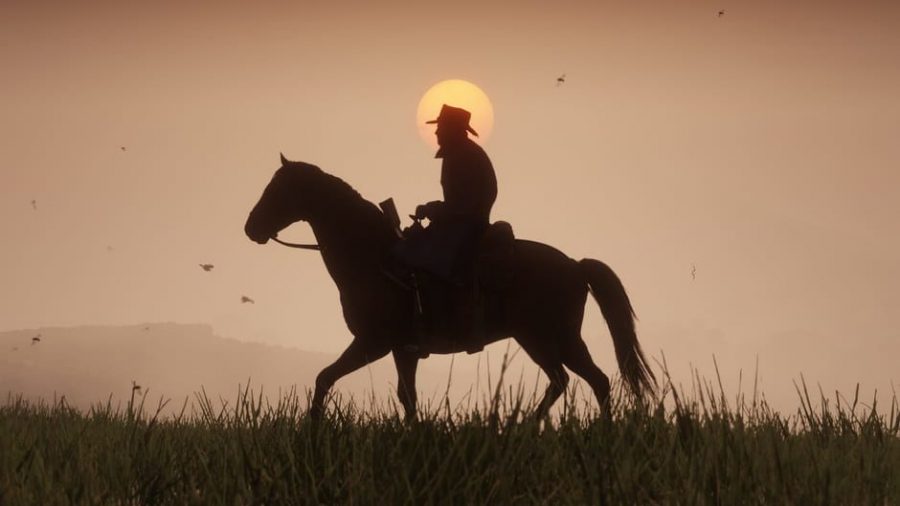 Rockstar Games
   Eight years after the release of Game of the Year award winner "Red Dead Redemption," game developer giant Rockstar Games released its much anticipated third installment in the popular Red Dead series on the Xbox One and PlayStation 4, titled "Red Dead Redemption II" on Oct. 26.
    "Red Dead Redemption II" is now the second fastest growing game of all time, selling 17 million copies in the first week, according to Fortune. It has also outsold its predecessor, "Red Dead Redemption" in only eight days. "Grand Theft Auto V," another Rockstar creation is the only game to beat "Red Dead Redemption II" in sales through the first week.
    The Game Awards occurred on Dec. 6 and "Red Dead Redemption II" won awards for Best Narrative, Best Score/Soundtrack and  Best Audio Design. Roger Clark, the voice of Arthur Morgan also won the Best Performance award. The game earned nominations for Game Of The Year, Best Game Direction, Best Art Direction and Best Action/Adventure Game.
    The game has received high praise from critics and players alike, achieving a 97 percent rating from critics and a 7.8 out of 10 rating from over 5000 player reviews on Metacritic and a five-star rating from GamesRadar.
    "Red Dead Redemption II" takes place in the Wild West in 1899; 12 years before "Red Dead Redemption." The story of the game revolves around the slow death of the outlaw life because of civilization moving westward and laws starting to be enforced. The main character is a tough gunslinger named Arthur Morgan, who became part of the famous Van der Linde gang as an orphan child.
    The gang is trying to make enough money to disappear to the Far West and get out of the outlaw life, but the FBI sends the Pinkerton National Detective Agency, a group of investigators who specialize in tracking down outlaws and bring them to justice to take down the Van der Linde gang and have them all hanged to make way for civilization.
    Notable characters returning from "Red Dead Redemption" include the charismatic leader of the gang, Dutch Van der Linde, the main character of "Red Dead Redemption," John Marston, the ruthless but foolish Bill Williamson, former Mexican revolutionary Javier Escuella and government agent Edgar Ross.
    New main characters include Arthur's father figure, Hosea Matthews, camp matriarch Susan Grimshaw and two insane characters named Micah Bell and Sean McGuire.
    Rockstar put in a lot of work into the detail and beauty of the game, having some of the best graphics out of any game ever made and make it as realistic as possible. The game has a broad amount of biomes, going everything from snowy mountains to dry deserts. The map is four times the size of "Red Dead Redemption's" world, comprising of five states called Ambarino, Lemoyne, New Austin, New Hanover, and West Elizabeth.
    To keep the theme of realism to the game, players must keep Arthur and his horse fed, clean and at a good temperature at all times. Depending on how much they are fed, they will become underweight, well fed or overweight. Health will lower for Arthur and his horse if they are cold, hot, or dirty. Horses are very important to the game because weapons and supplies are kept on them and there are not many other options for transportation.
    Customization options for Arthur include hair, facial hair and clothing and customization for horses include manes, tails and saddles.
    Missions in the game are very different from each other, ranging from robbing trains and banks to helping Native Americans and people in trouble. The game even has a feature called the honor system, this is a meter that will go up if you do good deeds like helping people and go down if you do something bad like robbing someone. The honor system is very important because it will affect what happens as the story progresses. Over the course of the game, audiences will be able to get to know Arthur and his past and learn how everything went downhill for the gang.
    Players will be in for a long ride because the story has over 60 hours of Wild West action, all clumped into six chapters and two epilogues. On Nov. 27, Rockstar released "Red Dead Online" after the huge success of "Grand Theft Auto Online." In "Red Dead Online," players are able to create their own outlaw and play with other people online, leveling up and gaining money.
    "Red Dead Redemption II" truly sets the stage for the story of John Marston in "Red Dead Redemption" and will go down as a fantastic game to critics and fans alike because of its beauty and the compelling gameplay.