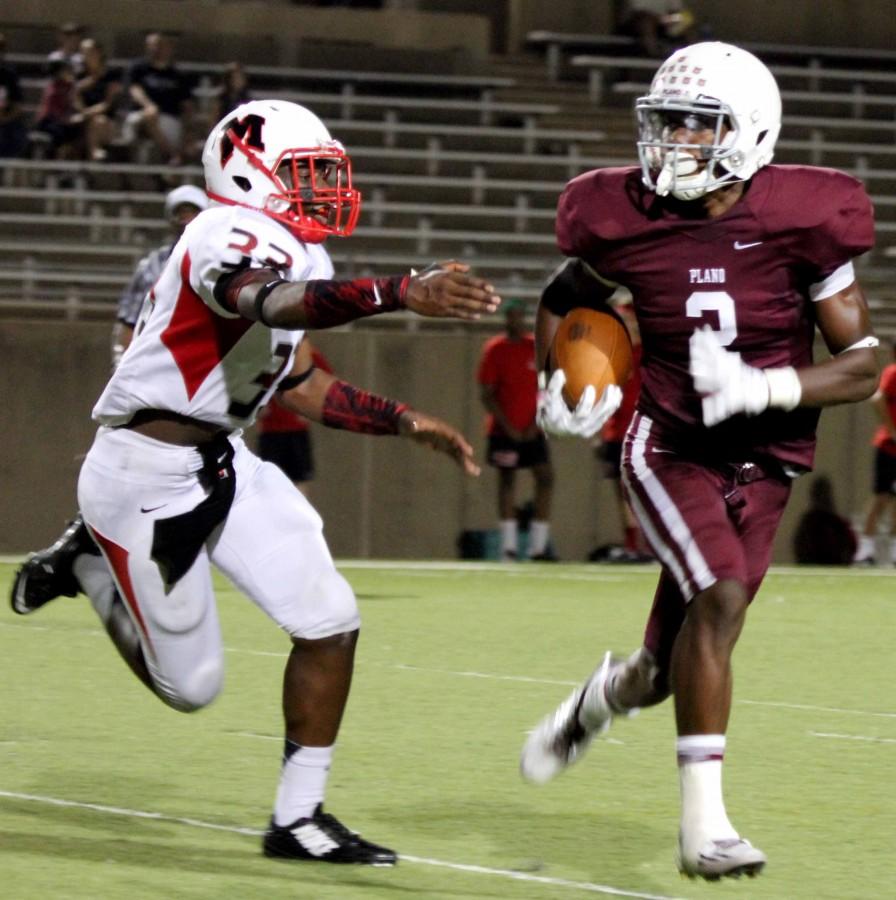 Thank you to all who followed the game via our coverage, and have a good night.
That concludes our live coverage of tonight's varsity football game with the final score of Plano Senior 34  Irving MacArthur 20.
Plano Senior moves to 1-1 on the season with the win, while Irving MacArthur falls to 0-2.
The two teams pass through the mandatory handshake line after the game, with Plano Senior earning their 1st win in 2014.
FINAL SCORE: Plano Senior 34    Irving MacArthur 20
Quinn Waterbury takes a knee, and that is that. Triple zeros on the clock now.
The Cardinals obviously go for it but are unsuccessful with Jeshua Hodges unable to haul the ball in. PSHS takes over on downs to seal the victory.
Hardin finds Mykeal Webster again, but its short of the sticks on 3rd & 8. 4th & 4 for Irving MacArthur.
Chris Ward picks up a first down for the Cardinals up the middle on the ground.
*GAME NOTE: Neither team has any timeouts remaining.
TIMEOUT Plano Senior 
Plano Senior punt it away and there's Cody Farhat again to make a bone-crunching tackle. 1:35 remains for Irving MacArthur to make up a 14 point deficit.
TIMEOUT Irving MacArthur
Yoro picks up 7 more yards, puts Plano Senior in a 4th & 3 situation.
TIMEOUT Irving MacArthur
Plano Senior will simply kill clock now, up 14 points with just under 2 minutes left.
Well, it was an onside kick, sort of. The little pooch attempt is easily caught by Parker Meyers who comfortably takes a seat with the ball.
Expect an onside kick from Irving MacArthur here.
Plano Senior now LEADS Irving MacArthur 34-20 with just 2:04 to go.
Kane Hardin steps back in at QB for the Cardinals and it proves immediate dividends, as he connects with Mykeal Webster for a 44 yard TD pass.
The visitors move the chains as McDonald races out to the Plano Senior 45.
Tony McDonald in at QB for the Cardinals now, he piles forward for a few yards. 3rd & 7 Irving MacArthur.
Marcus Brown struggles fielding another kick, this one a punt that he eventually catches at the Irving MacArthur 38.
Yoro swarmed on 3rd down though and Plano Senior elects to punt on 4th & 6.
Yoro is just running angry now, throwing would-be tacklers out of his way. Another 3rd & 3 set up for the Wildcats.
Yoro tackled by Justin Rose, but not before he passes the sticks to make it a PSHS first down.
RB Bobby Gray now sees action, picks up 6 yards. 3rd & 3 for Plano Senior.
Yoro creamed by Kuinteion Newman on 1st & 10, minimal gain recorded.
TIMEOUT Plano Senior. 
They do and it goes horribly with Hardin sacked for the first time tonight by Monty Payne. PSHS take over on downs.
4th and Goal for Irving MacArthur, surely they will go for it down 21 with 8:42 left.
Hardin and Webster hook up again, brings the Cardinals to a 3rd and Goal from the 13 yard line.
Artiss Henderson takes the Cardinals to the 8, and then 7, before Irving MacArthur's good looking drive gets derailed with a personal foul for after the play foolishness.
Daejon Howard flagged for pass interference for the second time tonight, gives Irving MacArthur the ball at the PSHS 26.
Big play for the Cardinals as Hardin connect with Mykeal Webster on a beautifully floated ball. Play good for 47 yards.
Irving MacArthur nearly fumble away the punt, will take over at own 12.
END of 3rd quarter: Plano Senior LEADS Irving MacArthur 34-13.
Yoro again given the ball on 3rd down, to no avail though as Irving MacArthur had the play read all the way.
Plano Senior flagged for a chop block though, now its a 3rd & 18.
Yoro finally contained by Irving MacArthur, as he is stonewalled on 3rd & 3.
TIMEOUT Plano Senior. Confusion towards the end of the 3rd quarter.
Parker Meyers with the catch for Plano Senior, now its 3rd & 3 for the Wildcats.
Quinn Waterbury uncorks the deep ball, which is nearly hauled in by Garrett Frederick. Holding docks the Wildcats 10 yards though, setting up 1st & 20.
Plano Senior with excellent field position at the Cardinal 48.
It doesn't get better on 3rd & 10 either, with Plano Senior's pass coverage again strong. Cardinals to punt.
Irving MacArthur really finding it hard on offense now. An incompletion is followed by a bad snap and subsequent throw away by Hardin.
Irving MacArthur to take over at their own 21 following a good kickoff by Jordan Christian.
*GAME NOTE: All 5 Plano Senior TDs have been scored by running backs (3 by Brandon Stephens and 2 by Lopaka Yoro).
Plano Senior now leads Irving MacArthur 34-13 with 2:15 left in 3rd quarter.
TD PLANO SENIOR! Yoro does the dirty work, Stephens finishes it off by diving in from 4 yards out. Plano Senior taking control of the game now.
Yoro carries the Wildcats to the Irving MacArthur 4 yard line, setting up 3rd & 2 for Plano Senior.
Stephens and Yoro seem to be battling each other over who has the most versatility at RB, Stephens displaying some serious speed by motoring to the Irving MacArthur 11 yard line after evading several blitzing Cardinals. Play is good for a PSHS first down.
And they get it with ease as Yoro hurdles his way to the Cardinal 21 yard line.
Kirchner jumps high to receive Waterbury's pass. Plano to go for it on 4th & 2.
Yoro powers forward for 4 yards. 3rd & 5 for Plano Senior.
The wildcat offense for the Wildcats isn't effective as Stephens overthrows TE Sam Tecklenburg on the trick play.
Brandon Stephens muscles through the meat of the Cardinal defense. Picks up just enough for a Wildcat first down at the Irving MacArthur 39.
Lopaka Yoro drops pass on 1st & 10. First wrong thing he's done tonight.
Waterbury and Matt Kirchner continue their effective passing game, PSHS gain 8 yards.
Another flag, this one on Irving MacArthur for offsides.
Plano Senior's offense to take over at their own 38. 8:01 now remaining in the 3rd quarter.
Plano Senior's Cody Farhat drops a sure pick-six, put the Cardinals are forced to punt nonetheless.
Plano Senior defense dial up the pressure on QB Hardin. Irving MacArthur face a lengthy 3rd & 12.
*GAME NOTE Plano Senior now have 2 TDs apiece from running backs Lopaka Yoro and Brandon Stephens.
Plano Senior now LEADS Irving MacArthur 27-13 with 8:51 remaining in 3rd quarter. 
TD PLANO SENIOR! RB Brandon Stephens gets in on the act now, reaching the corner of the end zone past several Cardinal defenders for the 15 yard touchdown run.
INJURY TIMEOUT – Irving MacArthur's Joseph Watson is woozy getting to his feet, but walks off under his own power.
Plano Senior set to be in great shape now following a pass interference call on Irving MacArthur.
Lopaka Yoro at it again for PSHS as he makes several tacklers jump out of their shoes during an 18 yard run.
Stephens finds space on an outside pitch and picks up the necessary 4 yards for a Plano Senior first down.
Stephens dropped for minimal gain on the play, huge block downfield though by Kadarius Smith on T.J. King of Irving MacArthur.
T.J. Lee smashed on the punt return for Plano Senior, but the Wildcats have Aaron Ragas flagged on the play. Plano Senior takes over at their 39 yard line.
Cody Farhat nearly with the pick again for the Wildcat defense. They force Irving MacArthur into a punting situation on 4th & 6.
Ill advised pass from Cardinal QB Hardin nearly picked off by PSHS defense. 3rd & 6 for Irving MacArthur.
Irving MacArthur begin the second half of play on offense.
Second half underway at Clark Stadium, where Plano Senior leads Irving MacArthur 20-13.
Both teams out for the second half, which is mere moments away from beginning.
HALFTIME: Plano Senior LEADS Irving MacArthur 20-13.
Brandon Stephens slips to the ground on the 1st half's final play. PSHS come up empty points wise on that final drive.
TIMEOUT Plano Senior. 9 seconds left in 1st half.
More hard running from Lopaka Yoro. Plano Senior now face 3rd and Goal from the Irving MacArthur 5 yard line.
TIMEOUT Plano Senior. 28 seconds left in 1st half.
Brandon Stephens takes the PSHS offense down to the Irving MacArthur 10 yard line. 1st and Goal now for Plano Senior.
Plano Senior offense really clicking into gear now with WR Parker Meyers picking up the first down on an end reverse.
WR Matt Kirchner turns on the moves to evade several Cardinal tacklers and pick up the PSHS first down.
TIMEOUT Irving MacArthur. 
TE Sam Tecklenburg does well to pick up the first down from Waterbury's pass. PSHS now with 1st & 10 at their own 47.
False start called on Plano Senior, specifically Kadarius Smith.
QB Quinn Waterbury with a rare pas attempt and completion to move the sticks for PSHS.
TIMEOUT Plano Senior. 
Stephens makes up quickly for his error though, picks up 13 yards on a slaloming run.
Stephens has severe issues fielding the kickoff, the ball eventually finds its way to the sideline after a wild goose chase for it. PSHS offense to start at their own 13.
Score now Plano Senior 20, Irving MacArthur 13 with 5:12 to go in 2nd quarter.
Hardin scrambles around before connecting with Mykeal Webster for the TD pass.
No rethinking for Irving MacArthur, and they're the better for it.
TIMEOUT Irving MacArthur
Irving MacArthur goes for it again, oh so it appeared anyway before they call timeout.
Cardinals faced with another 4th down, this time with 9 yards to go.
Irving MacArthur moving the chains frequently now, a switch handoff gets them to Plano's 18.
Hardin and Jeshua Hodges hook up for a big play through the air on a crossing pattern. Cardinal ball at the PSHS 30.
That 15 yard penalty puts irving MacArthur's offense back on the field at their own 24 yard line.
Excellent pressure on the punter from PSHS, but its all for naught as Cody Farhat is flagged for roughing the punter.
Hardin had Mykeal Webster open and in space, but he overthrows his target. Irving MacArthur to punt from their own 9.
LB Neema Behbahani with the great inside penetration and tackle for PSHS. Play goes for negative yardage. Now 3rd & 12 for the Cardinals.
Second time's the charm for Brogan, whose kick isn't caught until the 5 yard line. Irving MacArthur with a good return though to the 21 yard line, but a penalty brings it back 10 yards to their own 11.
Brogan's kickoff dribbles out of bounds, but a re-kick is in order after offsetting penalties.
Irving MacArthur now block an extra point from Tyler Brogan. 20-6 PSHS lead with Yoro now having 2 TDs on the night.
TD WILDCATS! Lopaka Yoro does the damage again, takes it 73 YARDS to the house.
Stephens again the workhorse, picks up a nice 6 yard gain. False start called on the Plano Senior offense. 2nd & 11 for the Wildcats.
Lopaka Yoro with the return for PSHS. The Wildcat offense opens shop at the 25 yard line.
14 -6 Plano Senior leads Irving MacArthur, with 10:53 remaining in the 2nd quarter.
Artiss Henderson takes it up the middle for the score. Irving MacArthur reduce the deficit to 8 after a blocked extra point.
Daejon Howard nailed for pass interference for PSHS. Irving MacArthur have the ball at the Plano 2 yard line.
Cardinals go for it on 4th down, pick up the necessary 7 yards. 1st and Goal Irving MacArthur
END OF 1st quarter: Plano Senior LEADS Irving MacArthur 14-0.
DB Cody Farhat all over the place on defense for PSHS tonight, prevents Irving MacArthur from getting a first down.
Irving MacArthur now at the PSHS 15 yard line, face a 3rd & 7 after an incompletion intended for WR Victor.
Artiss Henderson strikes again for the Cardinals, picks up 22 yards on an inside handoff.
Cardinals move the chains, despite good pass coverage from DB Aaron Ragas.
Trickeration from Irving MacArthur sets up a 3rd & 4. Victor picking up significant yardage on a reverse.
Another false start on Irving MacArthur, 1st & 15 at their own 38.
Damien Victor picks up the first down for Irving MacArthur, courtesy of an out route and decent pass from QB Hardin.
Happy feet for the Cardinals again. 2nd false start of the night called on Irving MacArthur.
Brogan's kick pins Irving MacArthur deep again. Irving MacArthur ball at their own 29.
PSHS leads Irving MacArthur 14-0, 5:15 remaining in the 1st quarter at Clark Stadium.
One play is all they need. RB Stephens powers through the defense to reach the end zone, a 14 yard TD run.
PSHS ball at the Irving MacArthur 14 yard line.
Irving MacArthur QB Hardin again overthrows his target, FAKE PUNT for the Cardinals goes awfully.
Aaron Ragas with a good tackle on first down, followed by penetration up the middle as Irving MacArthur are faced with a 3rd & 8.
Tyler Brogan with the kickoff, leads to another good tackle from Farhat. Irving MacArthur begins at their own 15.
TOUCHDOWN PSHS! Lopaka Yoro with the 16 yard TD scamper. Wildcats LEAD 7-0.
3rd & 6 now for PSHS. Stephens finding life a bit harder now when running inside.
Stephens with the massive gain on an inside run. Picks up 60 yards, PSHS now in field goal range.
Cody Farhat with the excellent pass breakup. Irving MacArthur turns it over on downs.
Irving MacArthur QB Kane Hardin overshoots his man, Cardinals will go for it on 4th & 15.
Great stop by T.J. Lee, forcing a 3rd & 15 for Irving MacArthur.
PSHS defense looking to get off the field on 3rd & 3, fail to do so as Irving MacArthur pick up 14 yards via the air.
Henderson again with a big play, goes for 7 yards on the ground.
Artiss Henderson with some sweet moves for the Cardinals, they easily pick up the first down.
An early false start for Irving MacArthur makes it 1st & 15 for them.
Great field position for the Cardinals of Irving MacArthur. They will begin at their own 46 yard line.
A nice swing pass to Stephens gets PSHS to the 25 yard line. Forcing a punt on 4th & 4.
3rd & 14 for PSHS after a miscue on the pass from QB Quinn Waterbury to WR Garrett Frederick.
Stephens gains 1 yard on the ground to begin the night for the PSHS offense, who then get docked 5 yards for a false start.
Irving MacArthur sends the ball Plano Senior's way. We are off and running. Brandon Stephens takes the opening kick to the PSHS 19 yard line.
Very strong Plano Senior crowd out tonight. Significantly less people from Irving MacArthur have made the understandably long trip.
Irving MacArthur will be outfitted in all white. Plano Senior of course, is decked out in all maroon.
Wildcats to receive the ball to begin tonight's game. Irving MacArthur had differed after winning the coin toss.
The alma mater has been played. The lights have been turned on. Plano Senior and Irving MacArthur have taken the field. It's game time at Clark Stadium!
10 minutes to go now until Plano Senior opens their home campaign. Both the band and student section in full voice.
Both teams head into the locker room for a final strategy session. Now 20 minutes until kickoff.
Unable to make tonight's varsity football game between Plano Senior and Irving MacArthur? Fear not, for we'll be live blogging tonight's home opener from start to finish! Kickoff currently 27 minutes away at Clark Stadium.