Senior Class President Candidates: Election takes place April 8
Laura Brasier
Aspiring politician junior Laura Brasier sees running for senior class president as a stepping stone to the political office she aims to obtain in the future. Brasier believes that her optimistic attitude and initiative give a positive image to her peers, and promises a great senior year environment. In her speech, Brasier expressed her desire to focus on increasing school spirit for activities she believes do not have enough support such as swimming, language clubs and HOSA. She also plans to increase involvement with feeder schools so they know what to expect when coming to senior high. Brasier believes that these goals are necessary in order to achieve a more unified class and Plano cluster. To finish off her speech, she quoted the Disney film High School Musical, "Once a Wildcat, always a Wildcat."
Geneva Werner
     Current Junior Class President Geneva Werner aims to continue with her student office position by running for senior class president. Incorporating statistics including counting down the days to the end of junior year and to the graduation of the class of 2015, Werner built up anticipation for the upcoming school year. She has been a part of the Wildcat family since her freshman year, having classes on campus every year since then. Werner aims to take projects she has done with Student Congress during her year in office, such as the junior newsletter, Twitter page and community service to the next level during senior year. She sees next year as a time for her and the rest of the student body to grow even more. If elected, Werner hopes to improve communication among all students and tighten unity throughout the school.
Samer Amous
     Junior Samer Amous stepped to the podium promising to keep his speech "short and sweet" as he unrolled a comically lengthy scroll. Amous is looking to shape not just the upcoming, but long-term future of the class of 2015. He stressed this in his speech by painting a picture of what the class of 2015 could expect from him in decades to come, such as with high school reunions. By looking so much farther into the future, Amous believes he is breaking the "ideal" senior class president mold by focusing on more than just homecoming floats and prom themes. With an abundance of leadership experience such as chairperson of the Collin County Islamic Association and winner of the PISD Junior Diversity Leadership Award, Amous aims to use his skills to keep the future senior class more closely-knit – an element he finds key to establishing the solid future he envisions.
Leave a Comment
About the Contributor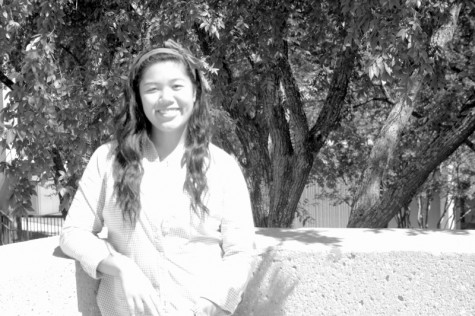 Anna Villano, Assistant Graphics Editor
Senior Anna Villano is a second year staff writer and assistant graphics editor for the Wildcat Tales. Her love of meeting new people caused her to join...