Plano vs. Plano East Varsity Football Live Blog – Oct. 10, 2014
Thank you to all who have followed out live blog tonight, have a great weekend. Again the final score is Plano Senior 34   Plano East 6.
*GAME NOTE: Plano Senior RB Brandon Stephens had 3 TDs tonight, along with 17 carries for 178 yards in the victory.
FINAL SCORE: PLANO SENIOR 34   PLANO EAST 6
Starting Wildcat QB Quinn Waterbury checks back into the game to take a knee, and that ends the ballgame
Successive carries by Byron Tate help eat away at the clock that seems to be inexhaustible tonight here at Clark Stadium.
TIMEOUT: PLANO EAST – 2nd TO Of The Half
Brandon Stephens plows ahead as he returns to the game, then immediately checks out after picking up a Plano Senior 1st Down.
The clock continues to be salted away as Lopaka Yoro trudges ahead for a Wildcat 1st Down.
Looks like RB Brandon Stephens' night is down for the Wildcats, as the Yoro-Byron Tate duo should handle the rest of the night's rushing duties.
Panthers go for it on 4th and Goal from the 2 after a short pass and are denied the TD they desired as LB Blake Morris rushes up the middle and sacks QB Thompson. Plano takes over on downs at the 6 yard line. 
Panther offense is struggling mightily at the goal line now, facing a 3rd and Goal from the 5.
PENALTY: PERSONAL FOUL (UNNECESSARY ROUGHNESS) – PLANO SENIOR 
TE Micheal Johnson records his first catch of the night on a screen pass before running with the ball for 24 yards to the Plano 13.
INJURY TIMEOUT: Tim Wilson took a real hit there for Plano East on the catch, and struggles to his feet before jogging off the field. 
Despite his 4 INTs on the night, Plano East QB Miles Thompson continues to sling the ball around, finding WR Tim Wilson on the slant pattern for about 10 yards.
WR Ade Omotosho returns the Jordan Christian kickoff all the way to the Plano Senior 32, but 15 yards of that is chalked back off for an unsportsmanlike conduct penalty on the Panthers, who now find themselves down 28 with under 9 minutes remaining.
TOUCHDOWN WILDCATS! Surely putting the game out of reach, RB Brandon Stephens waltzes his way into the end zone from 19 yards out, without a Panther defender coming close to touching him. The PAT is tacked on by Arango and Plano Senior now leads 34-6 with 9:23 remaining.  
Stephens shows he's a jack-of-all-trades now with a perfect pass to TE Sam Tecklenburg, who takes it for 34 yards on the slant route.
Plano Senior set up shop at their own 32, with the intention to milk the clock away on this presumed victory. RB Stephens takes it forward for 3 yards before receiving the direct snap and plowing ahead to the tune of 10 more.
Plano secondary continues its stellar performance tonight as both Obale Enoweyere and Colten Pusateri blow up consecutive plays and force Landis Durham to again punt away for Plano East.
End of 3rd Quarter: Plano Senior LEADS Plano East 27-6.
Plano punt away and East will take over at their own 49 to begin the 4th quarter.
TIMEOUT: PLANO EAST – 1st TO Of The Half
Yoro again piles forward for 6 yards, but its short of the chains and Plano Senior should punt on 4th & 4.
RB Lopaka Yoro sees more action for the Wildcats, although he is obliterated on a short 5 yard gain.
PENALTY: ILLEGAL SUBSTITUTION – PLANO SENIOR
*GAME NOTE: There has been no scoring in this 3rd Quarter. 
Plano East picks up decent yardage on a run thereafter, and they opt to punt on 4th & 15, resulting in a touchback with the Wildcats now taking over at their own 25.
The Panthers cut the deficit to 15 following a long TD pass, but its quickly ruled null and void due to a holding call in the backfield. 
Zadok Wilson again gets in on the passing game with his 7 yard reception, although the Panthers are still in a deep 2nd & 18 hole.
PENALTY: CHOP BLOCK – PLANO EAST
A rare turnover from RB Brandon Stephens gives the ball right back to Plano East though, as the star RB fumbles near the East sideline where it is recovered and returned a short distance to the East 46.
Plano East, down 21 points, get adventurous and go for it on 4th & 7 to no success as Thompson's pass falls incomplete. Plano Senior will take over on downs at their own 40 yard line. 
Thompson is unable to get away from the Wildcat defense this time as Colten Pusateri wraps him up with a strong leg tackle. Forcing 3rd &7.
INJURY TIMEOUT: DE Monty Payne walks off the field under his own power. 
Miles Thompson now slithers forward on the QB keeper for 10 yards, setting up a 2nd & Inches.
Plano East continue their recent air raid penchant, with QB Thompson again hooking up with Omotosho to the tune of 27 yards.
Wildcat offense is bogged down by penalties and a miscued handoff between Waterbury and Stephens. Christian on to punt on 4th & 27.
PENALTY: DELAY OF GAME – PLANO SENIOR 
*GAME NOTE: Plano East now have 5 turnovers tonight. 
INT #4 for the Plano Senior defense tonight! DB Obale Enoweyere this time comes up with the goods, Plano Senior now to take over just on their side of midfield. 
That recent success has been snuffed out though by the Plano secondary, as Zadok Wilson is hit on impact resulting in an incompletion.
Plano East moving the football now, as a string of pass completions have them at the Plano 42. The most recent completed to Ade Omotosho.
RB Deonte Pawell picks up 9 yards on the first play of the 2nd half for the Panthers.
The kickoff by Jordan Christian goes for a touchback and the Panthers will start own their own 25.
The 2nd Half is just about ready to get underway here at Clark, with the Plano East Panthers to get the ball.
*GAME NOTE: RB Brandon Stephens has 2 TDs for the Wildcats tonight. 
Halftime: Plano Senior LEADS Plano East 27-6 at Clark Stadium. 
Wildcat QB Waterbury takes a knee and that ends the first half of play.
And East QB Miles Thompson has now thrown his 3rd INT of the night, this one to DB Colten Pusateri with just 6 seconds remaining in the half. Really just a jump ball thrown up there at the end of the half, although the East WR had no shot at catching it. 
Thompson's speed bails him out again as the mad scramble play works to the Panthers' advantage. Getting them to the PSHS 23 with only 0:12 remaining.
TIMEOUT: PLANO EAST – 3rd And Final TO Of The Half
Panthers now have some offense in motion, as Thompson completes a 1st Down pass to his seemingly favorite WR, Ade Omotosho.
Plano Senior, after initially lining up to go for it, think better of their decision making and decide to punt it away. Plano East to take over at their own 25 with time running out in the 1st half.
TIMEOUT: PLANO SENIOR – 2nd TO Of The Half
RB Lopaka Yoro is tripped up just shy of the 1st Down marker now, setting Plano Senior up with a tempting 4th & Inches scenario.
*GAME NOTE: DB Daejon Howard now has 2 INTs tonight for Plano Senior. 
An errant and wild throw from Thompson is picked off by DB Daejon Howard and returned by the senior to the Plano Senior 43 yard line.
TIMEOUT: PLANO EAST – 2nd TO Of The Half
RB Javon Redmon now catches his first pass of the night, but its one he should have let slip away as he stumbles to the ground upon catching it. a 3rd & 12 is upcoming for the Panthers.
Thompson completes another pass for a 1st Down, but the play is wiped out in favor of an offside call on Plano Senior. 
Thompson now shows off his wheels as well, picking up 6 yards on a QB scramble to make it am ore manageable 3rd & 4 for East.
QB Thompson comes through ina pinch their though, completing a pass for 1st Down yardage to WR Jason Sievert.
Plano East offense continues to sputter, now face a 3rd & 6 from their own 35 yard line.
WR Sam Arango now belts in the PAT to make it 27-6 in favor of the Wildcats with 5:03 to go in the 1st half. 
TOUCHDOWN WILDCATS! Another TD run from 4 yards out, this time by RB Byron Tate as Plano reassert their dominating lead. 
WR Matt Kirchner now displays his fleet of foot along the sideline, catching a pass from Waterbury and taking it for additional yardage among a gaggle of Panther defenders. Total gain on the play of 26 yards.
RB Brandon Stephens continue to have his way with the East defense, this time breaking free for a 34 yard run in which he changed directions about 3 times. Impressive stuff.
Rough few minutes for Panther K Henry Mattson there, missed PAT and kick out of bounds in successive plays. The latter does not affect East in a huge way though, with Plano Senior to take over at their own 31.
PENALTY: KICK OUT OF BOUNDS – PLANO EAST (re-kick)
Something must be in the water tonight though, as another PAT is missed. 20-6 Wildcats hold the advantage with 7:33 to go in the first half. 
TOUCHDOWN PANTHERS! Plano East respond in grand fashion as WR Tim Wilson takes it 55 yards on the slant route pass from Thompson to the end zone, breaking a tackle during his masterful run. 
The first meaingful Panther pass play of the night has just concluded with QB Thompson hooking up with WR Zadok Wilson for a 15 yard gain.
TIMEOUT: PLANO EAST – 1st TO Of The Half 
WR Ade Omotosho is again solid on kick return duty, takes it for a 23 yard gain to the Panther 30 where Plano East will begin.
Christian is good on the PAT this time around, and its 20-0 Wildcats with 8:55 to go in the first half.
TOUCHDOWN WILDCATS! QB Waterbury connects with TE Sam Tecklenburg for the 49 yard catch and run for the score, undoubtedly helped by a weak tackling effort by the Plano East secondary.
Thompson again throws a decent pass, but this one was always too far for his intended target. East kick away and T.J. Lee's return and dash to the outside positions PSHS well, near the midfield stripe.
Panther QB Thompson gets drilled but still releases a well-thrown ball that is nearly spectacularly caught by WR Omotosho, but its to no avail as a 3rd & 16 looms.
PENALTY: ILLEGAL SUBSTITUTION – PLANO EAST
Plano East to begin their next offensive series at their own 27.
But have no fear, RB Brandon Stephens is here, and he takes it 47 yards for a TD on a slaloming run that sheds several Panther tacklers during its occurrence! The PAT is missed by WR Sam Arango though, so the Wildcats only enjoy a 13-0 lead with 11:00 minutes exactly remaining in the first half. 
Trickeration from the Wildcats takes them nowhere to begin the second period of play, as Yoro is taken down on the reverse for a 5 yard loss.
END of 1st Quarter: Plano Senior leads Plano East 7-0
RB Brandon Stephens speeds past the Panther tacklers up the middle to easily pick up the first down for Plano Senior, taking it for a 13 yard gain.
East end up a yard shy of the first down marker and elect to punt away, potentially a poor decision given the line drive nature of the punt that puts PSHS at their own 44 to begin their next series.
LB T.J. Lee is again at the forefront for a surging Plano Senior linebacking core, pushing East back a few yards and putting them in a 3rd & 4 predicament.
The punt is of the coffin-corner variety as well, pushing East back to their own 8 to begin their drive.
The play on 3rd & 14 is vastly less successful as Waterbury is incomplete on a pass to Stephens. Christian out to punt again.
A nice dump off pass to Yoro gets Plano Senior a big gain, but its offset by a holding penalty.
TIMEOUT: PLANO SENIOR – 1st TO Of The Half
The Wildcats again find themselves in a 3rd & Long though after two short runs by Stephens and Yoro.
WOW! Plano Senior DB Daejon Howard wrestles the ball away from Panther WR Tim Wilson mid-air and comes away with the INT! Wildcats assume possession at the Plano East 43.
PENALTY: FALSE START – PLANO EAST
The Panthers then are stuffed again on two runs by a Wildcat defense that looks fierce tonight, 3rd & 10.
K/P for the night Jordan Christian pins East back at their own 30 with the kick.
QB Waterbury is then sacked for a 3 yard loss by Plano East LB Michael Aleman. Plano Senior to punt away.
RB Yoro is then stopped for a minimal gain, Plano Senior now saddled with a 3rd & 10.
QB Quinn Waterbury sees his first action of the night for Plano Senior, an incomplete pass.
Plano Senior's T.J. Lee scores a nice return for the Wildcats as well, taking it near midfield.
A Panther punt now looms after QB Miles Thompson is unable to connect with WR Omotosho.
Two consecutive stops up the middle by the Wildcat defense force Plano East into a 3rd & 9.
The Panther offense will now set up shop at their own 19 yard line after a winding kick return by WR Ade Omotosho.
The PAT is belted through as well, and Plano Senior get off to a 7-0 lead with 9:49 remaining in the 1st quarter following the Panther turnover. 
RB Stephens then powers it home for a TD from 6 yards out a few plays later, a nice start from Plano Senior.
RB Brandon Stephens then takes Plano all the way to the Plano East 11 on an outside carry, nice speed from the junior.
The Wildcats regain possession though on a muffed punt, in which the Plano East kick returner fumbled the ball after trying to make a diving catch for it. Wildcat ball at the Panther 30. 
RB Lopaka Yoro is unable to pick up the necessary yardage, and the Wildcats will surprisingly punt on a 3 and out.
Wildcats forced into an early 3rd & 6 as RB Brandon Stephens is incomplete on a pass to WR Matt Kirchner.
Plano Senior is set to begin at their own 36 yard line following a short kickoff, which is met by a white powder toss by the smattering of Panther fans in attendance.
The anthems have been sung and the teams are out. Its go time at Clark!
Both teams have now taken the field under the lights at Clark Stadium.
Plano East have won the opening coin toss and differed. Plano Senior to receive the ball first to begin the game. 
Tonight's potentially rainy conditions should give the edge to the already-favorite Wildcats, who have the superior running attack against the Panther defense.
Kickoff now only 10 minutes away here at Clark, where the rain has so far stayed away despite an increasingly black sky taking shape overhead.
Kickoff is about 25 minutes away here at Clark Stadium, so be sure to stay tuned for all the action.
Hello all and welcome to tonight's live blog of the varsity football matchup between the cross-town rival Plano Senior Wildcats and Plano East Panthers.
Leave a Comment
About the Contributor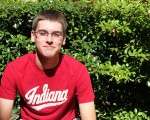 Cameron Drummond, Sports & Social Media Editor
Senior Cameron Drummond serves as the Sports Editor and the Social Media Editor for the 2014-15 edition of the Wildcat Tales. He runs the Twitter, Facebook,...