Plano vs. Flower Mound Marcus Varsity Football Live Blog – Oct. 30, 2014
A final thanks to all who have followed our live blog both tonight and throughout the season, again your final score is Plano Senior 41   Flower Mound Marcus 7. 
A resounding Senior Night victory for the Wildcats is highlighted by 2 TDs each from Lopaka Yoro and Brandon Stephens, while Brooks Panhans both runs for and throws for one as well. An overall splendid night for Plano Senior football, with playoff football surely to come in a few weeks time as well.
Flower Mound Marcus is eliminated from layoff contention with the loss, while Plano Senior are in the playoffs with the win, barring a loss next week to Lewisville along with subsequent events occurring in other games. 
FINAL SCORE: Plano Senior 41   Flower Mound Marcus 7
Plano Senior gets the ball back for a snap after FMM turn it over on downs, and junior Matt Keys comes in to kill the clock.
A couple garbage time snaps are in the authoring here for Flower Mound Marcus QB Dylan McKie, but the game is obviously well and truly done.
1 minute left on the clock now at Clark Stadium.
FMM take over inside their own 20 and this game is allover but the crying for the Marauders.
Tate also gets involved in the passing game by receiving a screen pass from Panhans, but the play goes for no gain and Jordan Christian is back out to punt.
Just over 5 minutes to go now on Senior Night at Clark Stadium, the majority of the Wildcat handoffs are now going to Byron Tate, who continues to gain about 4 yards a carry.
And Parish serves up another interception to the Wildcats, this one completed by DB Obale Enoweyere on a lame duck pass. 
The Marauders continue their hapless offensive night on this possession, already in a 3rd & 11 hole after a failed run and incompletion.
TOUCHDOWN WILDCATS! And suddenly the Plano Senior passing game comes to life with Brooks Panhans lofting one up nicely for Matt Kirchner, who easily out jumps his defender for the score. Arango is good on the PAT and the score is now Plano Senior 41, Flower Mound Marcus 7 with 8:12 to go in the game. 
The moment the Wildcats turn to the passing game though, things look a bit more shaky with both Panhans and Stephens overthrowing wide open targets in Tecklenburg and Tate.
The Panhans to Kirchner connection works like a charm again as Plano Senior pick up 9 yards on the "Out Route".
The Plano Senior offense again turns to the steady run to both eat away at the clock and move the chains, but they are interrupted prior to 3rd & 3 by a False Start penalty. 
QB Andrew Parish simply throws it up for grabs in a moment of panic and it is easily picked off by DB Aaron Ragas, who has been solid along with the rest of the Wildcat secondary all night long. 
A short run up the middle doesn't cut it for the Marauders, now in a 4th & 4 predicament.
Timeout: Flower Mound Marcus (1st Timeout of the half)
A couple more unsuccessful plays for the Marauders have them staring at another 3rd Down, this one requiring them to obtain at least 4 yards.
Plano Senior attempt an inspired fake field goal in that situation, which goes pretty terribly as Matt Kirchner is hit and then fumbles after rolling out with the ball as the holder. Fortunately, Kirchner falls back on the ball and FMM take over with decent field position.
Brandon Stephens isn't able to turn the corner on the "Wildcat" formation play and Sam Arango comes on for the field goal attempt.
End of 3rd Quarter: The score does not change as Plano Senior still leads Flower Mound Marcus 34-7. 
TE Conley McCabe gets in on the Plano passing attack now with a short 3 yard reception on 2nd Down.
FMM continue to run uninspired plays on offense despite their season more-or-less being on the line here,a couple more incompletions from Parish brings the punting unit back on, with the punt traveling only about 30 yards with Plano Senior taking over at the FMM 28.
Plano Senior elects to punt as Jordan Christian pins the Marauders inside their own 10 for the second time tonight.
Lopaka Yoro is unable to build off of that success though and Plano Senior is faced with a 4th & 14 from the FMM 37.
Brandon Stephens continues to gash the FMM defense for big gains as he rips one off from 17 yards to force a manageable 3rd & 7 with under 4 minutes to go.
The Wildcats pick up the 1st Down through the air but then immediately go backwards due to a holding penalty and a tenacious blitz for the Marauders on the ensuing 1st & 20.
TIMEOUT: Plano Senior (1st of the 2nd Half) 
QB Brooks Panhans is unable to gain yardage as he eats a play for no gain into the heart of the Marcus defense.
PENALTY: Flower Mound Marcus – Personal Foul for Unnecessary Roughness on Jacob Carmichael after he violently flings Lopaka Yoro to the ground after ushering him out of bounds for a one yard loss. 
PENALTY: Plano Senior – Holding on Hayes Schmitt marches the Wildcats back 10 yards. 
Plano Senior just trying to wind the clock out now through the running game, as Stephens and Panhans each contribute in picking up a 1st Down on 3 carries combined.
T.J. Lee completes the fair catch at the Plano Senior 35 with 8:50 remaining in the 3rd quarter.
Passing the ball, or attempting to, doesn't go much better as another Andrew Parish incompletion brings on the punting unit.
Flower Mound Marcus' offense is anything but potent at the moment though, as they struggle to a 3rd & 5 after 2 dismal runs.
The Wildcats again struggle to block as Andrew Fitzgerald gets in on the sack for the Marauders, who force the 3 and Out and will begin at their own 26 down four scores and in need of points, fast.
Plano Senior begin their next drive at their own 40 with a loss of yardage after Brandon Stephens is thrown to the ground by Jacob Carmichael on a broken play.
2nd Half just about set to get underway here at Clark Stadium, Plano Senior to receive the kick up 27 points.
HALFTIME: Plano Senior LEADS Flower Mound Marcus 34-7
Hail Mary was a very strong term to describe what amounted to a 10 yard completion for Parish, as the half and probably the game has run out on Flower Mound Marcus.
A mere 2 seconds remain after a short swing pass by the Marauders, who will now attempt a Hail Mary from 36 yards out.
Parish is sacked by Tucker Pollacia though, and FMM call timeout with just 16 seconds remaining and still 20 yards from at least field goal range.
There still may very well be more scoring in the half though, as FMM have a nice kick return into Plano Senior territory.
TOUCHDOWN WILDCATS! One play is all the Wildcats need as Lopaka Yoro shoots like a bullet through the FMM defense, breaking a tackle in the process to motor his way into the end zone from nearly 50 yards away. Arango kicks the PAT through this time, and Plano Senior surely have killed off Flower Mound Marcus for good now. 34-7 Wildcats with 0:55 left in the 1st half!
Its now time for Flower Mound Marcus to fail to capitalize, as Parish massive overthrows an open Bryce Kubas on 2nd Down. He follows that up with a pitiful pass attempt on 3rd Down as well, and lo and behold, Plano Senior will get the ball back with about 1 minute left in the half.
Wildcats punt away after the missed chance, and FMM take over at their own 17 with just under 2 minutes to go, in need of points badly.
Plano Senior had the Marauder defense dead to rights after that timeout, but RB Stephens drops a sure touchdown pass in acres of space. Big missed opportunity there to put the game to bed for good.
TIMEOUT: Flower Mound Marcus (2:08 remains in the half)
PENALTY: Plano Senior – False Start
However awkward, the punt gets a fair distance away from the end zone and after a penalty for illegal block in the back, Plano Senior begin what appears to be their final drive of the half at the FMM 33.
Flower Mound Marcus go nowhere but backwards though on their 3 plays inside the 10, with QB Andrew Parish sacked at the ONE INCH LINE on 3rd Down, setting up a precarious punt.
Christian's punt eventually dies inside the FMM 10 yard line, pinning the Marauders deep with just over 4 minutes remaining.
TIMEOUT: Plano Senior – Jordan Christian's punt is interrupted as Plano Senior takes their final timeout of the half.
Wildcats really looking to kill the clock now through running the ball, and they are doing it effectively up until that last statement was typed. Plano Senior stopped at midfield with a 4th & 1 looming…
WR Matt Kirchner hauls in a catch and brief run of exactly that distance,and with it Plano Senior again move the chains.
Plano Senior has a real chance here to put the nail in Marcus' coffin, but a 2nd Down fumble ultimately recovered by Panhans doesn't help matters. 3rd & 9 Wildcats.
Soon enough though, as has been the case all night long, Flower Mound Marcus self-destruct through an inefficient passing game. They punt away and the Wildcats take over at their own 27.
Despite a solid stop from Neema Behbahani on 1st Down, the Wildcats are unable to slow down C.J. Respass as the junior runs 3 straight times for a 1st Down.
PENALTY: Flower Mound Marcus – Holding on Jacob Carmichael as the Marauder's with again start deep in their own territory after shooting themselves in the foot on kickoff duty again. 
TOUCHDOWN PLANO SENIOR! It had to be Brooks Panhans, who on his return to the field scrambles for a touchdown up the heart of a dispirited Marauder defense. The PAT from Arango is no good however, and Plano Senior now lead 27-7 with 10:27 to go in the 2nd quarter. 
Trickeration from the Wildcats nets them a 1st Down and more though as a reverse flip to Lopaka Yoro moves the chains.
Panhans rolls out in play action and nearly finds TE Sam Tecklenburg for 6, now 3rd Down for Plano.
TIMEOUT: Plano Senior (2nd Timeout of half with 11:15 remaining in it)
Plano Senior with an instantaneous response to Flower Mound Marcus as WR Daejon Howard takes the kickoff back all the way to the FMM 28 yard line, great field position again for Plano. 
That three-score advantage does not last for long as RB C.J. Respass easily strolls in to make it a 21-7 game as the Marauders get on the board early in the 2nd quarter. 
End of 1st Quarter: Plano Senior lead 21-0
They can't do so and will start at the Plano Senior 1 yard line when the 2nd quarter opens up.
Respass continues his path through the Wildcat defense all the way to the Plano 5, and FMM are looking to answer before the quarter expires.
RB C.J. Respass bails them out though with a slashing run up the middle for 14 yards.
Parish gets a big play following the penalty though via a desperate throw into traffic which is somehow caught, but again the Marauders find themselves with 3rd & Long after 2 quick plays without yardage.
A 5 yard penalty for FMM completely wipes out the gain from Alex Albright's catch.
PENALTY: Flower Mound Marcus – Illegal Snap
In desperate need of points, the Marauders take over at their own 29 yard line. Their quick-fire offense has been anything but thus far.
TOUCHDOWN PLANO SENIOR! RB Brandon Stephens again punches it in from short-range and the Marauders have no idea what has hit them. An avalanche of points from Plano Senior right now, 21-0 with still 2:23 left in the 1st quarter!
QB Brooks Panhans is in a real groove right now, as he hooks up with WR Matt Kirchner for a huge 50+ yard connection on the slant route. Plano Senior threatening again in the Marauder red zone. 
P Daniel Blaney feels big pressure from the Wildcats Special Teams unit and T.J. Lee comfortably fields his short punt.
And the Marauders will punt again after another incompletion. Fantastic start for the Wildcat defense. 
RB Nate Hopkins gets the carry for FMM as they set up shop just ahead of their own 30 yard line, the play goes for 3 yards before Hopkins is flat-out stuffed on the next play thanks to a Plano surge. 3rd Down for FMM.
TOUCHDOWN WILDCATS! Lopaka Yoro picks up where his fellow running back left off, taking it in from 10 yards out to give the Wildcats a two-score lead. Arango again connects on the PAT and its 14-0 Plano Senior with 5:31 to go in the 1st quarter!
Offensive Coordinator Joey Stone calls the right play as Brandon Stephens cuts through the Marauder defense for 18 yards all the way to the FMM 10 yard line. Stephens is hurt on the play and walks off the field under his own power after appearing a bit dazed.
TIMEOUT: Plano Senior – The Wildcats will ponder what to do on 4th and Short
Plano Senior is just short of the mark though, as a swing pass to Stephens is forced out of bounds about 2 yards shy of the marker.
Panhans again appears mobile by picking up 10 yards on a scramble, forcing a 3rd & 5.
PENALTY – Plano Senior: Isaiah Williams with the False Start
It matters not though as Panhans settles in and finds an open man for 12 yards and the 1st Down.
Wildcat offense has stalled on first 2 plays though with RBs Byron Tate and Brandon Stephens picking up no yards between them.
When it rains it pours, Marcus go backwards and finally punt on 4th & 30, and its a weak punt as well. Wildcats take over at the FMM 45.
PENALTY – Flower Mound Marcus: False Start
Marcus complete a disastrous 3 play sequence by having an O-Lineman almost catch a weak throw away from a pressured QB Parish.
PENALTY – Flower Mound Marcus: Illegal Touching
Parish goes deep on 2nd and Long but the pass falls incomplete setting up 3rd and 12.
PENALTY – Flower Mound Marcus: False Start on Payton Kibel
Flower Mound Marcus now open their next possession at their own 30 with a run that generates 3 yards.
TOUCHDOWN PLANO SENIOR! RB Brandon Stephens powers it in from just over 5 yards out, and the Wildcats get off to a dream start by leading 7-0 after Sam Arango's PAT with 10:54 remaining in the 1st quarter!
Wildcat QB Brooks Panhans shows off his mobility early on as well, picking up 10+ on the QB keeper.
Stunning start to events here at Clark as Marcus QB Andrew Parish goes back to throw and simply drops the ball on the ground. The fumble is recovered by Plano and the Wildcats takeover inside the Marauder 30.
Plano Senior kickoff to begin the game and its returned by Marcus' Adam Winston to their own 35 yard line. 
The Plano Senior Wildcats are now on the field as well, in all maroon.
The Flower Mound Marcus Marauders have entered the field through an inflatable helmet and smoke, sporting bright white uniforms with a red trim on them.
We are under 5 minutes from kickoff now in this (realistically speaking) must-win game for Plano.
The big news of the night is that Plano Senior starting QB Brooks Panhans is set to return tonight after suffering a leg injury in the season opener versus Tyler – John Tyler, providing the Plano Senior offense with a spark for this all important contest on Senior Night.
Plano Senior can control their destiny in terms of a playoff berth with a victory tonight, while Flower Mound Marcus need to win and receive help in order to move on with their 2014 season.
Kickoff is 20 minutes away here at Clark Stadium, where the air is cool and the atmosphere is tense.
Hello all and welcome to tonight's live blog of the varsity football matchup between the Plano Senior Wildcats and the Flower Mound Marcus Marauders from Clark Stadium!
Leave a Comment
About the Contributor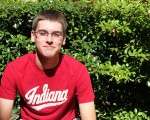 Cameron Drummond, Sports & Social Media Editor
Senior Cameron Drummond serves as the Sports Editor and the Social Media Editor for the 2014-15 edition of the Wildcat Tales. He runs the Twitter, Facebook,...