Volleyball clinches playoff berth on Senior Night
October 26, 2015
Volleyball seniors secured passage to the playoffs this past Friday night following a victory at home against Flower Mound Marcus.  
The win coincided with the celebration of Senior Night for the volleyball team, as a special ceremony for the seniors took place following the game. Senior libero and defensive specialist Maggie Sagers was one of those honored after the win.
"It's very emotional, it's the wrap of our four years here," Sagers said. "We put in so much work throughout the August to October season, as well as in the weight room and running during the other months."
Junior middle blocker Jaclyn Childress, a Wake Forest University commit, has played multiple seasons with many of this year's seniors. Childress holds mixed emotions about their departures.
"It's bittersweet. In one regard, I'm so happy that the seniors are moving on to a new chapter of their lives," Childress said. "I'm also really sad because it's ripping my heart out to see them leave. I love them."
The match against Marcus opened with Plano taking the first two sets 25-16 and 25-19 respectively. Senior outside hitter Megan Duncan, who is committed to the University of Houston, made several key blocks to help establish the two set lead on Senior Night.
"This night is meant to recognize all that the seniors have accomplished in their volleyball careers," Duncan said. "It also feels amazing to be in the playoffs as well. This year we are feeling it and we are ready to make a long run."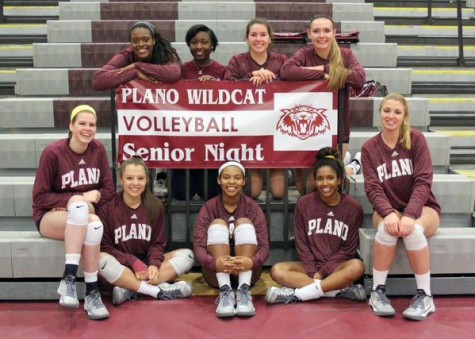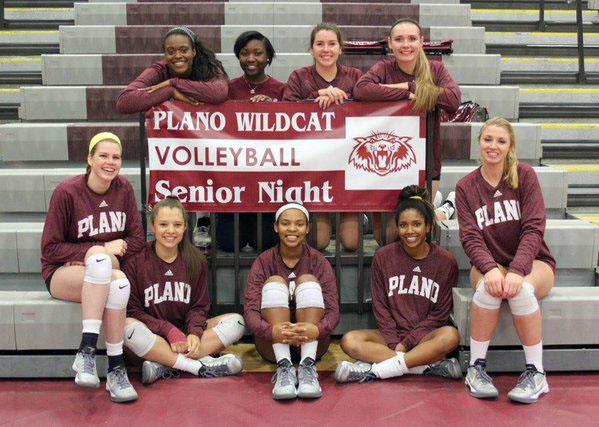 Plano closed out the match with a 25-12 win in the third set. The victory, when combined with Plano West's loss to Allen later that night, means the team secured the fourth and final playoff spot in District 6-6A.
"I'm very excited for the playoffs," Childress said.  "Our motto has been that we may be sore today, but we won't be sorry tomorrow. We are ready to show the state what we're made of."
Varsity head coach Teri Minnis arrived in 2012 and has taken the team to two UIL regional finals. Several of the seniors recognized on Friday night played a part in Minnis' most successful teams to date.  
"Senior Night is a great opportunity to recognize and honor the girls," Minnis said. "As a coach, I hate it because it's an emotional night and it's a way of saying goodbye even though there is still more of the season to go."  
Sagers, who is fourth on the team in aces recorded and digs per game, will continue her career at Texas Tech University next year.
"The ceremony recognized all the people who have put in a lot of time over the last few years," Sagers said. "The seniors have sacrificed their social lives, homework and grades for volleyball."   
Minnis views Senior Night as an opportunity to showcase the seniors who have shown dedication to the volleyball program.  
"We were able to thank them for all that they've put into the program," Minnis said. "Going forward for them, I'm most excited to see them flourish and become the great women that they will be."
Plano is expected to win their final district match on Tuesday night at sixth-place Lewisville prior to beginning the playoffs, although they are locked into the fourth seed.