From Wildcat to Razorback: Ex-NFL player reflects on time at Plano
The year is 1977. A cool crisp December breeze is blowing through the walkways of the campus. A pep rally is in full swing as junior Billy Ray Smith Jr., known as BR to the student body, is preparing with the varsity football team to play for a state championship title.
Smith started out as an average student. Coached by Tommy Kimbrough and playing as an offensive guard and defensive tackle, Smith became an instant star. After winning the state championship 13-10 in 1977 against Port Neches-Groves, Smith returned to the state championship in 1978 against Houston Stratford – and lost. Smith said there is only one thing he would change about his career.
"I would go back and tackle Craig James just a few more times," Smith said. "To possibly change the outcome of that game against Houston."
Not only was Smith ready to tackle on the field, but he was also ready to tackle graduation, thus moving on to bigger and better things.
"Plano Senior was a huge step for me," Smith said. "The years I spent there prepared me for my college and pro career. The coaches and teachers made me the best I could possibly be."
After graduation he went on to play for University of Arkansas, becoming a captain, a leader and a legacy as his late father Billy Ray Smith Sr. also played for the Razorbacks. Smith was later inducted into the Arkansas State Hall of Fame and the Razorback Hall of Honor.
"Since I was a child, football at Arkansas was what I wanted to do," Smith said. "Watching my dad play truly inspired me."
After playing for Arkansas, Smith ended his college career with a total of 299 tackles, and was then later inducted into the College Football Hall of Fame in 2000.
"I wasn't shocked when I found out I was put in the Hall of Fame," Smith said. "I was a two time All-American, but I didn't just represent myself. I represented my team."
After his years at Arkansas, Smith was drafted by the San Diego Chargers in 1983. He went on to be named team defensive player of the year in 1985 and 1986 as well as the team's MVP in 1987. Smith played ten years in the NFL with the Chargers, giving him an even bigger name in football.
"I was very involved and being the defensive coordinator for the Chargers helped me get closer to the team quickly," Smith said. "Through some of the harder times, like when we did lose, the team was always a family."
Once retiring from the NFL, Smith got into show business. He now does a three-hour sports radio show out of San Diego, called The Scott and BR show. Looking back on his high school years, Smith said his classmates and community helped to make him a better man and player – on and off the field.
"Without the support from everyone in Plano, I couldn't have done it," Smith said. "Realize how lucky you are that you go to a school in Plano. I know where you're at and it's a great experience that lies ahead."
Smith's life has changed drastically since his years at Plano. He believes in future generations and the potential the student body has. Smith wants to encourage students to never give up on their dreams and make a difference in school.
"To the football team, I leave you with these words," Smith said. "Always listen to your coaches, they know what's best for you. Learn the algebra or calculus just like you learn the game and always give it your all. Realize how lucky you are and what a privilege you have to be going to Plano. Never forget who got you there."
Leave a Comment
Your donation will support the student journalists of Plano Senior High School. Your contribution will allow us to purchase equipment and cover our annual website hosting costs.
About the Contributor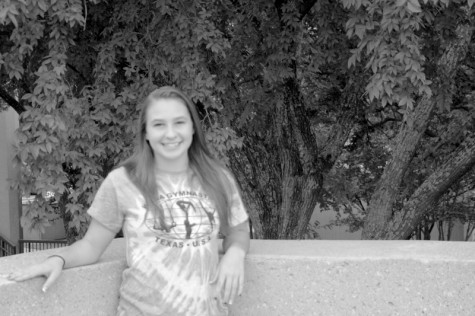 Lizzy Ritchie, Staff Writer
Junior Elizabeth Ritchie, or "Lizzy" as her friends call her, always puts people first and is very passionate about what she does. She is very school...