Flipping the tables: Wildcat alumni become teachers
March 6, 2015
Every year, new faces overwhelm the halls and history repeats itself. Students rush to their classes while getting stuck in B building traffic. Some plan out how they will manage to complete last night's homework due next period, and others debate the importance of classes and sleep.
Choral assistant Rachel Franklin graduated from Plano in 2006. As a student Franklin participated in choir, Music Corporation and the National Honor Society. While participating in the various music programs, Franklin had Choral Director Derrick Brookins as her instructor. Now, she works as his assistant.
"I started teaching elementary school in Plano," Franklin said. "After two years, Brookins called me and told me his assistant at the time was leaving. He got the ball rolling so I interviewed with Sarah Watkins and got the job."
AVID teacher Aimee Ratliff graduated from Plano in 1988 with a class of 1,400 students. According to Ratliff, physical appearance of the school and district policies have completely changed from when she was a student.
"Well in '88, kids could smoke on campus," Ratlliff said. "I was not a smoker, but that's a big change. You could walk from the bridge where A and B building were and around the cafeteria and mostly in that area kids would hang out and smoke."
Along with Ratliff, English teacher Debbie O'Reilly graduated in 1988 and was involved in the women's basketball team as well as electives such as yearbook and newspaper.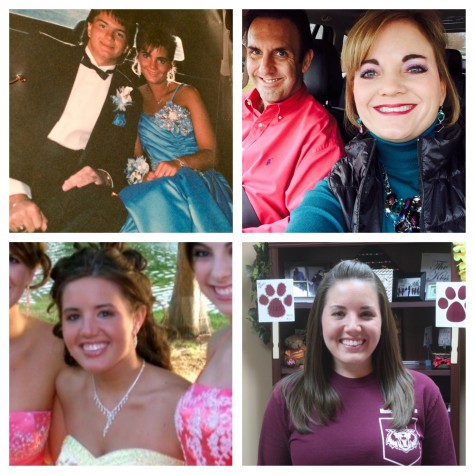 "I played basketball both years and I wrote for the yearbook my junior year. I wrote 82 articles for the yearbook that year," O'Reilly said. "Then senior year I wrote for the newspaper. I was one of the entertainment staff writers. That was great."
According to Franklin, since 2006 the school has changed, but certain things have remained the same.
"Well it's definitely bigger and Chamber Choir was brand new my junior and senior year," Franklin said. "It's different being a teacher rather than a student. Overall the district is pretty similar compared to when I was a student here. The goals are all the same."
Since high school, Ratliff said that her favorite traditions were holding pinkies and singing the alma mater at the games as well as driving through the school parking lot at night.
"We won state for the football team the two years I was here, so that was nice," Ratliff said. "It was fun to cruise that parking lot and see who was there and what people were doing. After we would go to Braums, get a mix and go home and study."
While attending Plano, O'Reilly's favorite traditions were consistent of the pep rallies.
"During pep rallies it's funny even as a teacher when I'm in the stands and we're hooking pinkies and singing the song," O'Reilly said. "It makes me really proud."
Although Ratliff is no longer a student, she has still been given the opportunity to participate in her favorite traditions with her students. She has also started to admire band's school spirit.
"I think it's cool that band gets to do so much," Ratliff said. "I was excited that I got to get paws and learn the different band dances that they do, and it did not go over as well as I would have liked it to, but it was fun."
According to Franklin, she had always wanted to be a teacher, but she was undecided about what exactly she wanted to teach.
"I didn't know I wanted to teach music until I became a junior and got super involved in it," Franklin said. "I felt really successful. That was when I realized that I was actually going to teach music."
Ratliff had written down that she had wanted to be a teacher her fifth grade year at Shepard Elementary and admired her mother's work ethic as a teacher.
"My mother was a teacher who worked her butt off for 20 years and of course I saw that and modeled that," Ratliff said. "Teaching is a calling and in 1994 I started teaching at Vines for two years and was immediately spoiled with great kids."
After spending six months in advertising, O'Reilly quickly realized that she was more passionate about teaching.
"I figured out that advertising didn't fit with my personality," O'Reilly said. "So I tried to figure out what I liked and what I was good at and it just became clear to me that I loved my English classes and I really loved reading and writing and just make that a career." 
"
I could still see myself by my locker and meeting with my friends."
— English teacher Debbie O'Reilly
When O'Reilly started her first year at Plano, she taught in a classroom that was located directly next to her junior year English class as well as near her locker. According to O'Reilly, her first year at Plano was an experience of continuous flashbacks.
"I could still see myself by my locker and meeting with my friends," O'Reilly said. "My locker decorated with pictures of Bon Jovi and Tom Cruise and little moments with friends that I had at the school that all came back to me. Now I don't even think of it at all."
Not only did the school change through physical renovations and district reshuffling, but Franklin's perspective of the school changed as well.
"It's a unique atmosphere, because I had one perspective as a student and your perspective completely changes when you're on the other side," Franklin said. "There were things that were going on that I knew nothing about, like hiring an accompanist. I do think it's unique because I have the background of being a student at Plano, but it's so different from this side, so I get a whole 360 view of things."