Figuring it out along the way: Teen mom pregnant with second child
April 8, 2015
Every three minutes brought a circuit of agony. Tears fell down her face as she had no option other than to leave her and her baby's life in the hands of a doctor. In the end, each tiresome and frightening moment resulted in complete bliss.
It was always an objective for junior Ashley Perez to be a younger mom so that she could be more involved in her kid's life. Although earlier than expected, Perez gave birth to her first baby, Micheal, at age 15 during her sophomore year. Perez is currently pregnant with her second child and her due date is July 21.
"I was happy when I found out I was pregnant. I have always had the mentality of having my kids young because I want to make sure I can spend time with them," Perez said. "I was going to have my first baby after I graduated high school and then take a year off and go back to college. That did not work out, but now I'll be able to see them grow and play with them. Some parents are older and are sometimes too busy to play with their kids."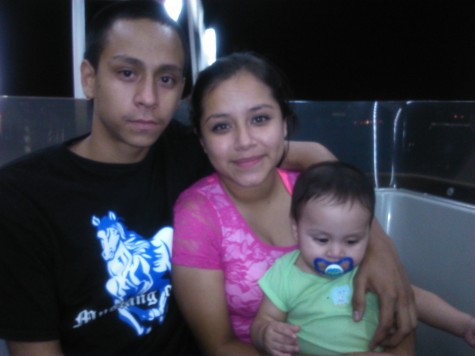 When receiving the news of her first pregnancy at a clinic, Perez's boyfriend of five years and father of her first and soon to be second child was present. According to Perez, his reaction was what she had hoped for.
"When he heard the news, he immediately joked about how he was going to have to work," Perez said. "He told me we're going to do what we're going to do, and that he wasn't going to leave me because I was pregnant. Everything was great with my boyfriend."
Although her boyfriend handled the situation positively, she said her biggest fear was how her mother would react. After discovering papers from the clinic confirming Perez's first pregnancy, her mother was officially aware and immediately reacted.
"My mom didn't talk to me for two days," Perez said. "I guess she was worried, which I understand. Another person means that there's another mouth to feed and a lot of expenses, because a baby is really expensive. But when we got closer to the due date, she was happy that I was going to have a baby."
While some high school students' schedules consist of snoozing until eight, watching TV and procrastinating to do their homework until midnight, Perez starts her day at 7 a.m. and ends her day exhausted.
"I'll get ready and then get the diaper bag ready, and by eight a driver is here to take me and my baby to daycare," Perez said. "It's not much of a struggle in the morning. He sleeps really well and after I drop him off at daycare I come to school. My mom usually picks him up from daycare around 3 or 3:30 p.m. When I get home, I do my homework and take him out to the park, and we'll have fun."
When she was pregnant with her first child during the end of her freshman year,she attended Richardson High School. Perez said that she told very few people about her pregnancy and let the students at her school figure it out themselves.
"To be honest, everyone stares," Perez said. "It bugs me when they keep staring, but I guess you can say I have gotten use to it."
According to Perez, during her last pregnancy she had trouble eating without vomiting and was more conscious of people's opinions of her pregnancy. Despite the perpetual stares, Perez has felt more comfortable with herself during her current pregnancy.
"People are always going to judge you for your outside, for what you wear, how your hair looks, whether you wear makeup or not and your weight," Perez said. "During my first pregnancy I hated it, I didn't want to go to school and got truancy. This pregnancy has been better than my last one."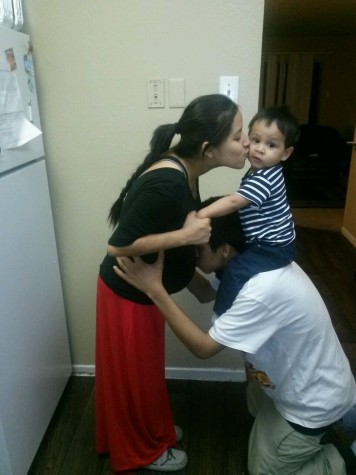 Perez met AVID teacher Aimee Ratliff during her sophomore year shortly after having her first baby. Perez is currently in Ratliff's second period class.
"I met Ashley at Vines last year when I went to visit," Ratliff said. "Her teacher had praised her to me. I appreciate hard working students. Determination is the key to success and Ashley has it."
When Ratliff discovered Perez's second pregnancy, Ratliff had not yet gotten to know Perez, but understood the difficulty of her situation.
"Being a mom is challenging at my age," Ratliff said. "Trying to go to high school and being a mom is a bigger struggle. I knew she would need her AVID family and all the support her community could, and can, provide."
Since then, Ratliff's relationship with Perez has grown. According to Ratliff, Perez excels in her class not only through her exemplary Cornell notes, but also by offering her assistance on a daily basis.
"I would say that Ashley and I are close," Ratliff said. "She confides in me and I try to mentor her and put her in contact with people who can help her."
Through AVID, Perez has completed three college fit searches on Naviance and has used Princeton Review in order to narrow her list down to 10 schools. Although Perez may be growing up faster than most other teenagers, Ratliff said Perez has a big future.
"She wants to teach math and she will be an incredible teacher," Ratliff said. "She teaches during tutorials already. Her experiences and heart and desire to give back will inspire many."