Swing, Swing, Swing: Jazz bands put on annual swing dance
January 29, 2016
The Jazz band has been putting on the annual Swing Dance for over 30 years.
Each year, a new theme is displayed through music and decoration in the cafeteria. This year's theme was "Sing, Sing, Sing," a popular swing song written in 1936.
Director of bands, and the director of this year's jazz bands, Jason Lewis, made new additions to his first swing dance production.
"Every year we have the Clark and Vines jazz bands join us, as well as Wilson Middle School," Lewis said. "Our program has grown so much that we now have enough to split into two groups, so this year, we debuted a second jazz band."
The Swing Dance has been a place for students to relieve themselves from high school life. Assistant director, Michael Hernandez, has helped organize the dance to do so, one that has been anticipated every January, for the past 20 years of his career.
"Traditionally, it's a time for alumni to come back and celebrate with us," Hernandez said. "We've even had dance schools, for older adults, come to dance."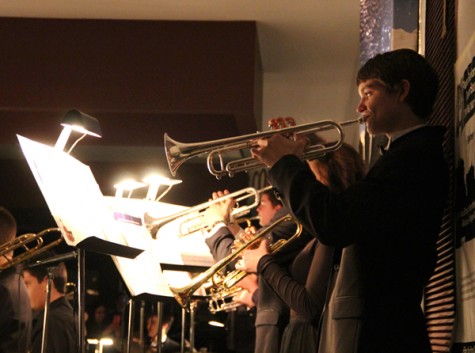 The jazz bands played songs such as "St. Louis Blues" by W.C. Handy, "Little Brown Jug" by Bill Finegan and "A Switch in Time" by Sammy Nestico for the performance. A mix of 21 tunes gave the dance variety.
"We try to keep the original elements, so there's a lot of swing," Lewis said. "We play a blues tune here and there, but it's 95 percent swing."
Senior Leah Damon has attended the dance the last two years, looking for a way to get out and have fun.
"Last year's dance was so much fun, as was this year's," Damon said. "I got to hang out with some really great friends and learn how to swing dance. I loved hearing the new pieces they played."
Before the actual dance started, dance teachers gave swing dance lessons. The step-by-step instruction taught students the proper swing style and gave them a chance to get involved with the music.
"The dance lessons were very helpful," Damon said. "They were really easy to understand, and they actually taught us how to swing dance."
Over the years, the dance has grown in popularity amongst the student body, becoming more than just something band students attend.
"The swing dancing and live music gives off an entirely different energy than most other dances," Hernandez said. "A lot of students claim to have a lot more fun at this dance than they do at one of the other formals."
Besides the various desserts, punch and music, a raffle was held as well. Raffle tickets were purchased during the dance for two dollars a ticket, with the winners claiming donated prizes from tickets to sporting events to senior photography sessions.  
"A variety of items are donated," Lewis said. "It is an additional fundraiser to supplement the costs of the Swing Dance."
The music for the night took months of preparation. The jazz bands had to learn the musical line up in the time it takes most bands to learn around three songs according to Lewis.  
"Since the beginning of the year, the students have learned how to play swing, how to improvise and other things that are so different for them," Lewis said. "They got to combine everything they've learned and execute it on stage, showing everyone just how far they've come."