Designers debut "Flawless" creations
Advanced Fashion Design presents "Flawless," a show in which the class presents original creations. The show will take place in the Doyle Dean Performing Arts Center in D Building on tonight at 7 p.m. Tickets can be purchased for $5 before the show in room B209 and from a fashion design student or will be $7 at the door.
Fashion design teacher Bonnie Turnbo said she is looking forward to seeing the students model their creations. Everyone started with the same outfit pattern from Cynthia Rowley's "Simplicity" collection but were given the freedom to create what they desired.
"The students took this look and gave it their own spin," Turnbo said. "We have all sorts of designs, from tribal print to cotton and denim florals to maroon satin and wool crepe. It's all the same pattern, but no two designs are anywhere near alike."
The designs have been in progress for a month and a half.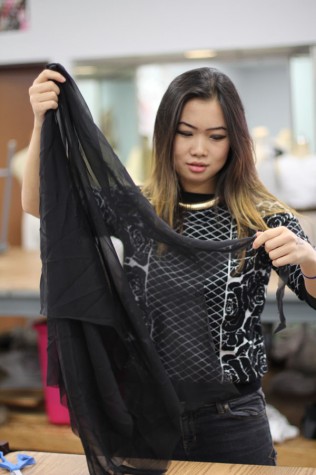 "The students selected a pattern to use as their inspiration," Turnbo said. "Each student then redesigned it according to their aesthetic. They then purchased their supplies for the design and chose the models and styling for the show."
According to senior Hazel Barasa, the process has come with its challenges.
"The most difficult part was probably finding fabrics that collaborate well with each other," Barasa said. "Finding enough time to fit in all of my projects was tough, too."
The designers have created more than one outfit to show off on the runway. Some designers will have several models displaying different creations.
"I have a shirt, a skirt and two dresses," Barasa said. "It was a lot to get done. It has definitely been stressful because I work, too, and have other classes. I've been in the room before school, after school, and during lunch, and during our double-block class. I really had a key vision for what I wanted for the show, and I wanted it done."
Senior Kaley Asplin, another designer for the show, said each student found inspiration for the patterns in a different way.
"When I was looking for ideas, I kind of kept my model in mind," Asplin said. "For example, one of them is a little bit of a country girl and likes her boots and jeans, so I took that inspiration with it. I used nice neutral whites and browns and a lace overlay, which is really common with country themes."
According to Asplin, the theme of the show itself was purposefully left broad and general in order to allow for the creativity of each designer.
"We didn't want a theme that our designs would have to reflect," Asplin said. "Each designer in the class is so different, we didn't want to have to limit anybody. All of us are so artistic in different ways, so having a theme to match the designs to would almost be a crime for some of us."
Turnbo said she is proud of the outcome of the designs and is excited to watch the students discover what they can do with their ideas.
"It's always so amazing to see the garments come alive into a fashion on the stage," Turnbo said. "I love seeing how proud the students are of the finished product and realizing how much they have learned in the process."