Passion for sale: Student artists sell work
Ella Hunt, Staff Writer & Featured Columnist
November 18, 2014
It takes great dedication and talent to be an student artist. It takes even more artistic skill and dedication to be able to sell their work. These skilled artists create their works and sell them per request and an online commission. Many of these works are a personal and emotional part of the individual artist.
Junior Savannah Selvage is an student artist who free draws by request and posts her artwork online. Selvage said that her artwork has great meaning to her and is not just a drawing.
"My emotions are what help me draw," Selvage said. "And if I put my emotions into what I'm drawing, it makes the drawing have more meaning and feeling rather than just being a drawing on a page."
Selvage said that she has been drawing since she was nine years old and it has become a part of her.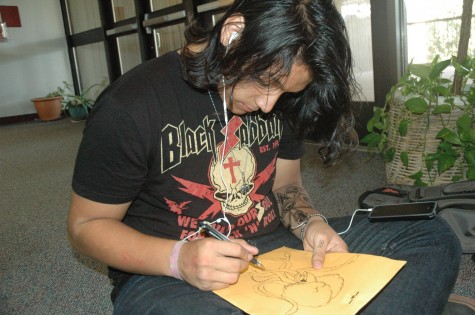 "It's a way to get my feelings out," Selvage said.
Selvage sells mostly to people she doesn't know.
"I like having feedback so I know what other people think and what they think I need to work on," Selvage said. "Knowing what people think can give me ideas of new things to draw that are commonly liked among different people."
Junior Danny Barrientos, another artist, sells his work by online commission and by request. He sells about five or six drawings every month.
"To me, selling my own art is an accomplishment," Barrientos said.
Barrientos said that his main inspirations are his brother and Da Vinci.
"My brother inspires me because he's the one who taught me to draw realistic things," Barrientos said. "And I like the inventions, sculptures and paintings that Da Vinci did."
Barrientos said that he is interested in making a career out of his art.
"I want to either become a tattoo artist or go to work for Pixar," he said. "I actually have an interview next month."
To progress past her usual drawing requests, Selvage has also been asked to make a mural for her neighbor's son.
"I feel good about it," she said. "It'll help me expand my comfort zone and I want to face more challenges."