Band welcomes new assistant director
Lydia Sebany, Staff Writer & Featured Columnist
December 10, 2014
Walking through the band hall doors into a new school year, Jay Cawyer is joining the staff as a first year teacher. Starting off as an involved student in high school, to pursuing a career to be a teacher, Cawyer has committed his efforts to combine his learning abilities and music skill to be an ideal music educator.
According to Cawyer, he knew that music was his calling from the beginning. His family exposed him to different types of music, which shaped him into the music educator he is now.
"It's always been a big part of my life," Cawyer said. "My parents met in college band, so they were band people. We would go see musicals and go see movies that had awesome soundtracks. I have always liked music in some form or another."
In high school, Cawyer was involved in multiple extracurricular activities. He participated in Boy Scouts and played soccer in addition to his musical obligations.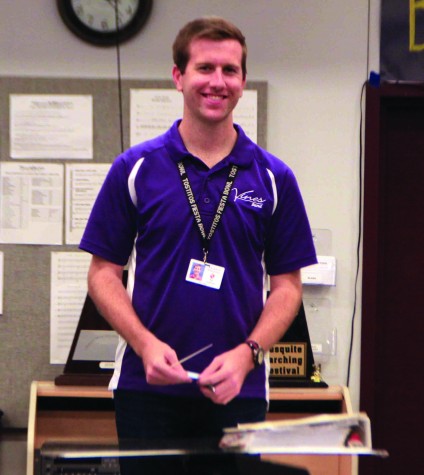 "I would say I had a pretty well-rounded childhood," Cawyer said. "But at some point, I just had to choose and I stuck with band. Then, I just kept getting better. That's when my love for music started to become focused more on classical music and band music and that's when I started to take off at this."
Cawyer entered student teaching at the beginner level at Schimelpfenig Middle School and helped with a variety of tasks. Before the end of his time there, he was given a piece to conduct at pre-UIL and was able to work on it with the band and make it his own.
"That was a pretty big thing to just hand me and say, 'have fun,'" Cawyer said. "They were there to help me out, but it was just really cool that they trusted me that much and that they let me take that on."
Once he had spent some time teaching and creating relationships with the other directors in the district, Cawyer was able to make more than small talk with them.
"It's not that I just work with them, but I have good relationships with them," Cawyer said. "It makes going to work and teaching with these guys just that much more fun."
Band director Jeremy Kondrat said that Cawyer has grown from being someone with minimal experience in the field to a person that connects well with his students.
"He's open to not only being a statue of a teacher in front of them, but showing his human side as well," Kondrat said. "He is able to give good information to the kids and I think they respond well to him. And I think that makes a connection. He also has really high standards, expects a lot from the students and expects them to rise."
Cawyer said he believes he is learning something new all the time from his students as he constantly searches for ways to inspire them.
"I am a first year teacher so the learning curve is pretty steep," Cawyer said. "At this point, it's just kind of trying out what I can do to motivate them and the things I can say and the kind of feed back I can give them that is going to work the best."
According to senior Cristina Robles, Cawyer's class is highly interactive because of his intimate teaching style.
"Although it's his first year, he teaches passionately," Robles said. "He puts great emphasis on details and having a good time with everybody."
Cawyer said that as he continued on with teaching, he had to learn to trust his instincts, because he was faced with doubts at times.
"Sometimes its easier to just question, 'am I doing the right thing?" Cawyer said. "Am I on the right path to being where I want to be eventually?'"
Although Cawyer said he could have seen himself as an engineer, accountant or even a graphic designer, he is now set on continuing with his teaching career.
"His potential is enormous," Kondrat said. "I think he could definitely go on to lead a band program somewhere, someday. It is definitely in his realm of possibility. I don't know where he's going to end up, but I hope he will be here for a while."