Dream audition: Theater students prepare rigorous college auditons
Getting into a Bachelor of Fine Arts program requires a series of college auditions that consist of two to three minutes of showcasing talent through acting or singing. After hours of preparation and practice, these few minutes help determine the course of a performer's life.
Senior Taylor Hadsell is auditioning for 20 colleges. She looks at things such as location and professional connections to set the schools apart. According to Hadsell, it's important for her to consider so many colleges because the number of female spots is limited in most BFA programs.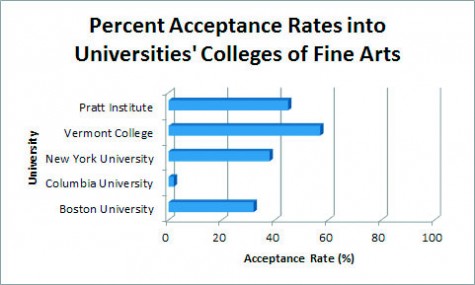 "It's hard because they usually only accept six to ten girls," Hadsell said. "I thought I should add a couple of other schools because then I have a chance of getting in to one I really love."

Hadsell and senior Tanner Dillon have both been preparing for their auditions with the same coach since early 2014. Dillon, who is auditioning for 16 colleges, said auditions aren't as stressful as some make them out to be.

"Once you've done all your preparations, the actual audition is just fun," Dillon said. "I mean, you get to tell stories that you love for three minutes. How could that not be fun?"

Dillon and Hadsell both said that the amount of college applications and visits can get expensive.

"I've spent $1000 applying to all these schools and sending in my SAT scores," Hadsell said. "I have a spreadsheet that's color coded that tells me what I'm supposed to be doing because there are so many deadlines."

According to Hadsell, one of the advantages of auditioning is how much time she gets to spend with her family now that they travel regularly to visit colleges all over the country.

"My family and I have gotten a lot closer doing all of these things together," Hadsell said. "These are like our last fun little vacations together."

"

You can't just go somewhere because other people say it's a good school."

— Tanner Dillon

To help him decide which colleges are for him, Dillon said he focuses specifically on what he wants from a musical theater program.

"I don't want a strong grad program that will take all the stage time and focus of the university," Dillon said. "I'm also looking for people who want to make me a better person and who have a similar philosophy to mine about acting."

Hadsell said the process was much easier because she started applying before her senior year.

"As far as common applications go, do your stuff over the summer," Hadsell said. "If you have your essays done and are ready to submit, sending an application takes like 5 minutes."

According to Dillon, he has learned that every college visit experience gives him more insight into choosing one that fits his criteria.

"You have to find the one that feels right," Dillon said. "You can't just go somewhere because other people say it's a good school. You can tell once you walk on campus if it's right or not."

Dillon said that college is not a scary thing to him and that he cannot wait for the new experiences to come.

"I need to get out of Plano," Dillon said. "I feel like I'm really starting out my life for the first time."