Guard classes prepare for exhibition
During seventh period every Tuesday and Thursday, the guard classes prepare for competition that will take place on April 2. Both Color and Winter Guard will combine as one and perform a mixture of solos and ensembles at the show. Students from Maroon Guard, which is junior varsity, and White Guard, which is varsity, will all be participating at the contest.
Junior Erin Andereck has been in White Color Guard for almost three years and said she feels comfortable competing against Denton and J.J. Pearce.
"I'm feeling good," Andereck said. "I think we are pretty well prepared for the exhibition and can only get better. We're taking this very seriously and hope to win the competition against the other schools."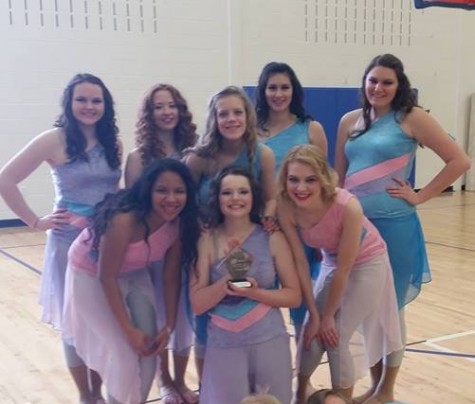 The show is also a fundraiser for new equipment and other things the guard teams may need. Admission is $5.
"It's the biggest fundraiser for only Guard," Andereck said. "It's pretty exciting because it's the only home performance we had this year."
Senior Rachel Tipsword has participated in both Winter and Color Guard. She was a part of marching band in the fall semester and joined Winter Guard for the spring.
"I'm doing a solo and also a part of an ensemble with two other people," Tipsword said. "I get nervous the first time performing some times, but I think everyone does. You eventually reach a point where it becomes like second nature so performing becomes easy."
The guard classes are trying to perfect their performances in time for the show, according to Tipsword.
"Our guard director comes up with our show music and choreography," Tipsword said. "Any solos or ensemble we choreography by ourselves mostly, but sometimes our director will give us some help if we get stuck."
Junior Emilsse Abrego has been in Color Guard since freshmen year but will be seeing these other schools perform for the first time.
"I'm looking forward to seeing the other groups performances," Abrego said. "This way, I can see the different variations of Color Guard shows around the North Texas area. Also, it could help us when we have championships on April 11."
Head Color Guard director Chelsea Guidry is organizing the dances for the Winter Guard exhibition for the fourth time. According to her, the show is a must-see event.
"The overall goal is for friends and families to be able to see what the students have been working so hard for even though it is often hard for them to make it out to our competitions due to distance," Guidry said. "We hope to have a great turnout and look forward to putting this on year after year."