Ouija thrills audience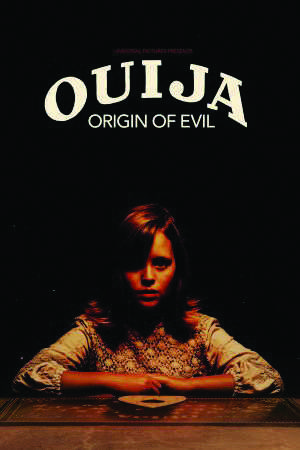 Ouija: Origin of Evil was a sensational horror movie and deserves to be recognized as one of the most exceptional horror movies in the box office this year.
Writer and director Mike Flanagan, and co-writer Jeff Howard have certainly outdone themselves and the ratings, according to The Box Office, reflects that. The movie made over $14M on the opening week, just on domestic ratings. It played in over 3,000 theaters and is currently ranked number three in theaters.
The movie, Ouija: Origin of Evil, is focused on a widow, Alice Zander (Elizabeth Reaser), and her two daughters, the youngest Doris (Lulu Wilson) and the oldest Lina (Annalise Basso), trying to make a living in the '60s after their father and husband had been killed by a drunk driver. Alice hosts readings in her home for five dollars, to provide people who have lost a loved one with a sense of comfort. Though, this was all an act.
One day they add an object to their facade that will throw their lives in an unexpected turn. The one object that no one should never use, or even go near, the object that everyone is warned about, is the Ouija board.
Flanagan and Howard use the overdone characters from horror movies, but give them a unique edge by pushing them way beyond their limitations. Lina is a teen who isn't a rebel, but would often get in trouble doing what some people would say is normal teen behavior.
Most often in times, the stereotypical teen in a horror film is either extremely rebellious or sticks to the mother for dear life, but Flanagan and Howard make Lina meet in the middle of the overly clingy daughter and the disobedient tyrant.
Alice had lost her husband but instead of falling into depression like the classical widow in a horror film, she stays strong for her family and finds way to provide for them.
Not only were the characters well rounded with a few rough edges to make them interesting, the actors were superb and deserve recognition for their acting skills.
Reaser gave Alice a motherly feel that other actresses wouldn't have been able to achieve in the situation that her character's family was in. Reaser's eyes were doe-eyed and gave you a warm feeling, making you trust her and fall into comfort.
Wilson's physical features appealed to the creepy little girl character, yet her presence gave off a sense of innocence. Wilson's voice gave the audience a chill with her blood curdling screeches.
It was quite pleasing how Flanagan and Howard snuck in some humor and life lessons into their horror film. Despite these small additions, the movie never dragged on and was always thought provoking and entertaining.
The only slightly disappointing aspect from the movie was that the special effects weren't as terrifying as most would like, but that was made up with the unexpected scare scenes.
Ouija: Origin of Evil definitely was one of the best horror films that has been released in a long time, making it a must see film. Viewers interested must be cautioned that this is not for the easily scared and definitely requires a hand to squeeze.