Happy Death Day combines thriller, comedy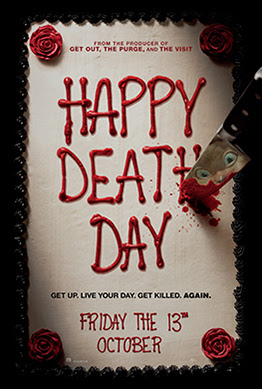 Happy Death Day came out with a new spin on the concept of a slasher-comedy on Oct. 13.
    Happy Death Day is another solid production for Universal and Blumhouse, earning a 26 million dollar profit on opening weekend.
  The main character, Tree, played by Jessica Rothe who is known for her role as Alexis in La La Land, is stuck in a loop where she relives the day she dies until she finally figures out who her killer is. The day she is murdered also happens to be her and her dead mother's birthday. Each day brings new clues and twists that will eventually lead Tree to figure out who has been trying to take her life. Although she has to be murdered several different ways, each time she is revived she is changed as a person. She starts to care less about what others think with each new day.
  Happy Death Day is inspired by the movie Groundhog Day with a Scream type of horror spin. There is some depth to the lessons that Tree learns as she goes from being rude and entitled to righting her wrongs and developing into a kinder person. She apologizes to her father, whom she has been treating poorly since the death of her mother, and tries to mend her broken relationships.
   Although this PG-13 rated movie is labeled as horror, it is not scary. There are no jump scares and the horror aspect is mainly defined by the fact that someone is getting murdered repeatedly. The comedy genre stood out more throughout the movie and had the entire audience laughing at all of the ridiculous one liners said by each character.
    The acting was surprisingly well done for this kind of movie. Normally people would expect sub par acting in a slightly cheesy movie, but this surpassed expectations. All of the fight scenes were portrayed well and were believable. Everyone in the theater was shocked when the movie ended with a twist that nobody was expecting.
   Happy Death Day has likeable characters, a well rounded plot and is an overall decent movie that adults and teenagers could enjoy. The snappy humor and small romantic bits make the movie more entertaining and allows it to stand out.