Second season of Riverdale blasts off
Hang on for a minute...we're trying to find some more stories you might like.
    Riverdale season two aired on televisions across the nation on Oct. 11, bringing back the mysterious town that has kept its viewers wanting more.
    The second season is already more intense than the first since the characters have more conflicts.
    KJ Apa, who plays Archie Andrews, definitely gave the most emotional and powerful performance of the episode. After the events at Pop's diner, Apa conveyed the shock that Archie was in and how scared he was about his father. By shedding a few tears, Apa was able to make the audience feel bad for Archie Andrews, the town's usually cheerful heartthrob.
    Archie's relationship with Veronica Lodge, played by Camila Mendes, was put to the test as Archie was in need of support. Those who love the romance will be thrilled to know that there are many sweet and steamy scenes between the couple, which gives fans high hopes for their supposedly stable future.
    Aside from her relationship with Archie, Veronica's father, the acclaimed town villain, is back in Riverdale. Instead of being the old Veronica, who was respectful and sweet, Mendes brings back Veronica's independent and spunky attitude from the last season. Veronica's mother Hermione Lodge (Marisol  Nichols) may become a villain this season because instead of taking Veronica's side, she seems to prioritize her cunning husband, Hiram Lodge. This episode keeps the audience eager to know what will happen to the town now that her father is back.
    Betty Cooper, played by Lili Reinhart, is back with her typical good girl attitude, along with her overprotective mother. Reinhart's performance was a bit lackluster, since she did not have a major role in this episode. However, her mother, who is played by Mädchen Amick, gives the audience a sense of comedic relief from the intensity of the hospital scene, since she is always paranoid about her daughter's relationship with Jughead.
    One of the audience's favorite couples, which is tagged by the name "Bughead", is also put to the test after Betty is concerned with her boyfriend, Jughead Jones' (Cole Sprouse) affiliation with his father's gang, the South Side Serpents. Sprouse still narrates from Jughead's point of view, which gives the episode the mysterious, eerie vibe that Riverdale is known for.
    Even though the main friend group of four is dealing with their own struggles, the Riverdale school's band, the Pussycats, as well as the football team, make an appearance showing their support for Archie. It is to be noted that Reggie Mantle, a member of the football team, is now played by a different actor. Reggie is now played by Charles Melton instead of 13 Reasons Why star Ross Butler.
    Even though the first episode of the second season of Riverdale gives the show's audience comfort that their favorite relationships are stable, their fates are unknown because as Jughead said, "The angel of death is coming to Riverdale," and the show's twists and turns gives the audience no idea of what will come next.

About the Writer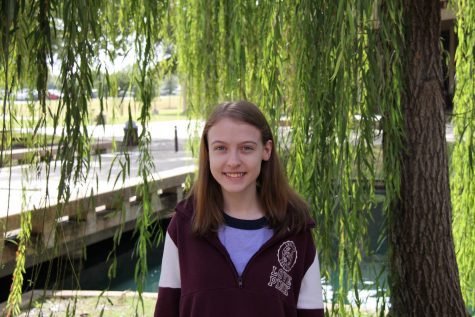 Abbey Cole, Staff Writer