Book The Hate U Give turned into movie
The Hate U Give is the film adaption of Angie Thomas's young adult novel that follows 16-year-old, Starr Carter (Amandla Stenberg), as she journeys to find her voice after witnessing the death of her friend by a police officer.
Thomas' book is phenomenal and the positive response it received almost demanded a film adaptation. The novel was the most searched book on the popular booklover site 'Goodreads' in 2017 and won the Walter Dean Myers grant, all along the way, gaining insane media attention. Soon after, Thomas' masterpiece was cleared to be transferred to the big screen.
The film certainly does not disappoint, the intensity in the movie starts almost immediately with Starr and her two brothers, Sekani (TJ Wright) and Seven (Lamar Johnson) receiving, what they call,
'The Talk' from her father Maverick (Russell Hornsby) and mother Lisa (Regina Hall). 'The Talk' is a hyper detailed set of instructions on what to do and how to appropriately act if you are ever pulled over by the police.
The tone of the rest of the movie was instantly set with this scene, reeling in the audience's attention and, already drawing tears. Even though Starr and her brothers were only children, they had a heightened sense of their own mortality.
The plot continues with Starr narrating her life in Garden Heights, a tight knit community in her city's ghetto and its contrast between her predominantly white private school, Williamson Prep.
At school she transforms her personality by not using African American vernacular English or interacting with her classmates the way she would interact with people in Garden Heights, not even showing her real self to Chris (KJ APA), her white boyfriend. Starr's code-switching is a definitive theme in the movie and displays the double consciousness many black Americans have in our society.
"Williamson Starr doesn't give anyone a reason to call her ghetto, and I hate myself for it," Starr said.
The plot thickens when Starr finds herself at a Garden Heights party with a girl from her neighborhood and runs into her childhood friend Khalil (Algee Smith). Before the pair can truly begin to catch up shots are fired at the party, forcing them to quickly get into Khalil's car and rush away.
Despite Starr's protests, as the two drive, Khalil plays a 2pac song addressing the relevance his lyricism has even 25 years later. Khalil explains the acronym THUG LIFE.
It is true that these lyrics would later serve as a title to the movie, but more importantly, reveals the circular impact hate has had on the black community turning children into 'thugs' which, becomes the main premise of the movie.
In the midst of Khalil explaining all of this, he is pulled over by Officer 115. After continuous banter with the officer, Khalil is asked to step out of the vehicle.
Starr, having been prepared for this her whole life, is compliant to a tee, and rightfully scared. She appears to have a panic attack with her hands on the dashboard and stuttering with fear.
Khalil moves to ease her nerves and jokingly fiddles with his hair with a brush from inside the car– the move is fatal.
The officer fires on Khalil immediately after mistaking his hairbrush for a weapon. Starr, being the only witness to the murder, has decide what action she wants to take with what she saw.
Stenberg does an amazing job truly displaying the emotional turmoil and anxiety that Starr struggles with throughout the film, particularly in dealing with Khalil's death.
With urges from her black peers to speak out, judgement from her white peers to stand down and threats from a dominant gang, The King Lords; Starr's worlds are colliding, and she might not be able to stand the pressure.
In the midst of her trauma, Starr teams up with lawyer and activist April Ofrah (Issa Rae) to speak for Khalil and stand for justice.
The film has a major call for action, pushing marginalized people to use their voices in the face of justice, even pushing those who are not oppressed to join them as an ally, much like what Chris does with Starr.
THUG has so many powerful sediments; drawing inspiration from the Black Lives Matter movement and the Black Panther Party's 10 Point Plan. The way such prevalent cultural issues like racism, police brutality, and dual consciousness are displayed in a rudimentary way, makes it easier for all viewers to understand the gravity of each and every statement
About the Contributor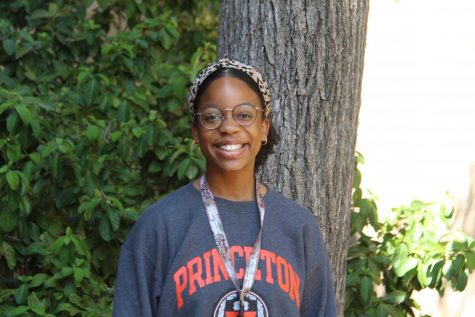 Isis Kazadi, Co-Editor
Isis Kazadi is a senior Online Editor, Co-Editor, and varsity volleyball player. She loves reading, watching movies and going to concerts. Outside of newspaper,...