Mxtoon's newest album captures hearts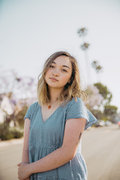 Mxmtoon, also known as Maia, is a 19 year old Californian social media personality and singer-songwriter whose newest album is truly beautiful.
This new album, however, was no small accomplishment. Rounding of at an hour and seven minutes, its over 40 minutes longer than her debut album, plum blossom. Produced by british sound engineer, Cavetown, the masquerade is more of a double album because each of the 10 original tracks has an acoustic counterpart, adding up to 20 tracks total.
Of the several outstanding songs on this album, prom dress stands out as it is likely her most popular song to date. The song starts off slow, with a snap effect and a quiet chord progression emphasizing her voice. Before the song hits the minute mark, the beat picks up and we're greeted with an easygoing hook along with her signature ukulele.
Although the song's sad and regretful lyrics may seem like a contradiction to the song's beat, this was done intentionally as mxmtoon's own prom experience doesn't match the song's theme.
"I had a blast at my prom," mxmtoon said in an interview with Genius. "I went with friends and looked bomb, it was great."
Another perfectly executed song on this album is seasonal depression, which features the widest range of instruments on the album. The lyrics and chord progression are both more similar to mxmtoon's contemporaries, such as Mitski or Rex Orange County. The drums in the beat serve to make this song more upbeat than the others, while the lyrics still leave it feeling remorseful. In fact, every song on the masquerade can leave its listeners feeling rather remorseful.
No matter how listeners may feel after listening to this album, the sheer talent from both Cavetown's production and mxmtoon's sweet, yet somber voice is undeniable. Her vocal range may be fairly unexplored in her songs, but the vocal ability she does show off is incredibly controlled.
The previously mentioned acoustic half of the album is brilliant as it provides listeners with two versions of each beautiful song on the album. Whether listeners are wanting to hear a busy song (which would include synthesizers and drums) or an even more laid back version of the song with just mxmtoon's soft voice and her ukulele, there's a choice for everyone here.
The depressing overtones of so many of her songs also don't show up on her Tik Tok account, @mxmtoon. On there, the songstress shows off just how relatable she is. Her posts are seen by over a million of her followers and easily get hundreds of thousands of likes each.
Artists like mxmtoon are a breath of fresh air for music lovers as their down – to – Earth personality draws eager listeners into their music. mxmtoon is aware of her popularity but hasn't let it get to her. Instead, she's put her effort into making a truly commendable album. the masquerade has helped make mxmtoon a popular artist, without the help of a record label.