First South Asian American Girl Doll of the Year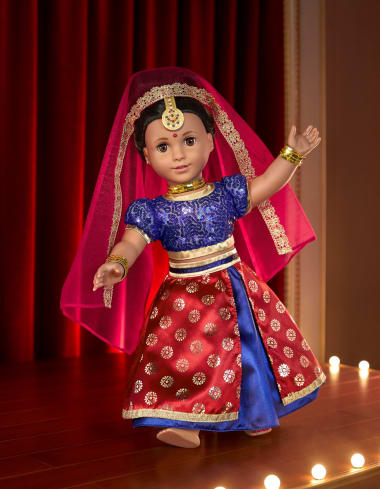 Each year at the end of December, girls around the country wait for American Girl to release their "Girl of the Year" doll. This doll represents the morals and goals for the upcoming year. The 2023 "Girl of the Year"  was Kavi Sharma, American Girl's first South Asian GOTY. 
     Although Sonali Matthews, a 2009 companion doll to GOTY Chrissa Maxwell, was the first South Asian doll, Kavi was one of six POC GOTYs.
     "I think it's really important to have diversity in toys and I think it's even more important for kids to feel represented by their toys," junior Tej Sharma said. "This doll is going to make little girls everywhere so happy."
     For many POC growing up, girls especially, it was difficult to find toys that truly looked like them, but Kavi stands for a new era of toys- an era where kids won't have to struggle to find a toy that looks like them. 
     "I felt so represented when I saw the doll for the first time- she was like a little doll twin of mine," junior Ishi Chakravarthy said. "I really liked the inclusive publicity around it."
     Kavi comes with an assortment of accessories and trinkets, including a Bollywood dance costume, a mini keyboard and a yoga outfit. Kavi's many accessories show her relationship between her South Asian heritage and her American lifestyle. She represents South Asian girls across the country, young and old.
     "I was so excited to see an Indian doll; I felt so represented," junior Saifya Olayiwola said. "It was cool to see that they represented us as Americans but still honored our culture,." 
     American Girl's mission to become a more diverse company can be seen in their past two GOTYs, as both of them were POC. American Girl is working tirelessly to ensure that all children feel seen within their toys.
     "Having lots of diversity within toys will help younger kids feel more represented and included within society. It shows that cultural roots and background are something to be proud of and shouldn't be hidden," junior Aleena Nathoo said. "I wish I had dolls like this when I was younger."