"Million Dollar Arm" defies sports film stereotype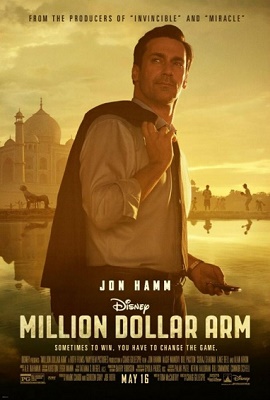 "Million Dollar Arm," based on true events, is not your typical American baseball story. The film follows a struggling sports agent that must go to out-of-the-ordinary measures in order to maintain his job. With a touching plot and engaging characters, director Craig Gillespie successfully moved his audience and did this story justice.
After being shut down by multiple athletes, J.B. Bernstein, played by Jon Hamm, ends up spending the first half of the film in India searching for cricket bowlers that he can transform into baseball pitchers. The film successfully captures the magical scenery, cultural practices and overall environment of the country. Whether it was hearing the constant honking in the over-packed streets or seeing the children at play in the small villages, the audience was able to get a sense of what traveling through India felt like. Music from Indian composer A.R. Rahman also enhanced the senses of those watching, blending it with vocals from Iggy Azalea and KT Tunstall to mirror the cultural mixes happening in the film.
The second half of "Million Dollar Arm" showcased the obstacles Bernstein faced as he tried to polish and present his two new investments to the public. Suraj Sharma and Madhur Mittal play Rinku Singh and Dinesh Kumar Patel. Hamm's performance meshed well with Sharma and Mittal's, exhibiting the complications that often come along with mentor-apprentice relationships. The film also touched on experiences that come with culture shock, learning new things and building relationships with people. Supporting performances by Aasif Mandvi, Pitobash Tripathy and Lake Bell gave the sometimes-needed comic relief that completed the film.
Despite the cliché feel-good story the film exhibited, it was still different from preceding sports movies that focus on the idea of triumphing over obstacles to achieving a goal. Some sports fans may not enjoy the fact that it did not delve into the details of the game, but that is what made the film so successful. "Million Dollar Arm" dug deeper into the struggles of individual people and the stories behind the players on the pitching mound.