Junior's perspective on Black Lives Matter
One student's thoughts on the importance of the BLM movement.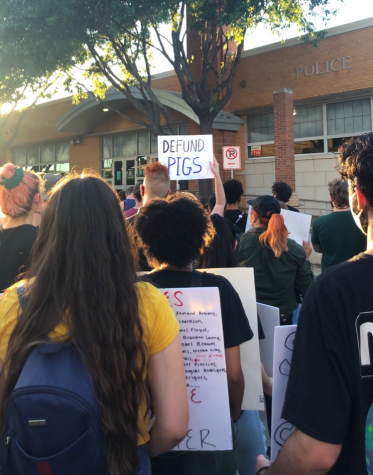 Over summer the Black Lives Matter movement reached a peak and many protests around the Dallas area were held. Michelle Kallas, a junior at Plano Senior attended the first Dallas protest back on May 29th and has been vocal about the movement ever since.
     "I attended the initial protest in Dallas, which was held as a direct result of the murder of George Floyd. I felt that being a part of that protest, and all subsequent ones, was important because we were watching history occur before us," said Kallas. "We are the future so we must work and protest in order to make sure it is a future we wish to live in." 
     Kallas later attended five other Dallas based protests to show her support for the Black Lives Matter movement. 
     With every march drawing hundreds from around the metroplex, the pandemic was of much concern.
     "Each person I saw at the protests I attended was wearing a mask, me included. Social distancing was relatively prevalent, although it is hard to stay 6 feet apart while marching down a street." Kallas said. "Despite how the media portrayed the rallies the ones I personally attended in Dallas were completely peaceful on the protesters behalf, we even had moments of silence for beautiful black lives lost like George Floyd and Breonna Taylor."
     The protests were largely peaceful, with only around seven percent of protestors becoming violent. It would seem that the media only portrays the protests in a negative light to elicit a certain reaction. 
     "Those of us protesting remained non-violent, just people coming together for one movement," said Kallas.
     The BLM movement has proven to be of high importance over the course of this summer. The youngest generation's involvement in it has been a surprise to many.
     "Ignorance is proving to be one of the greatest inhibitors to our generation, making it all the more important to stay educated and active in current events," said Kallas.
     Using her words and leading by example, Kallas encourages other Plano students to get involved. As a means to get others to be more supportive and involved, Kallas, like many others, offers an Instagram bio full of petitions to sign and numbers to call to finally get justice for those affected by racial prejudice. 
     "Living in Plano, it is easy to feel as if you cannot impose real progression, although simply being aware and active is a great start," Kallas said. "Educating others is the most key factor in persuading them. Being vocal and spreading awareness for a given topic is one of the best ways to get others involved."