Custer's Last Band supports local charities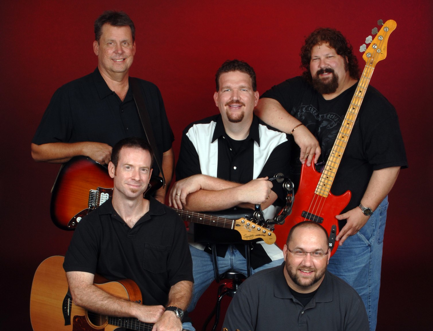 By day they are social studies teachers, but by afternoon, night and weekend Matt Cone, Scott Fenney, Jeff Brooks, Joe Snider and Jason Barton can often be found playing rock and blues during a practice session or live event. Custer's Last Band now plays hits from Elvis Presley, Lynyrd Skynyrd and The Rolling Stones and more for those who enjoy classic and southern rock, but they actually started just 6 years ago.
"The very first thing was Mr. Plano where me and two teachers that were here before [played for the pageant]," guitarist Scott Fenney said. "I thought it was kind of fun, and I asked around some other teachers, and I found out that in social studies, we had a keyboard player, a drummer, a singer, a bass player and me. So we had, just by coincidence, the makings of a whole band."
Since then, Custer's Last Band has gone from an idea to a reality, and has been performing since 2005.
"We started doing Mr. Plano every year and each time we'd learn a few more songs and eventually we started practicing," Fenney said. "We probably have about 80 or 90 [songs] that we can do now."
While Custer's Last Band has been a regular at Schmitty's Restaurant and the Little Elm unofficial Fourth of July celebration and has played at other locations like the Savannah Grill and the Flying Pig Roadhouse, it has also played for charities and other causes.
"It's nice to give back," frontman and lead vocalist Matt Cone said. "A gig is always fun to play, and to be able to do that for a good cause is always really nice to do."
The band has put that idea into action. At one point, it organized a fundraiser for Victoria Mason, a former student of Snider and Fenney who was diagnosed with cancer.
"We tried to raise money because her parents had a lot of expenses to deal with," Fenney said. "We were able to help her parents out."
Custer's Last Band has also played for Relay for Life, a 12 hour marathon walk and run that raises funds to help fight cancer. This experience was particularly memorable for Jason Barton.
"One of the things I'm most proud of is playing for Relay for Life," Barton said. "My mother died of cancer in 2000, so anything that we can do to help support Relay for Life or any other cancer-related organization has important meaning to me."
While Barton was there to play, he had an opportunity to participate in some of the beginning events with his family.
"It's nice to have my wife and my kids there when they do the memory walk," Barton said. "I get to walk with my kids and my wife in memory of my mother, the grandmother that my kids never got to know."
Later that night, the band played during the Luminaria walk, during which candles are lit around the track in memory of loved ones and the names of those who have had cancer are read.
"We started playing a song [that had] a cool guitar riff in the beginning really quietly in the background while they were finishing up the speech, and then we broke straight into the song," Barton said. "It was actually really nice. It was one of those moments, catching lightning in a bottle."
Ultimately, Custer's Last Band has played for five different charity events and has played for the school six different times. December 10, they will play for the Santa Run at the Shops of Legacy in order to raise money for My Possibilities, an organization devoted to helping mentally challenged adults.
"I don't have a lot of time to do as much volunteer work as I'd like to do," Cone said. "But the ability to play as a band, to represent ourselves and the school and to support some good worthwhile causes is a good thing."