AVID students mentor at Haggard Middle School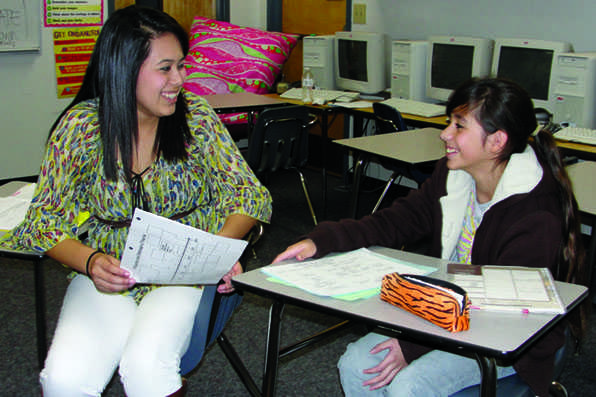 At Haggard Middle School, there is help for students struggling with school. They get extra help from the students in Plano's Advancement via Individual Determination, a college prep class that requires all their members to volunteer and do community service.
     When AVID sponsor Jacqueline Dillon realized that some of her students were not able to get to volunteer projects that were farther away, she began a mentoring program where students could simply walk over to nearby Haggard Middle School and tutor younger students. Once a week, AVID students help Haggard students with a variety of subjects, although math is generally the subject most students struggle with.
     "I thought, well, Haggard is right here and so I contacted the counseling department, and they said, 'We've been dying to have people come over from Plano Senior High School,'" Dillon said. "Maybe NHS can do it, but they've got their own projects going on. I thought, what's a better way to get community service hours, give back to the community, and at the same time, have Haggard kids benefit. So we started doing that and it's just kind of grown."
     In addition to helping Haggard students bring up their grades and allowing her students get community service hours, Dillon has goals for the program that go much farther.
     "Maybe our students will say or do something that will encourage those middle school kids to say, 'Wow, I want to be a whatever in life, and I want to stay in school so I can accomplish that goal,'" Dillon said. "Because they do talk with the kids about goal-setting and what they want to do with the future. It's hard for middle school students to really understand that education is really the key to the future. They just see it as, 'More work, more work, and more work, why do I have to do that? But oh, I want to be an engineer.' Hmm, let's see, how are we going to accomplish that? It's helping make those connections and also build those relationships so maybe they have a positive influence in their life because sometimes those kids they're mentoring have a horrible family life or they don't have positive role models."
      The program started last year, and senior Arely Pedroza is participating in the program for her second year in a row.
     "Most students do it because we get community service hours, but I already have enough," Pedroza said. "I just saw it as a way that I could give back and help because I've also been the kid that struggles in school and I really didn't have that help. I didn't have older siblings.  I guess it helped me appreciate everything we do have. Especially through the AVID program, we get a lot of the tutoring and mentoring help that these students are looking for."
     Positive results are visible on both sides of the program, something which both Dillon and Pedroza are happy to see.
     "My favorite part is knowing that those kids are actually getting help," Dillon said. "Our kids are benefiting too, by learning and kind of reminding themselves what it was like being in middle school. They can impart their knowledge and understanding, not just on the subject matter but also on what it's like to be in high school and fun things they can look forward to – giving them reasons to stay in school."
     When Pedroza first started mentoring last year, she was able to consistently meet with one student throughout the year and develop a closer relationship with her.
     "Personally, she never told me how she felt, but the counselor, Ms. Hale, has told me," Pedroza said. "This one time I didn't show because I just woke up so late and I felt really bad but I couldn't do anything. And the next week when I came in, Ms. Hale told me she was looking for me and I was like, 'Really?' And Ms. Hale said, 'Yeah, she missed you. She wanted to talk to you. She said she had some good news.' When I got there she was like, 'Where were you last week?' So it's like after a while they actually expect you to come and they accept that help. And it's something they look forward to."
     This year, Haggard's schedule does not coincide with Plano's and students are only able to meet before and after school and during A lunch. This has caused a time crunch, where students have less time to meet and fewer middle school students can attend due to transportation conflicts in the morning and after school. Only seven mentors have been able to consistently meet one-on-one with middle school kids, while the rest of the mentors have been put into small tutoring groups with several kids.
     "I do like last year better," Pedroza said. "I feel like you can get that connection with the student when you mentor them. And I feel like I can help them more if it is just one person. Now I get a different kid every time I go. I like it because I still help them, but it's not the same." 
      Despite the schedule conflict, seventh grader Yasmin Ramirez still appreciates the help she can get. She is in both regular math and Power Math, a class for students struggling with math, and tries to go to afterschool tutorials about three times a week.
     "It's good because if a teacher is busy with another student, the AVID student could help us with the things that we need help on," Ramirez said. "Sometimes it's frustrating because if you don't know the answer you get nervous about it. When you don't know the answer, the AVID students will put more effort into you to figure out the answer. But if they push me hard and answer another question, I get confused sometimes. I would rather just take my time so I don't get nervous about it."
     Much like those who tutor her, Ramirez also aspires to help others struggling through school.
     "I want to go to college and get the job that I want," Ramirez said. "I think I want to be a teacher because I like helping other people, like my little brother. He has homework and I help him. That's what I like. I wanted to be a teacher ever since I was little. And I like people that come from AVID to help us. It's very kind because we need a lot of help to pass our classes. I want to say thank you to the people that help us."