JROTC students prepare for military life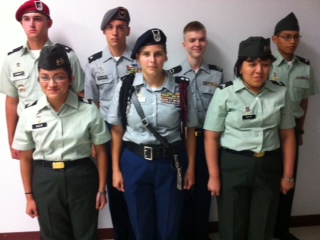 Every Thursday morning, a select group of students shine their shoes, straighten their collars, and tuck in their shirts in anticipation of the scrutiny to come. Every Thursday afternoon, they must stand perfectly upright as every thread of their uniform is inspected.
Through the Junior Reserve Officer Training Corps program, students learn teamwork skills, how to follow orders, and basic military training. Many people in the class aspire to join the military after graduating. Senior Kristy Hughes, however, is already enlisted, but her position as a high school student restricts her from fully participating when she meets with her unit.
"I have nothing I can contribute with," Hughes said. "I just go in my civilian clothes because I don't even have a uniform yet."
Senior Mack Schleimer spoke of how well JROTC has prepared him for future life in the military. Many activities in JROTC are similar to the basic training he will receive once enlisted. Unlike Hughes, he said he feels prepared for work in the Marine Corps and that, if needed, he could begin contributing as soon as he graduates.
"You already have a jump start," Schleimer said. "It's like taking a class in college that you have already taken in high school."
For Hughes and Schleimer, military training replaces college in their plans. For junior Nikolas Bogost, however, he plans on going to college first. By using JROTC at Plano to enroll in an ROTC program in college, Bogost will receive money from the military to pay for his schooling.
"There's a possibility I won't return from active duty," Bogost said. "But if I do go fight and win, I will be able to come back out and pick up a civilian job easily instead of being one of those who were left in the streets."
Hughes plans on staying behind a computer, advising the soldiers. But with the possibility of conflict in Syria, more people could be needed to go and participate in overseas combat. When they enlist, current high school students could be chosen to be some of the fighters.
"I would go there, if they gave me the order," Bogost said. "No hesitation, I would go there."
Schleimer agreed and said he would go there if it was requested of him. Regardless, he said he is against the idea of Americans fighting in Syria.
"If we put boots on the ground, then that will be our men we're putting in harm's way more than we need to, especially in something we don't need to have involvement with," Schleimer said. "If necessary for global safety, we can supply them with weapons and try to help out."
Although Schleimer is against putting men in Syria, Bogost and he both said America should help to a certain extent. Syria violated human rights and the prohibition of chemical weapons, as agreed to by members of the United Nations.
"For us to turn our eyes away and say it's not happening would be outrageous," Bogost said. "Immediate action is required and I would be honored to be included in that."
If Americans were to enter Syria, they could be exposed to the same chemical weapons that are causing the issue.
"If I were to be gassed, depending on which type of gas it was, I'd probably get pretty messed up," Bogost said. "That's a sacrifice I have to take. It's for a good cause. It's better me than somebody else."