Band anticipates annual Halloween party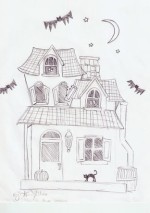 Advertisement
Hang on for a minute...we're trying to find some more stories you might like.
Students weave through the traditional haunted hallway, eager to enter the celebration on the other side of the door. For over a decade, band officers have hosted an annual Halloween party and have recently incorporated the rest of Fine Arts Department and the feeder schools, Clark and Vines.
There is a main Halloween party with the "haunted hallway" leading up to it. From the choir room to the band hall, band officers decorate the long hallway with decorations aimed to scare, such as moving shadows and twists and turns along the way. Having to come up with an event for every six weeks, previous band officers decided to make the event in late October a celebration of fall and this spooky holiday, according to band vice president, senior Gabrielle Collins.
"This is one of the big things we've done every year," Collins said. "We go all out – we have multiple rooms full of huge Halloween decorations and it's all really cool."
Band president senior Michaela Caughy said one of the traditions of the party, the haunted hallway, is not optional for the party-goers.
"You have to walk through the hallway in order to get into the party," Caughy said. "You're not allowed inside unless you've gotten the scare from the haunted hallway."
This hallway has caused much hullabaloo and talk amongst the anticipating party attendees. Drum major, senior Joann Lee, who will be organizing and attending the celebration for the first time this year, said she looks forward to experiencing this hyped section of the school.
"People say it's a different kind of scary every year," Lee said. "I know this year we'll be having this huge maze with a creepy Victorian feel to it."
Starting off as a party just for the band, officers recently decided to change the invite list in order to include more people and celebration.
"Before last year, it was just Plano Band but we decided to branch out some last year," Caughy said. "A lot of people didn't show up the year before last, but now we have about 300 to 400 people come."
Not only is the all-inclusive Halloween party seen as an opportunity to celebrate the season, but it is also a chance to get to know the other students in the district. Including the junior high schools students in this tradition introduces them to the fine arts program at Plano earlier.
"I like the fact that the lower-classmen get to experience a little of what goes on with Plano Band and the traditions we have," Lee said. "Not only is it good for them, but for the other arts departments in the school as well. This party is a great opportunity for collaboration and meeting all different kinds of people that we go to school with."