Speech duo wins 4th place at Harvard tournament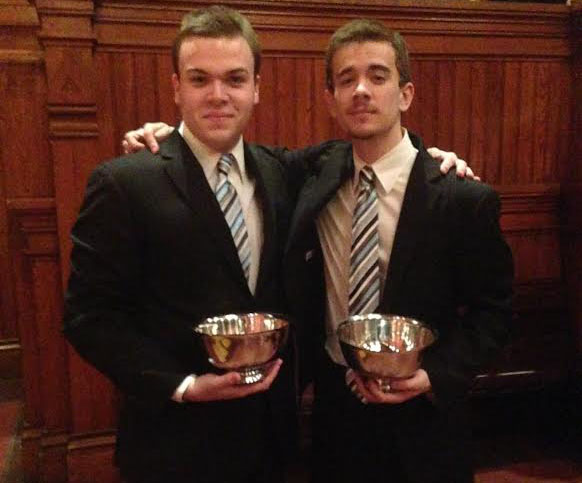 The speech and debate teams ventured to Boston last weekend for the 40th annual Harvard Speech and Debate Tournament. From Feb. 14-17, the teams competed against schools from all across the country, as well as several international groups. Plano placed 4th overall, but one duo stood out, taking 4th place as a pair.
Seniors Aidan Barker and Jack Bonin placed 4th out of approximately 200 groups in duo. Duo is a 10-minute scene in which two people are not allowed to make eye contact or touch each other. The scene is blocked and rehearsed similar to a duet, but they focus on off-stage contact.
There were four rounds of preliminaries. They had to score below a certain number to break out of preliminaries. Then, they could move on to octos, quarterfinals, semifinals and finals. When Barker and Bonin broke out of preliminaries, they were ranked 2nd out of the 55 groups that made it into the next round.
"They posted all the breaks online as they were happening," Bonin said. "We were watching our friend, Billy Tate. We were sitting there waiting for him to start when Aidan refreshed the page. We looked over and saw our codes on the page. We freaked out in the middle of the round and had to contain ourselves before we could celebrate afterward."
They chose "Scenes for the Movie" by Scott Harrington. The play is about two best friends in Vietnam during the war. Bonin plays a soldier who would like to be a director, so he is filming everything they do to be part of a war documentary. Barker portrays the depressed friend who has lost all that matters to him and joins the army with a death wish. The relationship between the two characters is the main focus, for as Bonin's character dies, Barker's character is given a reason to live.
"My character is a free spirit – very artistic and very goal-orientated," Bonin said. "He doesn't want to be in the war, but he takes it as the opportunity to make art and film the horrors that he sees. He has a very optimistic view of life that parallels Aidan's character."
Barker and Bonin qualified for state earlier on in the season with the duo, so they stopped working on it for a while during the year. Several weeks ago they began preparing again, tweaking several parts before taking it to Boston.
"We are best friends so we have good chemistry," Bonin said. "Our acting styles complement each other well."
The pair has been working together in duo since freshman year. Students in speech are allowed to make suggestions for people they would like to be partnered with. However, speech teacher Karen Wilbanks makes the final decision for pairings. For four years, they have been qualifying for state together as either a duo or duet.
"Mrs. Wilbanks has an audition to see how well we work together," Barker said. "Then she will cast us. If you and a person end up not working well together at all, you can switch. But she gets it right almost every time."
Barker and Bonin have been best friends since 6th grade, according to Bonin. They are both going to Bradley University in Illinois. Barker intends on double majoring in theatre and sports communications, while Bonin plans to major in sports communications.
"Bradley has the number one speech team in the country for college," Barker said. "I am going to wait for most of my freshman year and see if I have time to do speech in college, because it is a big time commitment. If I do, awesome, I will continue it."
For many of the speech and debate members, this was their 2nd time going to Harvard for the tournament. The Harvard tournament is a much-awaited time of the year for them. They have to fund raise and prepare throughout the year for it.
"It was amazing being in Boston," Bonin said. "I love Harvard. The weather was snowing and cold and it was just beautiful. All my best friends were there, so it was really nice."
Leave a Comment
Your donation will support the student journalists of Plano Senior High School. Your contribution will allow us to purchase equipment and cover our annual website hosting costs.
About the Contributor
Alexis Harris, Print Editor
Alexis Harris is a senior and the print editor of the Wildcat Tales. She has loved reading and writing her entire life, from classical literature to poetry...