French Club visits Dallas Museum of Art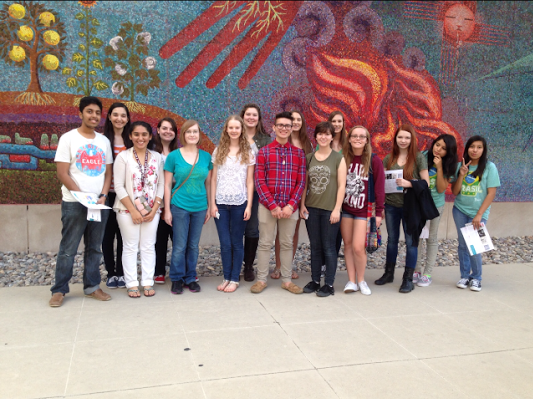 French students recently visited the Dallas Museum of Art on Thurs., Oct. 9 as a cultural and bonding experience.
Although the trip was mainly directed towards French Cub, any students taking French were welcome to join in this occasion. According to French Club sponsor Jody Lubbers, the field trip allowed everyone to have fun together.
"The main purpose was to take advantage of a cultural opportunity that extends and enriches students' knowledge of French," Lubbers said. "The French have contributed significantly to the art world, and this is a way to learn about their contributions in past centuries, as well as in the modern world."
The students involved had many chances to get to know each other, as well as the art they viewed.
"This trip meant a lot to me as I like learning about culture and about French," junior Bailey Crawford said. "I take French because I like learning about the language. Even though the trip was to an art museum, it better helped me learn the language and its background."
Junior Saadieh Abassi is also a part of French Club and looked forward to the learning experience.
"The language of French is beautiful and I learned a lot about the history behind it," Abassi said. "It was a great experience overall, and I hope to go again some day."
Crawford is very involved in French Club, and knows how meaningful the trip was.
"I think it was a very fun and good learning experience for everyone in club," Crawford said. "Everyone seemed to enjoy it, and I know I had a great time."