Remembering Evan Johnson
Junior Evan Johnson was known for his contagious laugh amongst his friends and family. Evan was born on Thanksgiving Day on Nov. 27, 1997 and died in his sleep on Dec. 20, 2014. Evan was the baby of his family as well as the family clown.
"We loved to joke and tease each other, especially our parents," Evan's brother Skyler said. "He was usually wittier, but I always tried to keep up with his infinite jests. His entire life he was trying to make our family laugh – he always succeeded. His gift of irreverence was remarkable."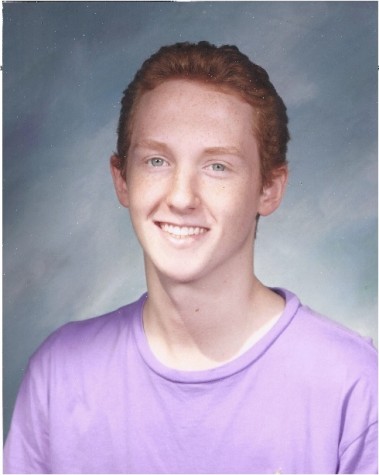 According to Evan's friends, he was very enthusiastic about everything and optimistic.
"No matter the situation he was in, he always seemed to have a smile on his face," junior Ben Heil said. "He was articulate, he was funny, but most importantly he was a down to earth, genuine person."
Evan did well in school and set high goals for his future.
"He was very sharp," Heil said. "I knew he had set high aspirations for college, and probably could have gone to any major university. He had a very promising future ahead of him and I'm sure he could've done great things throughout his career."
Evan loved playing basketball, and played on a team with his friends.
"When we hung out, we would play basketball," junior Mitchell Jackson said. "We'd play in Nathan's backyard, and we'd play up to four times a week. He played on every sports team I've ever been on."
Evan also loved music and shared his passion of music with his brother Skyler. He was listening to music the night Skyler arrived home from Houston.
"We would share songs and ask if the other liked this particular track or not," Skyler said. "I would be at home one break and play a certain song, sure enough he would ask me about it the next time I visited home. I was excited for him to graduate school so that we could attend music festivals together."
Evan will be remembered for his laugh and happy personality.
"If you were hearing Evan laugh, most likely you were laughing, too," junior Nathan Freeman said. "He was a brother and a guy who could always make people laugh just by his laugh itself. I really enjoyed every moment we got a chance to spend together throughout our lives."
People who knew Evan will miss the fun times that they've had with him.
"I found that his laugh gave me a certain sense of satisfaction," Heil said. "The kid could laugh for hours and it was always a fun time. There was never a dull moment with Evan."
Family and friends can celebrate Evan's life on Tues., Dec. 23 at Allen Family Funeral, 2120 West Spring Creek Pkwy, from 6 to 8 p.m. The Johnson family will receive friends and family afterward at the Heil residence, 3300 Terry Dr. Friends can also share memories at a site set up by the family, RememberEvanJohnson.com.
"Evan had a shining personality and brought happiness and smiles to us all," Skyler said. "He was our baby brother and he was a total goof."