HOSA members prepare for regional competition
Each year, HOSA prepares students who plan to compete by having a showcase that allows them to present and receive feedback. This year's showcase was held on Jan. 21.
The HOSA competition as well as the showcase contain several categories such as public service announcement, medical reading and medical math. Volunteer officer senior Kinza Sohail has been a member of HOSA since her freshman year and is in charge of finding donation projects that are beneficial to the organization by allowing the HOSA members to contribute to the community. Sohail is competing in the category of public service announcement.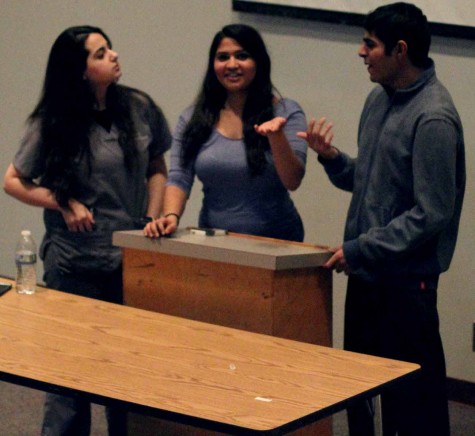 "My biggest fear going into competition would be the typical anxiety you always get when you compete anywhere or when you present to an authority or even your peers," Sohail said. "We've just put in so much work into this presentation and have taken time out of our own schedule to do this. I mean, it's hard coordinating schedules with five people, so we're trying to put in all the effort and hoping it pays off."
For Sohail's category, the participants are required to create a 30 second video over a certain healthcare issue that changes every year. This year, the topic is recognition, prevention and treatment of concussions.
"I would say we're pretty confident that we will move onto the next level of competition because we put a lot of effort into it," Sohail said. "Even if it doesn't, it's the fact that we know as a group that we did well. It's very satisfying knowing that this is what we did and we put together all of our creativity and did it all together."
Senior Zheen Nerway is also a Volunteer Officer and is also competing in public service announcement and is a part of Sohail's competing group. According to Nerway, her group has consistently met up to prepare for the showcase as well as the competition.
"We've met up 3 times a month if not more often and we've been practicing our presentation as well as getting the video together and making sure it sounds good," Nerway said. "I like our video a lot. We put a lot of hard work into it. We saw videos from last year and I think ours is pretty unique, so I think it will go far."
According to Nerway, the showcase is a very beneficial in preparing participants in competition.
"I think everyone has stage fright, but I think being a HOSA officer, being in a team and having that support will help me," Nerway said. "Showcase gives competitors the chance to be in a competition setting which allows us to see what competition is going to be like. You get to see your group's strengths and weaknesses." 
"
You get to see your group's strengths and weaknesses."
— Senior Zheen Nerway
Senior Hiral Patel competed in last year's showcase in the category of community awareness. Community awareness is a group competition that requires its participants to choose a disease and log activities the group has done to spread awareness about the disease. Patel's group has worked to promote Cystic Fibrosis for the past two years.
"We picked Cystic Fibrosis because not a lot of people know what that is," Patel said. "A lot of people know what breast cancer is, but we feel like it should be known as well. It is a deadly disease and does not have a cure yet."
In order to spread awareness, the group has made cards with information about Cystic Fibrosis and displayed them in the library. They have also asked students to wear purple ribbons.
"Our goal is for the community to be aware of what the disease is and we want everyone to help fund for the cure," Patel said. "I'm thinking that if we complete our goal of having people join runs to raise money for research, it will be better. We have done a lot for the presentation — we reached our goal of having people join the runs and be more interactive with the disease."