Ongoing PAC renovations continue to cause problems for swim team
The Plano Aquatic Center has remained closed with ongoing repairs after a man fell through the grates in August. It was set to reopen at the beginning of January, but the reopening was canceled due to complications with parts for the pool.
Evidence of the center being out of service is everywhere. Signs at Oak Point Center alert to lack of lane space during Plano's swim team practice time. The indoor pool at PAC stays locked. Notices are posted on both centers' website. Senior Austin Bareis is a member of the swim team, which has had to relocate their morning practices to Oak Point.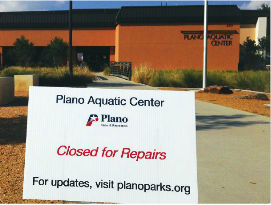 "We have to wake up at lot earlier now," Bareis said. "We have a smaller lane space, and it takes a long time to get to Oak Point."
Due to the distance Oak Point is from Plano, swim team members have to be bused back after practice. Senior Laura Braiser is also a member of the swim team.
"It's a long bus ride back to Plano," Brasier said. "The long ride has brought our team closer."
According to Bareis, a positive has come out of the situation.
"Now we have a lot of time before school starts in the morning," Bareis said. "Some of us will go to Starbucks after practice."
Oak Point has no diving blocks and less lane space.
"It was easier to practice diving at PAC," Bareis said. "We had six lanes to practice there."
Due to the closing of PAC, the swim team has had to cancel several meets because they don't have a pool. Brasier said the lack of a pool is a major problem.
"In the past they've hung up signs that just have encouragements on them for district," Brasier said. "We don't get to do that this year because we don't actually have a pool. It hasn't been too great."
PAC ordered grates in August, but when they arrived in December they were too big. The city has been looking into other manufacturers.
"At the beginning I was upset, obviously," Brasier said. "It was annoying that they had to close it. It just feels really unlucky. That's the feeling I have."