Scientists named semifinalists in Intel Talent Search
The Intel Talent Search, a major research-based science competition for high school seniors, has named two seniors from Plano as semifinalists. Seniors Ria Chhabra and Ahneesh Mohanty are two of the eighteen students selected from Texas out of 300 semifinalists nationwide. 40 of those students will be named finalists.
"The Intel Talent Search is basically a huge science fair, but the contestants are judged more so on what kind of scientist they are rather than a single science project," Chhabra said.
She said that the process of applying for the search felt like a college application without the recommendations and transcripts.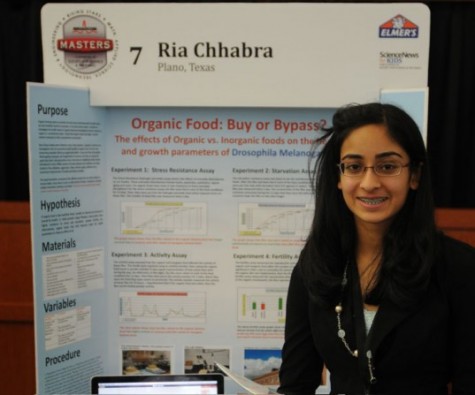 "For me personally, I spent a lot of time on the application because it's pretty long and I really wanted to do a good job, which I think I do best when I have ample time," Chhabra said.
Only seniors could enter the competition, and Chhabra said this is her last fair.
"I entered because I love science," Chhabra said. "I love the people I get to meet, the chance to travel, and the fact that I get to share my research with people who appreciate it."
Senior Ahneesh Mohanty said in order to enter the fair, the young scientists had to submit essays on what science means to them. Mohanty spent a lot of time on his application, and took a lot of time on his project as well.
"In my project I found a way to make existing cancer treatments up to 4.86 times more effective through the use of an enzyme called Manganese Superoxide Dismutase," Mohanty said.
The pair received a $1000 reward and the school also receives $1000 for each of the semifinalists. If semifinalists become finalists, they have the opportunity to meet President Obama, which Mohanty said would be a huge achievement to him.
"I wanted to enter because I wanted an opportunity to get scholarship money for my research," Mohanty said. "It feels really exhilarating to be a semifinalist because not many people get it."
Chhabra shared Mohanty's excitement in receiving the honor.
"To be a finalist is like a dream, and even without the money, it's extremely prestigious," Chhabra said.