Lisa Dexter returns home after long recovery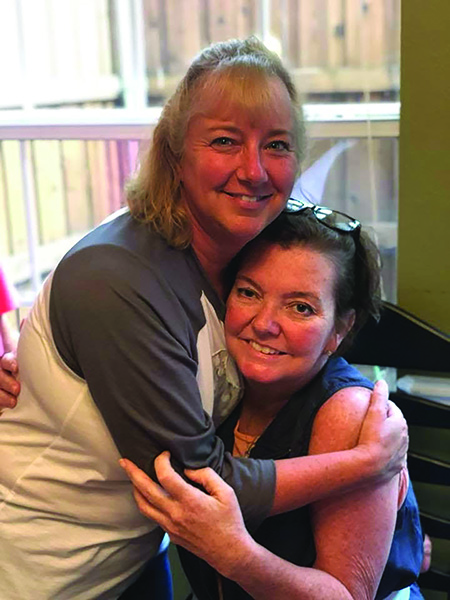 Hang on for a minute...we're trying to find some more stories you might like.
Beloved nurse grateful to be back home after hospitalized last spring
Lisa Dexter, beloved and dedicated school nurse of six years, suddenly had what doctors concluded was a hemorrhagic stroke last spring as she was coming home from the choir trip to Disney. It was originally thought that she had an aneurysm and stroke, but the final conclusion was changed.
She was hospitalized for over 100 days, and returned home in August. Although she is happy to be back in her own house, Dexter is still recovering.
The stroke affected her balance and her optic nerves, which made it difficult to move around. She was only able to begin walking on her own and eat solid foods this month. Dexter's last week of rehab began on Oct 1. Both of her parents have been staying with her.
"She had a five percent chance of survival from the stroke," Judy Green, mother of Dexter said.
School nurse Denise Kongs, who worked with Dexter for a year, said that at first everyone thought that she wouldn't make it.
"It's a miracle that she is alive. We wish she could be here with us at the school," Kongs said. "We miss her so much, including her happy face and sarcastic attitude, but I am so glad that she is still alive."
Since Dexter is still physically unable to return to work, she was forced to resign from her position as school nurse.
"She is really upset that she can't go back to being the school nurse," Green said. "She misses you all."
Dexter worked as a special assignment nurse for the PISD central cluster for the last two years, so she split her time working between several schools. However, she still spent at least two or three days per week on campus due to the school's size.
"I love my kids, I love the teachers and I love the special ed," Dexter said. "I hate it that I can't go back to work there."
Much of the school staff and administrators have been with Dexter through the whole ordeal. They held fundraisers to help raise money for her hospital bills, took turns visiting her, sent her cards and decorated her hospital room with spirit paraphernalia.
When Dexter's daughter had her graduation party while she was still in the hospital, a huge group of people from the school went to her house beforehand and mulched her yard in the rain.
Dexter has been working as a nurse for 20 years. When her family moved to Plano from Tennessee for her husband's job, the school was the first place to offer her a position. She took it, and had remained in the position up until the stroke.
Dawne Niethamer, the school's drug and family counselor, is one of Dexter's close friends. A picture of them at a concert together can be seen hanging on her office wall. They started working at the school around the same time, and have been friends ever since.
"Lisa is very honest and has an infectious laugh. She is also extremely knowledgeable and dedicated," Niethamer said.
Senior McKenna Johnson got to know Dexter from her visits to the nurse for her type 1 diabetes.
"She is super friendly, and unlike some nurses at other schools, she really knows what she's doing," Johnson said.
Although Dexter lives in Allen and both of her children went through Allen ISD, the staff and students all know that she is truly dedicated to the school.
"She's a Wildcat through and through, no matter what," Niethamer said.
Dexter left a huge impact on the campus. For example, she helped to start a program called Backpack Buddies, where kids from less fortunate families who can't afford meals are given backpacks with a supply of food for the weekends or holidays.
These backpacks look completely normal on the outside, but are filled with imperishable foods so that the child can get the resources they need without feeling embarrassed about their situation.
Dexter is the type who is happy to help absolutely anyone.
"I took care of the staff just as much as I took care of the students," Dexter said. "I used to be the one who gave them shots, and when I gave Derrick Brookins, the previous choir director, a shot, he would sing soprano."
She was always ready to jump into action when needed as well.
"On the Disney trip last year before her stroke, a student who was allergic to cashews accidentally ate some and started to have a reaction," Johnson said. "Dexter left the extremely long line that we were waiting in to bring her the medicine she needed."
Dexter especially loved working with the special education students, even the students who would sometimes physically lash out at people.
"The special needs students were the love of her life," Green said.
"She did not hesitate when it came to working with special ed students. It didn't matter if it put her in harm's way," Kongs said. "She just did what was needed and gave them the love they deserved."
Johnson said that Dexter will be greatly missed and that the school is just not the same without her.