Unusual exercises can lead to more positive living
Non traditional activities like rock climbing, horseback riding or martial arts give new meaning to exercise.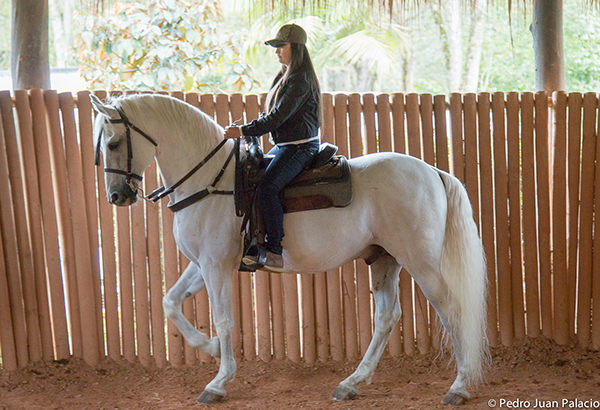 Finding motivation to exercise in the conventional way can be hard, but by combining extensive and grueling tasks with an enjoyable hobby, it can make it feel more like play than a work out.
Locating the will to push oneself to the fullest extent and allow improvement of the body can be harder than the actual regimen required in a workout routine. Three-fourths of Americans say that being in shape is important, but less than a third actually commit themselves to a routine, according to United Press International.
A new method people are gravitating towards to alleviate this pressure is to replace the gym environment with more intense, competitive and personally appealing settings like rollerblading, hiking, swimming, trampoline jumping and many other hobbies.
Senior Olivia Lee works out her body by indoor rock climbing. This high pressure situation where she physically puts her body into a state of perceived danger lets her tap into primal aspects of her mind and body that normal workouts might not be able to do.
"Since rock climbing is an individual sport, it puts a lot of pressure on yourself to achieve more," Lee said. "I think of it as a puzzle and the goal is to the reach to top; it's really enjoyable trying to figure out how to climb to the top."
The combination of strategy and physical skill allows Lee to push her mind and body to the limit for a unique and also deeply satisfying workout.
"Whenever I climb, my mind clears all the stresses away, and just focuses on what's in front of me," Lee said. "I usually tend to go to the rock climbing gym whenever I have a lot on my mind, and I always walk out relieved in some way."
Having a positive physical outlet for the stress of daily life is an essential part to becoming healthy, manifesting those those feelings into physical improvement gives a cathartic and important release.
"Exercise and other physical activity produce endorphins—chemicals in the brain that act as natural painkillers—and also improve the ability to sleep, which in turn reduces stress," according to the Anxiety and Depression Association of America.
Of course rock climbing isn't the only way to get a physical fix, senior Hannah Franklin finds her somatic release in the form of the popular sport, horseback riding.
"Through horseback riding I've been able to improve my arm, legs, core, I mean you work muscles you never knew even existed," Franklin said.
Not only is she able to exercise her body in ways that might've been impossibly hard to using conventional methods; she was also able to develop a deep connection with her horse which helps push her forwards, always striving to improve.
"My motivations spawn from knowing that I'm genuinely helping my body improve physically and mentally, and that my horse is my best friend, he's like family to me," Franklin said.
Unorthodox activities like these to work out may present higher risks and more dangerous situations such as senior Isaiah Rubio's participation in a fight club-like activity, street boxing.
In this form of mutual combat, which is not prevented by the law, combatants are given protective equipment in a fair fist fight dominated by strict rules.
"It wasn't really as dangerous as you would think a fist fight could be," Rubio said. "We had helmets and gloves, we couldn't really do too much damage to ourselves or each other."
In this intense, fierce and aggressive activity, members are able to release stress and manifest their physical improvements into something tangible and with an conceivable effect.
Though many safety precaution and rules are in place it can be hard to overlook the innate risks that come with an activity traditionally so brutal, and demanding of either party.
"Even with safety and fun being our only concerns with these games, there is still a serious risk that someone could be hurt," Rubio said.
But even with these risks some still choose to to pursue these extreme activities for the physical improvements and mental strategy being in an environment like that can provide them. Thinking on one's feet, and being able to adapt to an opponent can even teach the members important self-defence lessons that could be seriously applicable in a real fight.
"There is a lot of footwork involved and you have to be able to make fast explosive movements to connect with your opponent," Rubio said. "Martial arts are a good way to get in shape and stay that way, and it never hurts to know how to defend yourself."
Despite all the risks, people are attracted to unconventional exercise citing a personal and more motivated exercises by its users, working out muscles that become genuinely important, and the stress relief that comes along with it.