Collin College reaches out to high school seniors
Delta sigma theta sorority hosts a youth program to help students navigate college.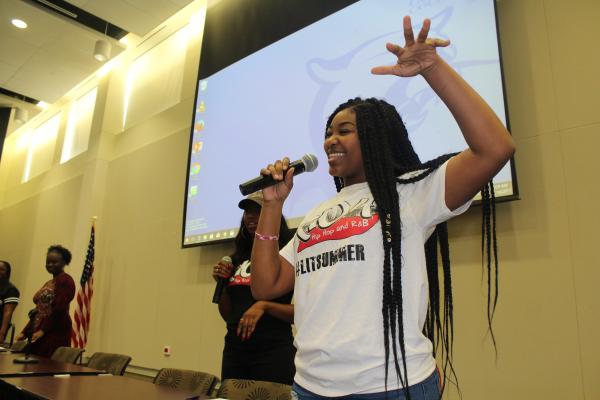 The Collin County Alumnae Chapter of the Delta Sigma Theta Sorority, Inc. is hosting an annual event called Teen Summit 2019 held on Saturday, Nov. 16 from 10a.m. to 3p.m. at the Collin College Preston Ridge campus in Frisco.
This youth program was founded in 2010, with a teen summit committee deciding what themes will be covered throughout the day each year.
According to Delta Sigma Theta Sorority President Monica Munnings, this year's theme, Level Up: Be Bold. Be Intentional. Be You, centers around the mission to equip teens with the tools they need to keep their heads held high as they get ready to enter the adult world.
"The focus will be social action, leadership development, self-preservation through self-care, and opportunities to meet individuals that are currently in the careers they are interested in going into," Munnings said.
The "Be Bold" section represents the idea of social action, and so concepts such as voter registration and relevant issues in the media will be discussed. The "Be Intentional" section represents the need for students to assert themselves and bring out their leadership qualities as they head to college and beyond, as well as how to use emotional intelligence as a tool for this.
The final section is "Be You," and this one tackles mental health issues that are becoming increasingly attributed mainly to teenagers in American society today. A therapist that works specifically with teens will be invited for this portion of the summit to have an invested discussion with everyone participating.
"We need these seminars and symposiums to address certain issues that are of great importance to a young adult," counselor Lance Davis said. "The two years that we have with students sometimes just isn't enough."
In addition, the event caters to parents as well. The Parents Forum will be held to ready them for aiding their children's transitions to adult life while still being able to maintain a healthy relationship with the teens. Overall, the program's main goal is to make sure that families are feeling prepared to take that difficult next step in life, figuring out what paths students want to take and how to get there in a welcoming community setting.
"I'm excited to go and see people that have the same interests as I do," senior Ashley Thomas said. "I have a lot of questions relating to things like the career I want to pursue and how to vote."
The summit is open to anyone that wants to attend, but registration must be done in advance. To register, students can visit www.dstccac.org and click on the Teen Summit flyer to register on Eventbrite. Lunch will be provided at the college during the event, and it is recommended that attendees wear business casual attire.
"I encourage everybody to attend things like this," Davis said. "Any kind of workshop that helps fill in the cracks of knowledge for young people is just fantastic."