Blood Drive Held at Plano Senior on December 3rd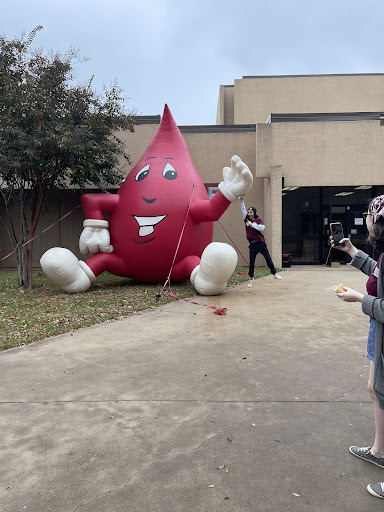 The 45th anniversary of the largest one-day blood drive in the nation was hosted by Carter BloodCare all day on December 3.
     Donating blood can help treat patients suffering from cancer, bleeding disorders, chronic anemia associated with cancer, sickle cell anemia, and other hereditary blood abnormalities. The blood drive is an excellent way for students to give back to the community and help others who require a blood transfusion. 
     "I think that the blood drive is an amazing way to give back to the community! With just a few minutes, you can save lives, and I think that's so cool. Big shoutout to StuCo for organizing!" junior Sophia Quartaro said. 
      With the holiday season in full swing, the time of sharing and goodwill is now upon us once again, and many people look to give back to hospitals.
     "My aunt donates blood pretty regularly, and I thought it would be a good way to help people, especially during the holidays when hospitals are in need of blood," junior Sarah Patterson said.
     Donating blood is a seemingly easy process, with the donation itself only being 8-10 minutes on average. However, some donating sessions don't seem to go off without a hitch. Donors may experience nausea, lightheadedness, or dizziness after donating blood. Some may even feel faint or pass out.
     "After she pricked my finger to take my iron levels, I started to feel light-headed and then I couldn't see, and the next thing I know I was on the ground and everyone was putting icepacks on me, and I had been unconscious for like 15 seconds, and I still couldn't see," Patterson said.
     The blood drive has and will continue to bring many benefits to our community, and even though it may not seem like a difference is being made, donating blood can impact and save someone's life.
     "I think the blood drive is a great opportunity for the school to help our community in an easy fashion and allow for students to help out in ways that they couldn't otherwise. I'm glad to be a part of it, and I'm glad to be able to help the impact of Plano Senior," junior Jaylen Fisher said.