AFSP's Out of the Darkness Walks Come to DFW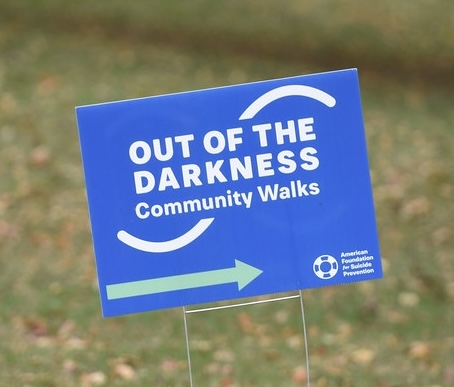 In today's world, mental health awareness is more important than ever. In recognition of this,  the American Foundation for Suicide Prevention (AFSP) organizes annual "Out of the Darkness Walks" to raise awareness and funds for suicide prevention, seeking to "Save Lives and Bring Hope" to those affected by suicide. One of the best ways to get involved with this movement locally is by attending one of their Community Walks, which are held in over 400 communities across the country. While the foundation also organizes Campus Walks and Overnight Walks, the AFSP describes their Community Walks as "the core of the Out of The Darkness Movement". There are two Community Walks scheduled to be held in the DFW area this fall. 
DFW Metro Walk
     Organized by the North Texas Chapter of AFSP, the DFW Metro Walk will be held on Saturday, Oct. 29 at the Choctaw Stadium (Metlife Park) in Arlington. Event doors will open at 8:30 a.m. to begin a packed morning of scheduled activities preceding the walk, including a Meet and Greet with Mascots, a reading of "Gizmo's Pawesome Guide to Mental Health", a scavenger hunt and more. The walk is set to kick off at 11 a.m. and the approximately 2K long route will pass through sites such as Six Flags Over Texas, Texas Live!, AT&T Stadium and Globe Life Field. Participants who wish to take an abbreviated route will break off near the halfway point where free water will also be provided. While donations are encouraged, registering to participate in the walk is free of charge and can be done online anytime or in person on the day of the walk. Other activities such as a photo station, memory wall, community resource fair and AFSP merchandise store will be available before the walk begins. More information as well as the link to register and donate can be found at afsp.org. 
Prosper Walk
     The Out of The Darkness Prosper Walk is scheduled for Saturday, Nov. 5  at the Windsong Ranch and will begin at 9:30 a.m.. While an event schedule and itinerary for the Prosper Walk has not been released at this time, event sponsors Tom Wiesle and Kim Grant can be contacted by email at [email protected] or by phone number at 972-979-6635 or 817-658-5060 for more information. Interested participants may register or donate online at afsp.org. 
     AFSP's Out of The Darkness Walks are bringing suicide prevention awareness to DFW and serve as meaningful reminders of the impact that community involvement can have. Spread the word, register or donate at afsp.org to be a part of that impact today.  
*If you or someone you know is struggling with mental health, suicidal thoughts or may be in danger, the 988 Suicide and Crisis Lifeline is available to call 24 hours a day.