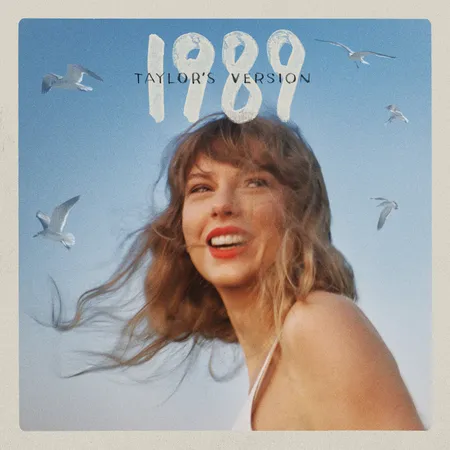 Singer-songwriter and global superstar Taylor Swift has done it again, and released yet another album. Starting in 2021, Swift has been rerecording her older albums due to ownership conflicts with her former producer, Scooter Braun of Big Machine Records. She's been releasing the rerecordings with the tag, "Taylor's Version." The albums comprise all the past album tracks rerecorded and several "vault tracks", which are songs she originally wrote for the album but ended up cutting from the original album. So far, she has released Fearless (Taylor's Version) in April 2021, Red (Taylor's Version) in November 2021, Speak Now (Taylor's Version) in July of 2023, and her newest addition, 1989 (Taylor's Version) on October 27th.
     1989 is arguably Taylor's most well-known album, so going into this re-release fans had high expectations. There was also a significant amount of nostalgia tangled within this album for many, especially senior high school students who truly grew up on the album. Additionally, the original album includes some of her biggest hits including Blank Space, Style, Shake It Off, Wildest Dreams, and Out Of The Woods. 
     Before even beginning the listening experience there's one major thing to take note of and enjoy, and that is the new album cover. With each rerecording, Swift includes an entirely new album cover. The 1989 (Taylor's Version) cover did not disappoint, capturing the same aura and excitement that the original album did, while also showcasing Swift's older, more mature self.
     The first track, and one of my favorites, Welcome To New York (Taylor's Version), did not disappoint. An upbeat pop song that sets the mood for the album. This was one of the better rerecordings for sure, seeing as there was a more mature voice and slightly reimagined production but still the same classic vibe that is curated from the original version. Following the opening track are some amazing bangers including Blank Space (Taylor's Version) and Style (Taylor's Version). As incredible as the album is as a whole, Style (Taylor's Version) may have been changed for the worse. The re-recording does not have the same overall sound or enthusiasm causing the track and this opening section of the album to lose some of its excitement. Following this, all the rest of the so-called 'classics' are done beautifully. The listening experience for die-hard fans like me is out of this world-getting to experience your younger self's favorite songs all over again. From Wildest Dreams (Taylor's Version) to Clean (Taylor's Version), the album was giving exactly what it needed to give. The classic songs you know and love, but better.
Story continues below advertisement
     The widely most anticipated part of any Taylor's Version release is the vault tracks. 1989 (Taylor's Version) included five completely new never before-released tracks titled, Slut! (Taylor's Version) (From The Vault), Say Don't Go (Taylor's Version) (From The Vault), Now That We Don't Talk (Taylor's Version) (From The Vault), Suburban Legends (Taylor's Version) (From The Vault) and, Is It Over Now? (Taylors Version) (From The Vault). 
     Firstly, there is "Slut!", a song that misleads many fans with its raunchy-sounding title. In actuality, "Slut!" is a dim almost sad song, kind of telling a story of a performative love in lyrics such as "And if they call me a (Slut) You know it might be worth it for once And if I'm gonna be (drunk) I might as well be drunk in love". Here she's saying that she's in love, but she's not happy. The title "Say Don't Go"a bit more nail on the head. This song is essentially her explaining that her love for this unnamed person is quickly dwindling and even though she is hurt and upset, if they asked her to stay she would. "Halfway out the door, but it won't close. I'm holding out hope for you to say, 'Don't go' I would stay forever if you say, 'Don't go'," a truly heartbreaking display of what kind of emotions she was experiencing at the time of this album release. 
     Overall the album is definitely still a personal favorite, and despite the emotional ties to the original tracks, 1989 (Taylor's Version) is much more enjoyable than 1989.