Plano vs. Hebron Varsity Football Live Blog – Sept. 12, 2014
Thank you to all who have followed our live feed tonight, with the final score again giving the win to Plano Senior by a 35-14 score.
*GAME NOTE: Brandon Stephens scored 4 of the Wildcats' 5 TDs on the night, surpassing his season high of 3 from last week.
Plano Senior meanwhile improves to 2-1 with the victory and is now 1-0 in district play.
The Hebron Hawks fall to 0-3 with the defeat and 0-1 in district play.
FINAL SCORE: PLANO SENIOR 35    HEBRON 14    F
Hebron convert the field goal as well to make it 35-14, the eventual final score.
Hebron now punch it in via RB Reggie Evans, who lowers his head to power in from 3 yards out.
Hebron now 3 yards from the end zone with a 1st and Goal.
57 yards on that last run for Garbutt, as Hebron threaten to tack on a meaningless final score here at the death.
Just over 2 minutes left to go as Hebron inherits the football, with Angelo Garbutt breaking out for yet another mammoth run. He has been the Hebron offense tonight.
The Wildcats decide to go for it and milk some more clock while they are at it, however they are unsuccessful at the attempt.
4th & 11 for the Wildcats and out comes the offense again?!
Miscommunication on the handoff as Waterbury and Gray get their signals crossed for Plano.
Plano Senior move the chains nonetheless though as Yoro muscles his way to a four yard gain on the pitch.
TIMEOUT HEBRON: Their 1st of the half as Plano is faced with a 4th & 2. 
The game is beginning to become a bit chippy now as some pushing and shoving finishes off each play.
Yoro picks up another big chunk of yards for another Plano Senior first down. They now have the ball at the Hebron 19 yard line.
Physical running from Lopaka Yoro now, as he picks up 12 yards before being flipped out of bounds. He looks okay though.
The Plano offense continues its ferocious appetite on the ground through RB Bobby Gray, who bursts through the seams for a 51 yard dash, of the slower variety though.
Hebron with another punt, Plano Senior takeover at their own 11 yard line.
The Plano defense picks up where they left off in the 4th quarter, Conley McCabe in on the sack of Hebron QB Chapin.
END OF 3rd Quarter: Plano Senior LEADS Hebron 35-7.
Angelo Garbutt continues his valiant Mr. Everything performance for Hebron, returns the kickoff 40 some yards.
35-7 Plano Senior LEADS Hebron with 2:19 left in 3rd quarter.
Lopaka Yoro gets in on the scoring now for Plano, dazzling his way to a 47 yard TD dash after performing a nice spin move in the middle of the field before shedding another tackler en route to the end zone.
TOUCHDOWN WILDCATS!
Hebron conventionally decide to punt it away this time and the Wildcats are gifted the ball at the Hebron 47.
The Plano Senior student section is really jumping now. The Hawk offense is going nowhere fast and the Plano fans are loving it. 3rd & 12 for Hebron results in an incompletion as Plano have stuffed the Hawk run game, there only true threat thus far.
T.J. Lee on the stop on the return, a fantastic diving tackle from behind to pin Hebron at their won 19.
*GAME NOTE: Plano has had all 4 of its TDs tonight scored by Brandon Stephens.
Plano now LEADS 28-7 with 4:32 remaining in 3rd quarter. 
Its you know who doing you know what again. Brandon Stephens scoring touchdowns. 4 TDs for him on the night. 
TOUCHDOWN WILDCATS!
RB Brandon Stephens is back at it now for Plano, as he goes 21 yards to set up a 1st and Goal at the 3.
Hebron goes for broke with a FAKE PUNT! P Koyne Harris made it close, but the Plano Senior speicla teams unit sniffed it out in time to force a turnover on downs.
The Plano defense is responding incredibly well in this second half, as they have continually stuffed Garbutt on the ground after his huge first half. The QB keeper does the visitors no favors either with Hebron saddled with a 4th & 12.
Tyler Brogan sends the ball Hebron's way, with the Hawks inheriting it at their own 15.
The Wildcat offense is appearing stagnate as well, they quickly go 3 and out on 3 meek runs.
The Hawks continue to struggle as QB Colton Chapin struggles to gain any meaningful yardage on the keeper. The Hawks punt it away to Plano, who allow the ball to get caught in the strong and misty wind before it bounces to midfield.
Hebron living life on the edge now, fumble the ball before having OL Hayden Seeley fall on it. 3rd & 13 for the visiting Hawks.
Angelo Garbutt at it again for the Hawks, he moves the chains again as he bounces to the outside of Plano defenders.
Second half underway at Clark Stadium, Plano Senior to kick away up 21-7.
*GAME NOTE: Plano Senior has had all 3 of its touchdowns scored by RB Brandon Stephens. 
HALFTIME: Plano Senior LEADS Hebron 21-7.
The Hawks are content to let the clock drip dry and try no further plays in this first half.
Hebron are apparently deathly afraid of the pass, as they have utilized it so little tonight and unsuccessfully when tried.
The Hawks are in no particular hurry to try and advance the ball up the field, yet they still do so through RB Angelo Garbutt, who breaks for another massive gain, this one of 33 yards.
Hebron's offense meanwhile is going in reverse. A false start pins the Hawks with a 2nd & 15 at their own 19 yard line. 2 minutes remaining in first half.
*GAME NOTE: Plano Senior RB Brandon Stephens now has 3 TDs tonight, after less than one half of play. Stephens also had 3 TDs last week against Irving MacArthur. 
Plano Senior now LEADS Hebron 21-7 with 3:06 remaining in both the 2nd quarter and first half. 
Its that man again, Brandon Stephens, who uses his speed to beat 3 Hebron defenders to the corner pylon for the score. Brogan nails the extra point to boot.
TOUCHDOWN PLANO SENIOR!
Lopaka Yoro has nowhere to go for Plano as he is swarmed by Hawks upon receiving the handoff. 3rd & 7 for Plano.
TIMEOUT Plano Senior: Their final timeout of the half, which has 3:55 remaining in it. 
Plano Senior now move inside of the Hebron 10 yard line, find themselves with a 2nd & 6 on the Hebron 8.
And in their time of need they turn to Gray, who picks up the necessary yardage on a toss to the far side.
Wildcats forced into a 3rd & 3 hole now after several shorts runs by Gray and Stephens.
RB Brandon Stephens gets loose again for Plano Senior, picks up the first down after bobbing and weaving through the Hebron defense. Plano now with the ball at the Hebron 27.
The Wildcat offense now seems to be getting its wheels in motion again, as QB Quinn Waterbury performs the read-option perfectly, connecting with Parker Meyers on a 14 yard catch and run.
Plano Senior now with good field position at their own 47.
LB Jason Lee is the big play man this time for Plano, maneuvering around a blocking tight end to get to and sack the Hawk QB.
Hebron don't help their cause on 3rd & 6 with a false start. 3rd & 11 now as the Plano Senior student section cranks up the volume.
DB Cody Farhat does well on coverage of the punt, stops the Hebron return man in his tracks. The Hawks takeover at their own 46 though, relatively good field position.
TIMEOUT Hebron: Their 1st charged timeout. 
The Wildcats can't do anything on 3rd & 23 either: A punt is surely looming.
Plano Senior stumble again on 2nd & 13. Go backwards and nearly fumble the ball at the same time.
Bad start for the Wildcats as they open the new quarter with a false start. 1st & 15 now.
END OF 1st QUARTER: Plano Senior LEADS Hebron 14-7.
DE Brandon Wahle on the blitz this time for Plano Senior, records the sack and forces Hebron to punt. Plano to begin the 2nd Quarter at their own 20 yard line.
The Wildcat defense is beginning to send blitzes up the middle of a weakened Hebron offensive line. 3rd & 9 now for the visitors.
RB Garbutt is having a field-day for the Hawks so far, he gets them near the first down marker to begin their next series.
Its a good kick from the senior Brogan, and Hebron will start their drive at their own 43 yard line.
Tyler Brogan's ensuing punt is backed up 5 yards for a delay of game penalty.
Parker Meyers is unable to haul in a slightly overthrown pass on 3rd down, Plano Senior forced to punt on 4th & 3.
RB Bobby Gray with another carry for Plano Senior, good for 5 yards right up the middle.
Hebron have brought a decent traveling crowd with them tonight to Clark Stadium, and so far they have been worthy opposition for the Wildcats.
And just like that, it is 14-7 Plano Senior with 4:37 now remaining in the 1st quarter. 
1 play, 1 score as RB Angelo Garbutt takes it 67 yards to pay dirt. What a response from the visiting Hawks. 
TOUCHDOWN HEBRON!
The Hebron Hawks begin their second drive on their own 34 yard line.
*GAME NOTE: RB Brandon Stephens now has 2 TDs on the night. 
*GAME NOTE: That last Plano Senior drive stretched the length of the football field, 99 yards plus a few inches. 
14-0 PLANO SENIOR LEADS with 4:44 left in 1st quarter. 
The Plano Senior RB just can't stop scoring, as he easily reaches the corner of the end zone from 8 yards out.
TOUCHDOWN WILDCATS! TOUCHDOWN BRANDON STEPHENS!
Hebron again with a personal foul penalty, this time for a late hit on Brandon Stephens. Plano in great position to score now, inside the Hebron 10 yard line.
Some hard running from RB Lopaka Yoro nets Plano Senior a first down. Wildcats now have the football at the Hebron 19.
Matt Kirchner records his first catch of the night for Plano Senior, who now face a short 3rd & 1.
But again the Wildcats find a way out of trouble, Waterbury connects with WR Parker Meyers for a 36 yard gain and subsequent first down.
Plano backed up again now on 3rd & 10 though following an incompletion from QB Waterbury, trying to again find WR Garrett Frederick.
RB Bobby Gray comes to the rescue though, breaking through some would be Hawk tacklers for a 33 yard gain.
Perilous position for the Wildcats now, backed up to within inches of their own end zone.
TIMEOUT PLANO SENIOR: They have only one remaining with 8:40 to go in the 1st quarter.
More snap troubles for the Hawks as P Jake Genard sees the ball sail over his head, but he punts the ball nonetheless and Plano Senior foolishly allow it to roll to their own 1 yard line.
Garbutt powers forward again for the Hawks, but he's short of the marker. Hebron are also saddled with a personal foul penalty on the play. 4th & 22 now.
Confusion on the snap for Hebron as its fumbled to the ground, but Garbutt still collects it for a 3 yard gain. 3rd & 7 for Hebron.
OL Zach Rogers was the injured player, but he gets up under his own power, although he refuses to put any pressure on his left leg.
INJURY TIMEOUT: There is an injured Hebron Hawk on the field.
The Hawks counter Plano's tremendous start on the ground with one of their own, as RB Angelo Garbutt breaks free for 35 yards.
The windy field-level conditions tonight at Clark Stadium necessitate the holding of the football on kickoffs, as Tyler Brogan's initial one is returned by Hebron to their own 34 yard line.
10:17 to go in the first quarter, with Plano Senior leading 7-0 courtesy of Stephens' mad dash to the end zone.
7-0 PLANO SENIOR LEADS.
BRANDON STEPHENS TO THE HOUSE! The Plano Senior running back goes off early, bounces to the outside and takes daylight when he sees it. A 67 yard TD scamper. 
TIMEOUT: Plano Senior, their first.
Garrett Frederick with the reception after QB Quinn Waterbury did well to control a high snap. 3rd & 3 for Plano Senior.
RB Brandon Stephens gets the opening carry, and takes it for a one yard gain.
The lights are on and we are all set to go here at Clark Stadium, Plano Senior receives the opening kickoff and will go on offense at their own 25 yard line.
Uniform wise, Plano Senior is of course in their all-maroon tops and bottoms, while the visiting Hebron Hawks have gone with an all-white set, save for their black helmets.
Speaking of the playing surface, it is in impeccable condition here at Clark Stadium. The artificial turf surface may be a bit moist because of today's earlier rains, but other than that, it is in fine shape.
Mere minutes to kickoff now at Clark Stadium, the Hebron Hawks have made their entrance through the mandatory inflatable helmet, Plano Senior enter the playing surface in open air, making sure to touch the maroon Wildcat banner.
Both teams have entered their respective locker rooms for a final time now. Kickoff is 20 minutes away.
* GAME NOTE: Plano Senior is 1-1 heading into tonight's game, while Hebron is 0-2.
Kickoff will commence in just under 30 minutes here at Clark, as both teams gear up for their first district matchups.
Hello all and welcome to tonight's live blog of the varsity football game between Plano Senior and Hebron from Clark Stadium.
View Comments (1)
About the Contributor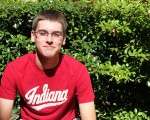 Cameron Drummond, Sports & Social Media Editor
Senior Cameron Drummond serves as the Sports Editor and the Social Media Editor for the 2014-15 edition of the Wildcat Tales. He runs the Twitter, Facebook,...