Plano vs. Allen Varsity Football Live Blog – Sept. 18, 2014
Thank you again and have a good night!
Thank you to all who have followed our live blog tonight from Clark Stadium, where Allen has defeated Plano Senior by a 42-3 score. 
A game dominated from start-to-finish by the Eagles, there was no other result on the cards tonight at Clark Stadium. QB Kyler Murray of Allen is truly a special talent, the Plano defense was unable to cope with his mobility, and that combined with a sluggish offense was the death of Plano Senior tonight.
FINAL SCORE: PLANO SENIOR 3   ALLEN 42
Allen runs a few more plays out of necessity, and a final kneel down by the backup QB Harvey caps it.
TIMEOUT PLANO SENIOR (1:54 remaining)
Lopaka Yoro is left to assume the ground duties for the remiander of the game, still giving it his all with a 7 yard gain to put Plano at a 4th & 1.
RB Bobby Gray appears to have injured his arm for Plano, this could spell even more trouble for the Wildcats.
Everything going Allen's way tonight, as the punt rolls out of bounds at Plano's own 5 yard line.
The ambitious Eagles continue to through the ball, with Harvey overshooting his target and forcing a rare Allen punt.
Holding called on Allen on a draw play up the middle. They are simply playing out the set now, everybody knows the outcome of this one.
That's the night for Allen QB Kyler Murray, he leaves the game after a splendid aerial and speed display. In comes his backup, Jared Harvey.
Plano to punt on 4th & 1, this game is far too out of reach for a comeback. Jaylen Sharpe with the superb diving grab on the punt catch for the Eagles.
TE Sam Tecklenburg records his first catch of the night, but its a yard shy of the first down marker.
Plano continue to utilize the wildcat formation, to no great effect though as Brandon Stephens only gets 4 yards.
42-3 Allen with 9:16 left, mercifully for Plano.
Short TD pass from Murray to Kerry Hall is lathering the icing on the cake for the Eagles now.
And what do you know it, Allen scores again.
Murray isn't phased though and hooks up with Cody Butler for 16 yards, making it a 3rd & 1.
Blistering speed shown by Kyler Murray on a terrific 15 yard TD run for Allen, but its all brought back for a holding penalty.
Allen come out of the timeout with a false start, now its 2nd & 12 from the Plano 15.
TIMEOUT ALLEN (10:05 remaining in the game)
Allen O-Lineman and Oklahoma commit Bobby Evans appears to have injured his left knee, but is perfectly fine after jumping while making his way off of the field.  
INJURY TIMEOUT
WR Jalen Guyton continues to impress for the Eagles, takes a shovel pass and goes for 12+ yards.
15 yard facemask penalty on the Wildcats certainly won't help matters much. Allen driving at the Plano 29 now.
Kyler Murray still taking shots downfield for the Eagles, but Keon Williams is gobbling up chunks of yards for Allen as well.
Allen get the ball with good field position as well to begin the final quarter, will start at their own 38.
END OF 3rd QUARTER: Allen leads Plano Senior 35-3.
Brandon Stephens smacked behind the line of scrimmage as the 3rd quarter comes to an end with Plano facing a 4th & 6.
Plano offense now going to the big play format, although Waterbury badly overshoots his intended target.
The PAT is converted, and Allen now lead Plano Senior 35-3 with 0:40 left in the 3rd quarter.
The score was elementary in the end, with RB Keon Williams plowing forward from less than a yard out. This is all Allen at the moment.
Another massive pass play for Allen, this one to the tune of 61 yards as Kyler Murray has an eternity behind his O-Line.
Allen going a bit conservative now with simple passes to the outside. More invention arrives with RB Keon Williams bursting through the outside for a big gain and first down before being knocked into the Plano sideline.
The 4th and Inches gamble goes awfully for Plano, as Bobby Gray is knocked backwards for a loss. Allen takes over on downs from their own 15.
Allen LB Misi Tupou is shaken up, but looks just fine jogging off the field.
INJURY TIMEOUT
A nice 7 yard run by Stephens is followed by a mad scramble for 0 yards. Then Bobby Gray gets 2 yards on 3rd down, forcing Plano into the 4th and Inches range.
Trickeration from the Wildcats works to perfection as RB Stephens' pass is chucked the way of Parker Meyers, who is held on the play. The call is pass interference against Allen and the Wildcats have it at the Allen 22.
RB Brandon Stephens finally finds some space and motors to the outside for a 9 yard gain and Plano first down.
Plano's offense still in no hurry though, as they are still taking their time before each play without utilizing the hurry up offense.
RB Bobby Gray continues his decent day though, running into an official during his gain for a first down.
Plano down four scores now, need a true miracle on offense to get going.
28-3 Allen leads Plano Senior with 5:59 remaining in the 3rd quarter. 
Jalen Guyton with the exquisite moves for the Eagles, as he shakes upwards of 5 Plano defenders en route to the end zone after receiving a little dump off pass from Kyler Murray. 37 yards the distance on that electrifying score for Allen, and possibly the death nail for Plano.
Plano student section needs to find their voice now, as they've been unusually quiet the past few Allen drives.
TIMEOUT ALLEN (6:10 remaining in the 3rd quarter)
And another false start on the visitors. 2nd & 20 from the Plano 37 now.
Another false start penalty is called, this one on the Eagles to put them at 2nd & 15 from the Plano 32.
Feliciano breaks loose now for a 24 yard gain, Plano unable to stop Allen on the ground once they get Feliciano about 4 yards of space.
Allen look to carve up Plano's secondary again, but Kerry Hall drops the ball despite being wide open with the end zone in his sights. 2nd & 10 from the Allen 44.
Jalen Guyton is on the receiving end of a pass from Kyler Murray this time around, before RB David Feliciano busts through the middle of Plano's defense for a clear first down.
Tyler Brogan does his job with the punt though and Allen are pinned back at their own 13.
I take that back, a killer false start penalty forces Plano into a 4th & 6 and subsequent punt.
Shifty running from Lopaka Yoro there, the junior RB is still a yard shy of the first down though. Plano to go for it…
QB Waterbury takes a deep shot towards WR Parker Meyers, but its just out of the diving grasp of the senior.
RB Bobby Gray continues to pick up first downs for Plano, as he does so again with a 6 yard carry.
Plano begins this drive at their own 34 after a good return, the Wildcats really need a TD here to get back in the ballgame.
The second half is just about ready to get underway at Clark Stadium. Plano to receive the football.
*GAME NOTE: Plano Senior gained 70 total yards in the first half. 71 yards were gained by the Wildcats on that final, scoring drive alone.
Halftime at Clark Stadium. Allen leads 21-3, deservedly, over Plano Senior.
The ensuing kickoff is simply recovered and fallen upon, signaling the end of the first half here at Clark Stadium.
Score is now 21-3 Allen with just 2 seconds left in the first half. 
I stand corrected, 0:02 remain after Tyler Brogan bangs through a 24 yard field goal. Plano get on the board just before halftime.
Predicament for Plano Senior here, 3rd and Goal from the 4 with just 4 seconds left. Final play of the first half here.
Now 2nd and Goal to Plano from the Allen 4 yard line. Time is of the essence here.
TIMEOUT PLANO SENIOR (0:10 remaining in first half)
Wildcat offense into high gear now as Lopaka Yoro's angry running gets Plano a 1st and Goal from the Allen 8.
Plano come out of the timeout in the Wildcat (no pun intended) formation, with Brandon Stephens churning ahead for 6 yards.
TIMEOUT PLANO SENIOR (2:09 remaining in first half)
Finally a big pass play from the Wildcats, Waterbury to Kirchner for 41 yards and the Wildcats venture into Eagle territory for the first time tonight.
More predictable offense from Plano as RB Lopaka Yoro goes up the middle for 0 yards.
Plano to take over again at their own 25 yard line following another powerful kickoff.
3:27 remaining in the first half, 21-0 Allen dominating up to this point. QB Kyler Murray easily the star of the show with that last 39 yard TD run.
QB Kyler Murray flashes his wheels for Allen, scampers 39 yards to paydirt on a blistering fast outside run!
Plano DT Connor Welch shows signs of cramping, walks off the field under his own power. 
INJURY TIMEOUT
Second Allen penalty of the game, this one for an illegal offensive formation. 
LB Neema Behbahani brought pressure for Plano, but Allen proves equal to it as Murray connects with Butler to the Plano 41 yard line.
Wildcat defense beginning to find their zone now, as DB Aaron Ragas drops a sure pick-six from an under thrown pass by Murray.
P Tyler Brogan again with a huge punt for the Wildcats, with the Eagles also again electing to let it roll to the 36 yard line.
Diggs again, two consecutive sacks for the Allen senior LB. Plano squander a great chance there.
LB Divine Diggs now with a big play for Allen, as he sacks Waterbury after he fumbles the snap. 3rd & 13 Plano.
RB Bobby Gray answers the call, picks up 8 yards on Plano's biggest play of the night offensively. This results in Plano's first first down of the night as well.
A prime opportunity now for Plano to take advantage, but they can't if Stephens continues to be tackled within moments of receiving the handoff. Another 3rd down Plano…
K Sawyer Williams misses the field goal though, plenty of distance but wide right from 31 yards out!
RB Feliciano is met at the line by a convoy of Wildcats, setting up 3rd & 9. On that play, Murray tries the back shoulder fade to the end zone, with no success. A field goal is on the cards.
TE Lee Morris now gets in on the act with a big reception of his own, positioning the Eagles at the Plano 15 with the Wildcat defense on their heels again.
Murray finds Cody Butler yet again for the Eagles, another easy first down for Allen.
Plano's offense sputters again though as Waterbury is unable to complete a pass on 3rd down. Plano punts away but most of the field position is nullified by a splendid return from Kerry Hall. Allen takes over near their 40.
END OF 1st QUARTER at Clark Stadium, Allen leads 14-0.
Waterbury himself is then sacked on the first quarter's final play.
Brandon Stephens is again stuffed, this time on a pitch from QB Waterbury.
T.J. Lee brings the punt back a few yards, and Plano will begin just on their side of midfield.
A superb Plano pass rush reaches Murray this time, forcing the prized recruit into a running incompletion. Wildcat offense will get the ball in fantastic field position now.
Wildcat defense is showing some backbone now, forcing a 3rd & 6 after Murray throws an incompletion into single coverage.
Another great punt from Tyler Brogan for Plano, and Kerry Hall unwisely lets it fly over his head before he picks it up to salvage five yards. 1st and 10 Allen at their own 15.
And on 3rd and Long, Plano try to run it up the middle, unsuccessfully again though as they will punt away on 4th & 9.
RB Brandon Stephens also can't find any running room, the Wildcats stuck again in 3rd and Long.
QB Waterbury and the offense take over at their own 25, with Matt Kirchner diving to the ground to haul in a catch for a paltry 0 yards.
Allen dominating all facets of the game right now, Plano's defense needs a big play turnover in the worst way, but first their offense is up again.
And there it is, Kyler Murray on the 1 yard keeper. 14-0 Eagles, Allen rolling early on here at Clark Stadium with 3:59 to go in first quarter.
Allen can smell the end zone now, as RB David Feliciano prods his way up the middle for 8 yards. 2nd & Goal Allen from inside the Plano 1 yard line, an inevitable result awaits.
The Plano defense nearly comes up big as they force a fumble out of Murray, who was scrambling away from the pass rush. An Eagle o-lineman falls on the ball though. 2nd & 11.
Kerry Hall records his second catch of the night for Allen on a nice out-route, first down Allen.
The Wildcat defense is being gashed right now, they need answers in a bad way. 1st & 10 Allen at the Plano 26 after Murray again finds a target downfield.
Murray and Butler continue to find each other through the air, as Allen move the ball with ease to midfield.
Its a great switch of field position as the Plano special teams unit swarms the return man, Allen to take over at their own 28.
Quinn Waterbury is unable to scramble away sufficiently from the Allen pressure and he only manages a gain of 1 yard. Plano punts away on 4th & 5.
Plano offense in a hole now after two ineffective runs, leading to a 3rd & 6.
Plano will take over at their own 25 yard line following a kickoff into the end zone.
The PAT is good, and Allen is out to an early 7-0 lead with 8:42 remaining in the first half.
On 3rd & 3, David Feliciano takes the inside handoff and sheds several Plano defenders on his way to the end zone. TOUCHDOWN EAGLES!
A referee is briefly injured on the field, but he gets up as play is set to continue. 2nd & 3 Allen at the Plano 12.
STOPPAGE OF PLAY
The Murray-Butler duo strike again, another Allen first down and they are now into the red zone.
The Eagles convert no problem though as Murray connects with Cody Butler for about 11 yards.
3rd & 7 to Allen now after a false start penalty.
Allen moving the football well early on, two plays and two big gains, most recently a nice pass play from QB Kyler Murray to WR Kerry Hall.
The opening kickoff has been returned by Allen to their own 40 yard line. We are underway! 
Allen have elected to receive the ball first, after winning the coin toss.
The school songs have been played, the national anthem now as well. 12 minutes have been placed on the clock. And the game has begun in front of a raucous Plano student section.
The lights are (unnecessarily) on at Clark Stadium now, its time for the action to commence.
Both schools have brought out strong student sections for tonight's mid-week clash. The Plano section maybe slightly outnumbering the Allen one, both in size and volume.
Both teams have now taken the field!
Five minutes and counting until kickoff now at Clark. The Allen Eagles are outfitted in white jerseys and dark blue pants. Plano Senior is in their customary all maroon.
Kickoff now just over 10 minutes away here at Clark Stadium, where both sets of fans are out in full force. Nearly 100% full on the Plano side of things while Allen have brought a large crowd with them as well.
Kickoff is approximately 30 minutes away here at Clark between the Wildcats and Eagles! 
Hello all! And welcome to tonight's Live Blog of the varsity football contest between Plano Senior and Allen from Clark Stadium.
Leave a Comment
Your donation will support the student journalists of Plano Senior High School. Your contribution will allow us to purchase equipment and cover our annual website hosting costs.
About the Contributor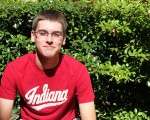 Cameron Drummond, Sports & Social Media Editor
Senior Cameron Drummond serves as the Sports Editor and the Social Media Editor for the 2014-15 edition of the Wildcat Tales. He runs the Twitter, Facebook,...