Wrestling team starts off season with new coach
Members of the wrestling team flipped, pinned and cradled each other on Nov. 8 to determine who will obtain junior varsity and varsity spots on this year's squad.
"Wrestling doesn't only teach you in the physical aspect," senior Tanner Douglas said. "It teaches you mentally as well."
Although wrestling is not a team sport, players still have to rely on others to get better because they must practice by going up against each other.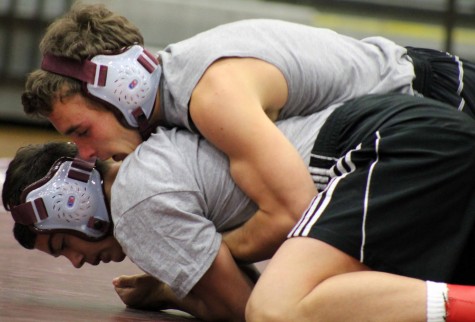 "The hardest part of wrestling is overtime," Douglas said. "Going over three rounds makes you very tired. In the end, whoever has the most points win."
Douglas puts in seven hours a day to stay fit and prepared for the wrestling season.
"I have practice from 7:30 to 10:30 a.m.," Douglas said. "Then, I work out after school by doing a lot of cardio."
Douglas said Allen is the powerhouse of wrestling in Texas. However, he also said he thinks his team has a good shot at winning state this year.
"This season will be a lot better this year because of our new coach," Douglas said. "He pushes really hard, but that's just because he knows what he's doing."
Coach Kevin Casula, who has been wrestling since age 6, retired from professional wrestling due to a back injury in college.
"I want to return this school's wrestling back to the days when I remember wrestling," Casula said. "Growing up in Oklahoma, I remember wrestling kids from here who were very good."
He was offered the position of coach here, where he said he looks forward to seeing what becomes of this year's team.
"It's kinda hard to say who's the best until we start competing," Casula said. "We have a very good, competitive group of guys to represent all weight classes."