Linebacker honored in Dallas Morning News for Week 10 performance
Linebacker senior Neema Behbahani was chosen as the Defensive Player of the Week for the Dallas Morning News for his performance during the Wildcats' final home game against Flower Mound Marcus on Oct. 30. Following a week of voting on the News' website, Behbahani was awarded the title of "SportsDayHS Hero" for his performance during Week 10 of the season.
"I was shocked when I got this award," Behbahani said. "I've never actually tried personally to get it, I just play because I want to win."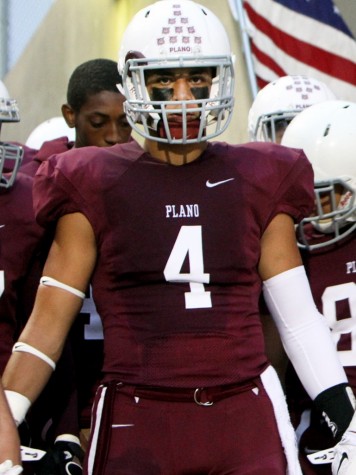 In the game against Marcus, Behbahani recorded 9 tackles, 2 assists, 1 QB pressure and a fumble recovery on the first play that led to Plano's first score.
"I love playing in front of all the fans, especially at Plano," he said. "It gets me pumped up."
In second grade, Behbahani was first introduced to football by his brother, who began playing when he was 8-years-old and continued at Plano West and the University of Houston. According to Behbahani, his family has especially contributed to his success.
"My family has provided for me and supported me no matter what," Behbahani said. "Most of my best friends play football with me so it helps a lot that we all share the same passion."
Behbahani began as a transfer from Jasper High School and made varsity his junior year. His head coach Jaydon McCullough said Behbahani has matured since he started playing on the team. According to McCullough, Behbahani is a good player both physically and mentally.
"The best players I've coached have great character," McCullough said. 'People with character understand growth, and they understand that adversity is another word for opportunity. It's nice to be around guys like Neema because Neema makes everyone around him better."
Senior Mitchell Hansen has been friends with Behbahani for four years and said Behbahani has been working towards bettering himself as a player.
"He's definitely gotten better at playing sports," Hansen said. "That's attributed to his work ethic and how passionate he is. That has made him grow as a person."
Behbahani plans to continue playing football through college. McCullough noted Behbahani's growth during his time as a Wildcat.
"It's been nice to watch his maturation because he's turned into an incredible and amazing young man," McCullough said. "I really look forward to seeing what he does in the future."