Cheerleaders hold pajama fundraiser
The cheerleaders are hosting a fundraiser in which they are selling everything from regular night-wear to family pajama sets to seasonal slippers for the upcoming holidays. The fundraiser ends Dec. 5.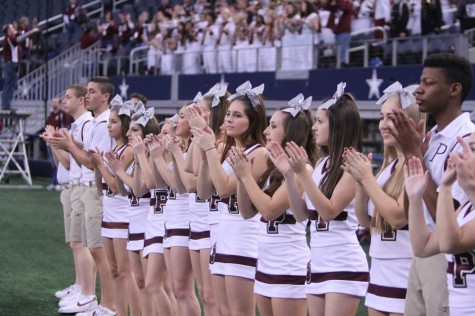 Varsity cheerleaders seniors Lauren Burns and Lauren Douglas said the purpose of this fundraiser, along with many of their other fundraisers, was to raise money for new mats, uniforms, pom poms and any other equipment that they might need.
"There's a wide variety of themes that everyone could enjoy," Burns said. "And they are quite comfortable."
Because Christmas is just around the corner, holiday-themed items are in high demand.
"Pajamas are also a great gift for the holidays," Burns said. "So this is definitely the right time to be selling them."
They said they decided to sell pajamas over all other possibilities because they have found that everyone enjoys them and they are not very expensive.
"No one should think of this as a waste of money," Douglas said. "Instead, think of it as helping out our school."