Volleyball players receive all-district recognition
After achieving a district record of 10-6 and a bi-district playoff berth, volleyball players juniors Emma Tecklenburg, Megan Duncan, Madelyn Cole, and freshman Adanna Rollins were recently named to the all-district first team in reward for their play during the season.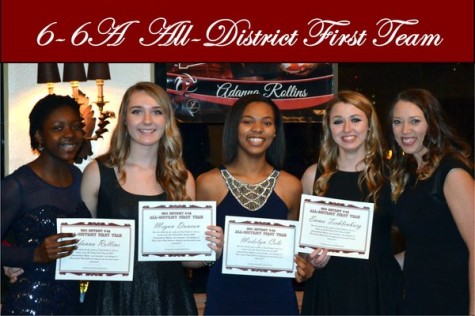 Cole also won Co-Setter of the Year while Rollins took home Newcomer of the Year. In addition, freshman Shanel Bramschreiber and junior Madeline Johnson were named to the all-district second team while their teammates sophomore Mackenzie Snowden and senior Emily Conard received an honorable mention.
Most of the girls started playing volleyball at a young age and have played through many tournaments for club and school sports teams. Tecklenburg has been playing volleyball for nine years.
"It's really fun to play volleyball because it's a team sport," Tecklenburg said. "We're all one big family. It also teaches you to be mentally tough. It's good because it helps you know to not give up."
The all-district awards are given to players that show exceptional qualities throughout the season. Coaches choose the winners through an annual poll.
"Our district got bigger this year and there are nine teams in our district," Tecklenburg said. "It's whoever the coaches feel that helped the team the most. It just comes down to who were the best players on the teams to the coaches."
Although Tecklenburg, Duncan, and Cole are juniors and new to the campus, none of them are new to the volleyball program.
"Freshman year I was on JV and I made varsity my sophomore year," Tecklenburg said. "It's fun to have all four years of volleyball because we get to play with the freshman and the seniors."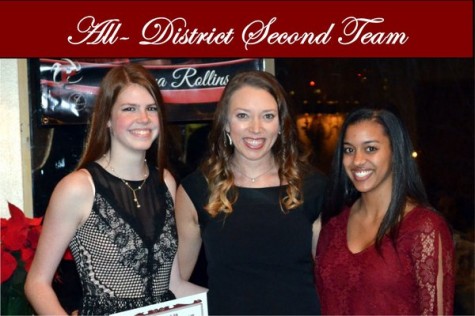 Rollins said she was surprised to win the Newcomer of the Year award.
"I didn't expect to win but I was really happy that I did," Rollins said. " I felt good and knew that all my hard work was paying off and being recognized."
Cole was also new to the team after moving from another school this year.
"I had to build relationships with a lot of the girls because I didn't know them," Cole said. "A lot of the girls already knew each other already and I knew I had to make connections with my team to be able to cooperate together as best as possible."
Cole said her family has been supportive and willing to do anything to help her prosper in volleyball. Cole's mother even played when she was her age and encouraged Cole to do the same.
"I've been playing in the gym since I was a toddler because my mom is a volleyball coach and played at SMU," Cole said. "It's in the genes and I've loved volleyball from the start. My dad played football at SMU and my sister plays soccer so my family is really supportive of having sports as a major priority in our lives."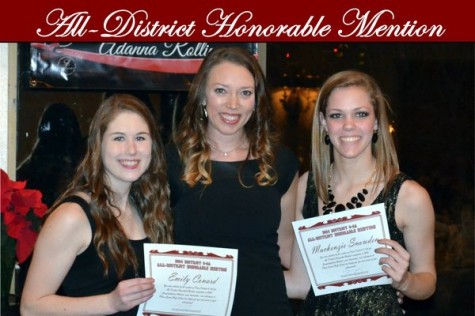 After a strong season for the Lady Wildcats, Duncan said it comes down to the love for the game. She believes that volleyball has affected her life in a positive way.
"It's taught me to work as a team and to not be selfish," Duncan said. "It made me physically and mentally stronger as a person."
Duncan attributed her success this year to her ability to adapt to different positions throughout the season.
"It takes a lot of hard work and I'm an all around player so I stay on the court the whole time," Duncan said. "I feel that being a versatile player really helped my chances and contributed to receiving recognition."
The all-district awards could not be awarded to everyone, but Tecklenburg said the team members continue to encourage each other.
"Despite that not everyone can have a spot, I think everyone had the potential to have one," Tecklenburg said. "For the people who did make a spot, I thought they deserved it."