Girls basketball looks toward future with new head coach
With a new head coach and high expectations, the girls basketball team is living up to the hype with a strong start to the season, which began on Nov. 11. The Lady Wildcats notched a victory in their first game against state ranked Richardson, taking the win 69-68.
Since head coach Rodney Belcher served as the assistant coach prior to this season, the team is familiar with his coaching style. Junior Yasmine Samadzada has been playing basketball since second grade. This, as well as Belcher's transition to head coach, has given her the chance to experience different coaching techniques.
"He definitely does have a different coaching style than we were used to in the past, but he's helped us learn more of the fundamentals," Samadzada said. "He likes to perfect everything, so it makes us work a lot harder."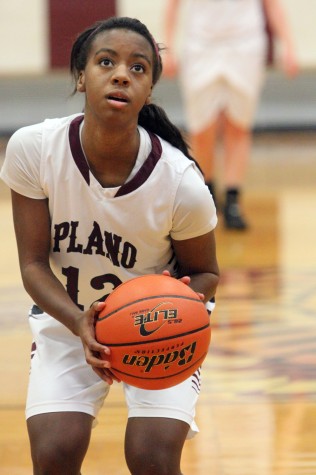 Samadzada said the sport has played a major role in her life from the time she started playing.
"Basketball has been there almost all my life," Samadzada said. "Since I've never stopped playing, I could not imagine quitting or not being able to play."
As for the new season, Samadzada said she is hopeful about how the team has progressed with Coach Belcher.
"I'm excited to see how far we can get and how successful we become, especially since we basically created a whole new varsity team with a new coach," Samadzada said.
Junior Lexi Rodriguez has been playing basketball since fifth grade and has been playing for the Wildcats for three years. Rodriguez said she believes the sport gives her an opportunity to improve herself both mentally and physically while working with her teammates.
"I love being surrounded by people who enjoy working for things I'm working towards also," Rodriguez said. "I've continued to play because I think it not only benefits me as an athlete, but also a person. My favorite thing about it is the friendship I form with my teammates."
Rodriguez said she has felt a connection to the game since she started dribbling the ball as a kid.
"I love the feeling of competitiveness I get from playing," Rodriguez said. "Ever since I first started, I've enjoyed the atmosphere of being on a basketball team."
As for the future, Rodriguez said she is not sure on what role basketball will play in her life.
"At the moment, I'm undecided as to whether I want to continue after high school. I would love to play, but I'm also ready for the next chapter in my life," Rodriguez said. "I'll guess we'll have to wait and see."
While Rodriguez believes the start of a new season is exciting, she hopes to live up to what the team has achieved in the past.
"I'm looking forward to the team hopefully becoming city champs again this year," Rodriguez said. "We've been city champs the last two years I've been here and I'm looking forward to keeping that tradition."