Girls basketball raises $1,000 for breast cancer awareness
To show their support for those affected by breast cancer, the girls basketball team worked together to raise money for awareness. Although the Lady Cats lost to Plano West in their annual pink out game on Jan. 23, the team still managed to raise over $1,000 to donate to the Women Rock organization.
The Women Rock organization is a program that assists women by educating them on the importance of early breast cancer detection and providing financial assistance to women in need. Senior Isabele Alfonso, who plays for the girls' varsity basketball team, was impressed with the outcome of the fundraising.
"Each player had an envelope with a piece of paper taped to it with what to say to our classes in order to raise the money," Alfonso said. "Considering the fact that we only had one day, I think we did a pretty good job."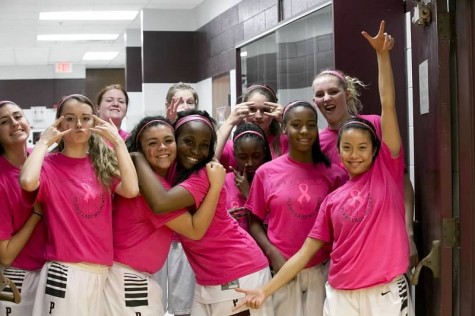 The Lady Cats basketball team booster club coordinated most of the events and got Women Rock organization involved. Varsity assistant coach Kelly Stallings coordinated the pink out t-shirts and oversaw the collection of money. Within the team the girls were competitive, trying to see who could raise the most money.
"I was very proud of the girls for their efforts in raising money for Women Rock," Stallings said. "We played our hearts out and never gave up. We battled to the end and they had nothing to hang their heads about. Our shirts had 'Play Strong' on them, and we did just that."
For Alfonso, raising money for breast cancer awareness is a cause close to her heart. Alfonso's aunt was diagnosed and treated for breast cancer, and is now a survivor. Although her aunt was unable to be in the crowd for the game, Alfonso said she was still happy to show her support.
"My aunt lives in McKinney so it was hard to always be there for her," Alfonso said. "Although it was a battle a few years back, she is doing great now and that is truly all that matters."
Alfonso has participated in breast cancer awareness events in the past and plans to do more after graduation. Although she may not be directly participating in events, she plans to contribute as much as possible.
"I have been to some events out in McKinney," Alfonso said. "It was a lot of fun. There were so many activities including a pie throwing and a guitar hero tournament. Aside from the activities, we raised money by running laps. For each lap ran there would be a certain amount of money donated."
Along with Alfonso, Stallings has contributed to awareness events and has many friends who were affected by breast cancer.
"Every year this game is a special because it puts things into perspective," Stallings said. "It is always nice to see both teams in pink to support a common cause. The 'Survivors Choir' that sang the National Anthem made the night very special as well. I think a lot of people, including myself, felt the impact and importance of the moment and event as they were singing. It was a special moment."
Other members of the team, such as junior Lexi Rodriguez, have not been affected or known anyone affected by breast cancer. However, even though this cause does not affect Rodriguez directly, the game was still important to her. 
"
That makes up for the loss because in the end helping people out is all that matters, not just some high school rivalry.
— Senior Isabele Alfonso
"Honestly, it was a lot of fun," Rodriguez said. "We did not have any sort of fundraising requirements because any amount of money we got was greatly appreciated and meant a lot to the team. The Women Rock organization was extremely grateful."
Although the Lady Cats lost with a score of 64-49 in the fourth quarter, the team said that they were still happy to play and support breast cancer awareness.
"Everyone was pumped up," Alfonso said. "I was super excited to play in this game. I liked being able to wear pink socks and T-shirts during warm-ups. Knowing that my team and I raised money for a good cause makes me feel great. That makes up for the loss because in the end helping people out is all that matters, not just some high school rivalry."
Stallings wants to encourage students to go outside of their comfort zones. Stressing the importance of activity in the classroom and outside of the classroom, Stallings believes in a higher form of student interaction.
"High school is about more than academics and there is more beyond the Plano bubble," Stallings said. "The city has a 'tradition of excellence' and that tradition extends beyond the classroom. Our students are leaders at school and in the community."