Soccer slump: boys and girls varsity soccer seek changes after disappointing seasons
For the first time since the 2012-13 season, the boys and girls varsity soccer teams have both missed out on playoff action in the same year. With only 11 wins between them out of 36 combined matches, the failure to achieve playoff glory is not lost on team members like boys varsity goalkeeper junior Jose Madrigal.
"I honestly think that we could have done a lot better, obviously, but I don't know exactly what went wrong," Madrigal said. "I feel like maybe our midfield broke down, and our opponents came attacking despite our defense's best efforts to prevent goals."
Finishing bottom in the nine team District 6-6A with three district wins to their name, Madrigal said the responsibility for the team's poor displays was shared among all of its members.
"We fall and rise as a team, it can't be just one person on the field, it has to be everyone out there," Madrigal said. "It can start with one guy leaving his man unmarked, and after that it just causes problems for the next guy and so on."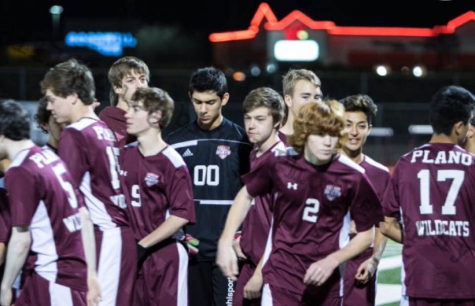 Boys varsity head coach and Latin teacher Doug Adams was relieved of his coaching duties following the season's conclusion, a decision that defender junior Nick Yoder disagrees with.
"Coach Adams was a nice guy, and certain players had more of a negative impact on the team than his coaching style," Yoder said. "The main people that played in varsity games didn't really follow what he said and didn't respond to his coaching correctly. Some players also didn't take the season seriously enough and the team could have been a bit more mature this past season."
For the girls varsity squad, however, forward/midfielder junior Katie Crouse said a lack of production at the offensive end of the pitch was the root cause of their inability to make the postseason for a fifth straight season.
"We sometimes could not find an end product, we would work hard to get the ball to goal but we could not get the goals we needed," Crouse said. "I think that if we could have scored more then we would have won more games and made it into the playoffs, but it just was not our year."
Ending the season seventh in the district with four district victories, Crouse believes the team's work ethic was as strong as ever despite results not going their way.
"It's no one's fault. We all worked very hard and there were times in games when we played some good soccer," Crouse said. "Next year, our goal is to go to the playoffs and we can utilize our speed, strength, and skill from this past season to help us get there."
The teams share not only the disappointment that persists after failing to qualify for the playoffs, but also the optimism in looking forward to next season.
"I can firmly say that most members, if not all members of the team, were disappointed in not making the postseason because of the team's potential," Madrigal said. "Failure only comes to greatness later on, and we are going to be a new team next season with the addition of the sophomores from junior varsity."
Crouse said the team is determined to make a turnaround next season.
"My team means everything to me, we are a great team and have a great group of girls," Crouse said. "Next year I have no doubt that we will go to playoffs, so be sure to come out and watch us kick butt next year. You won't regret it."