Wrestling prepares for district meet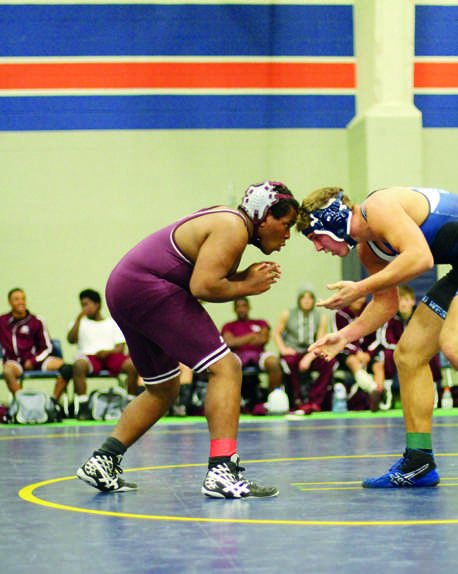 Currently standing with an 8-4 record in dual matches and placing in three tournaments so far, the boys wrestling team has had a successful season heading into the district meet.
The team began the season with a third place showing at the Cougar Dual Tournament in mid-November, which followed their opening dual win over Flower Mound Marcus. Their strong tournament performances continued by placing fourth at Tri-State and then second at the Arlington Lamar tournament in early January.
Head varsity coach Darren Cooley is new to the wrestling program this year, after having coached in California and in Weatherford, Tex. for 14 years.
"We've had a lot of success so far in tournaments this year," Cooley said. "We haven't had a bad one yet this season."
Junior Darion Foster, who went undefeated in his five matches at the McKinney North duals in January, enjoys the physicality of the sport of wrestling.
 "You should have a 'want to' attitude if you want to be a wrestler," Foster said. "You can't be a quitter and expect to be successful at wrestling. It takes dedication."
Players are expected to be at practice at 7 a.m. and even have an optional running group that arrives at 6:30 a.m. There is after school open mat for players to put in extra practice. Cooley is pleased with his wrestlers' commitment and hardwork.
"I'm proud of the group that we have right now," Cooley said. "Their work ethic in the morning is amazing."
Senior Justin Weiss, who placed third in the Arlington Lamar tournament in January, strives to do the best he can and feels that wrestling has lived up to his expectations.
"We have a wrestling brotherhood that forms," Weiss said. "You have to be a part of the team to understand just how much we value each other during meets and competitions."
At the start of this season, Cooley aimed to establish unity among the team and have them improve at every practice. As the season nears its end, he feels that he's accomplished that and much more.
"The team has come together this season and formed a close knit bond," Cooley said. "They have fed off each other for encouragement and given each other energy to reach their potential."
The team's final tournament of the season will be the District VIII tournament held on Feb. 8, with wrestlers able to qualify for the regional tournament based upon their performance at district.
"Each wrestler on the team began this season with the goal of making it to the state tournament," Foster said. "We needed to prepare by placing at our tournaments during the season and having a winning record as a team."
Following the season in the summer months, Cooley plans to institute an offseason program for the team's wrestlers, a luxury the team hasn't had recently due to frequent coaching changes. In this way, Cooley intends to bring stability to the wrestling program for the foreseeable future.  
"It's been a couple of years since a Plano coach has been around over the summer, so I look at that to be a big positive with this year's team," Cooley said. "It's a big step for us and the development of the wrestling program."